Tesaro winds up for FDA pitch as PARP ri­vals race to the fin­ish line
Armed with fast-track sta­tus from the FDA, Waltham, MA-based Tesaro $TSRO has got the ball rolling on its close­ly-watched reg­u­la­to­ry fil­ing for ni­ra­parib, one of the lead­ing PARP in­hibitors in late-stage de­vel­op­ment. The biotech has be­gun a rolling sub­mis­sion at the FDA for its drug as sev­er­al com­peti­tors line up to vie for the lead.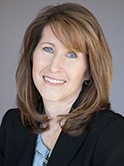 Mary Lynne Hed­ley, Tesoro Pres­i­dent
The next big step at Tesaro will be out­lin­ing the da­ta from the Phase III study of this drug. And what we know so far is promis­ing.
For pa­tients who were not germline BR­CA mu­ta­tion car­ri­ers but whose tu­mors were de­ter­mined to be HRD pos­i­tive, Tesaro re­port­ed, the ni­ra­parib arm hit the pri­ma­ry end­point with a me­di­an PFS of 12.9 months com­pared to 3.8 months for the con­trol arm. And in the over­all non-germline BR­CA mu­tant co­hort, which in­clud­ed pa­tients with both HRD-pos­i­tive and HRD-neg­a­tive tu­mors, the PFS was 9.3 months for ni­ra­parib com­pared to 3.9 months for con­trol.
Pro­vid­ed that all holds up un­der scruti­ny, Tesaro will be an­gling to com­plete its fil­ing with the FDA be­fore the end of 2016, with a hoped-for ap­proval next year. They'll be look­ing to beat Pfiz­er $PFE now, which is pick­ing up ta­la­zoparib in its $14 bil­lion Medi­va­tion buy­out. As­traZeneca $AZN man­aged to beat out a neg­a­tive pan­el vote — the da­ta were messy — to make it to the mar­ket first with Lyn­parza (ola­parib), but now they're com­ing back with Phase III da­ta that may make a big dif­fer­ence on the com­pet­i­tive front.
Clo­vis $CLVS, mean­while, is in hot pur­suit of a bad­ly need­ed thumbs-up for ru­ca­parib. Just days ago the FDA waved a pan­el re­view for the PARP in­hibitor, lead­ing quite a few an­a­lysts to con­clude that the com­pa­ny was be­ing po­si­tioned for a like­ly ap­proval. And then Ab­b­Vie is some­where in the mix with its own drug, ve­la­parib (ABT-888).
Tesaro's EMA ap­pli­ca­tion is slat­ed to ar­rive in the fourth quar­ter.
Lyn­parza is priced at $12,000 a month, which tends to spur crit­i­cism over the high price of drugs rel­a­tive to their ben­e­fits.
"The qual­i­ty of da­ta" back­ing PARP in­hibitors "has been fair­ly weak and rather unim­pres­sive," Vinay Prasad, an on­col­o­gist who stud­ies clin­i­cal tri­al de­sign, told the Wall Street Jour­nal a few days ago. A spokesper­son for As­traZeneca, mean­while, told the Jour­nal that their new da­ta will be avail­able lat­er this year, which may help an­swer its crit­ics. They'll need some­thing much bet­ter than what they have to stave off the on­com­ing com­pe­ti­tion.
"We look for­ward to pre­sen­ta­tion of da­ta from the Phase 3 NO­VA tri­al of ni­ra­parib in a Pres­i­den­tial Sym­po­sium ses­sion at the Eu­ro­pean So­ci­ety for Med­ical On­col­o­gy (ES­MO) con­gress on Oc­to­ber 8," not­ed Tesaro Pres­i­dent Mary Lynne Hed­ley.