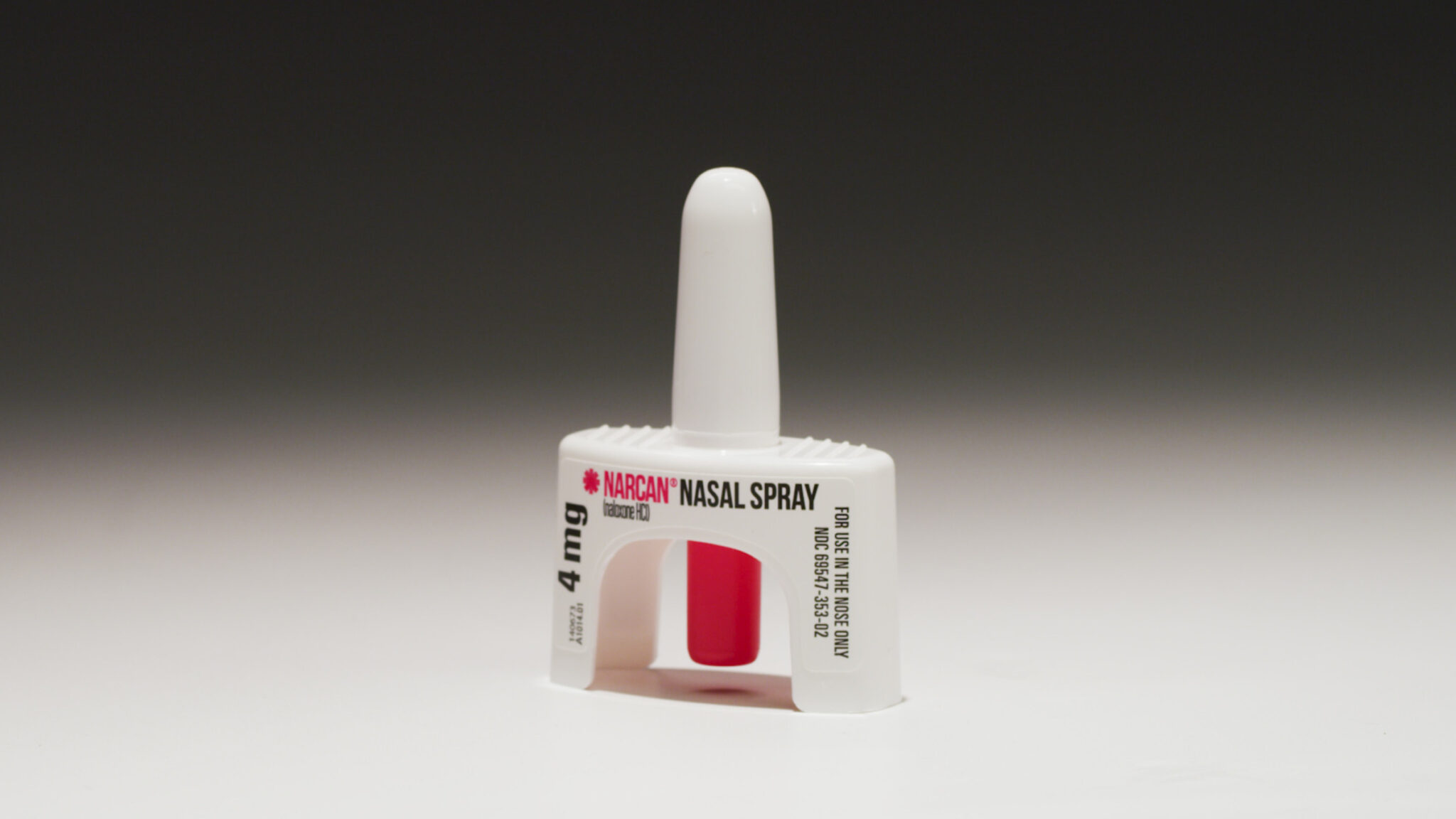 Emergent's Narcan opioid overdose nasal spray is getting first generic competition from Teva and Sandoz (via Emergent Biosolutions)
Te­va and No­var­tis' San­doz launch Nar­can gener­ics on same day, brand mar­keter Emer­gent re­mains in play
Te­va and No­var­tis' San­doz re­cent­ly launched gener­ic ver­sions of Nar­can on the same day, but it like­ly wasn't a co­in­ci­dence. Both first-to-mar­ket gener­ics for Nar­can, an opi­oid over­dose res­cue nasal spray, are FDA ap­proved, but on­ly San­doz' ver­sion is au­tho­rized by Nar­can's brand mar­keter Emer­gent BioSo­lu­tions.
Emer­gent, which ac­quired Adapt Phar­ma and the Nar­can nasal spray in 2018, has been in a pro­tract­ed patent lit­i­ga­tion with Te­va over its gener­ic ver­sion. The FDA ap­proved Te­va's nalox­one hy­drochlo­ride nasal spray in April 2019 as the first Nar­can gener­ic, but Emer­gent filed a law­suit al­leg­ing Te­va in­fringed on Adapt patents. A de­ci­sion in 2020 ruled in fa­vor of Te­va, but Emer­gent ap­pealed. This past sum­mer a three-judge US Court of Ap­peals pan­el heard Emer­gent's case but had yet to ren­der a fi­nal de­ci­sion.
Te­va didn't an­swer ques­tions about the launch tim­ing, but Emer­gent re­leased a state­ment not­ing Te­va's launch "pri­or to res­o­lu­tion of the re­lat­ed patent lit­i­ga­tion."
Emer­gent's state­ment al­so point­ed out its long his­to­ry work­ing with pub­lic health of­fi­cials to "ed­u­cate and safe­guard peo­ple who may be at risk of an opi­oid over­dose," and said it wel­comes ad­di­tion­al so­lu­tions to help fight the opi­oid epi­dem­ic. Emer­gent said it will up­date any 2022 fi­nan­cial ef­fect when it presents year-end re­sults.
In re­sponse to fol­low-up ques­tion­ing, an Emer­gent spokesper­son said the com­pa­ny is not plan­ning any le­gal ac­tion in re­sponse to the Te­va launch.
Mean­while, San­doz an­nounced the de­but of its Emer­gent-au­tho­rized gener­ic Nar­can on the same day as Te­va in De­cem­ber. When asked about tim­ing, a spokesper­son said in an email that the launch was "based on our agree­ment with Emer­gent."
The au­tho­rized gener­ic from San­doz means it is the ex­act same prod­uct as the brand­ed Nar­can with a dif­fer­ent la­bel and sold at a gener­ic price. The deal with Emer­gent al­so en­sures the brand li­cen­sor a por­tion of those sales. Emer­gent in turn pays roy­al­ties to the orig­i­na­tor of the Nar­can nasal spray, Opi­ant Phar­ma­ceu­ti­cals.
Along with the new Nar­can gener­ics, oth­er drug­mak­ers have en­tered the nalox­one hy­drochlo­ride nasal spray mar­ket through dif­fer­ent dos­ing mech­a­nisms. Nar­can is a 4-mg spray dose, but Hik­ma Phar­ma­ceu­ti­cals got its FDA ap­proval for Kloxxa­do in April for an 8-mg in­tranasal dose while Adamis Phar­ma­ceu­ti­cals' FDA nod for Zimhi in Oc­to­ber is a 5-mg in­jectable dose. On the hori­zon is po­ten­tial­ly even more com­pe­ti­tion from Opi­ant it­self. Its nasal nalme­fene, an­oth­er in­ves­ti­ga­tion­al treat­ment for opi­oid over­dose, se­cured an FDA fast track des­ig­na­tion in No­vem­ber.
What they're all purs­ing is a slice of the un­for­tu­nate­ly grow­ing opi­oid over­dose treat­ment mar­ket. Opi­oid over­dose deaths in­creased 40% dur­ing the pan­dem­ic from May 2019 through June 2020 — but even as pan­dem­ic pan­ic eas­es, the opi­oid epi­dem­ic is still rag­ing. The CDC re­port­ed more than 75,000 opi­oid over­dose deaths from April 2020-2021, an in­crease of 35%.
Emer­gent sales of Nar­can have in­creased in tan­dem. Its most re­cent third quar­ter sales of $133 mil­lion notched a 50% in­crease year-over-year. Sales through nine months were al­most $314 mil­lion, al­ready top­ping its full 2020 rev­enue of $311 mil­lion. Emer­gent has de­liv­ered 26 mil­lion Nar­can de­vices in the US since its 2016 de­but.
In 2018, Adapt did some re­gion­al TV test­ing of a Nar­can ad en­cour­ag­ing con­cerned par­ents of young peo­ple on pain meds to stock the med at home in case of ac­ci­den­tal over­dose. How­ev­er, mar­ket­ing of nalox­one in gen­er­al has been lim­it­ed to di­rect ap­peals to pub­lic health of­fi­cials in com­mu­ni­ties, first re­spon­der or­ga­ni­za­tions and hos­pi­tals. Most states have adopt­ed laws that al­low di­rect sales to con­sumers at phar­ma­cies.
Still nei­ther Te­va nor San­doz have plans to mar­ket the Nar­can gener­ics to con­sumers.
A Te­va spokesper­son said in an email, "We don't mar­ket/pro­mote gener­ic prod­ucts; they are pre­scribed as name-brand and then sup­ple­ment­ed by doc­tors or phar­ma­cies."
San­doz sim­ply said its Nar­can gener­ic is avail­able "to peo­ple in the US via re­tail phar­ma­cies and in­sti­tu­tions, in­clud­ing hos­pi­tals," and added that its prod­uct web­site will fea­ture re­sources for phar­ma­cists.