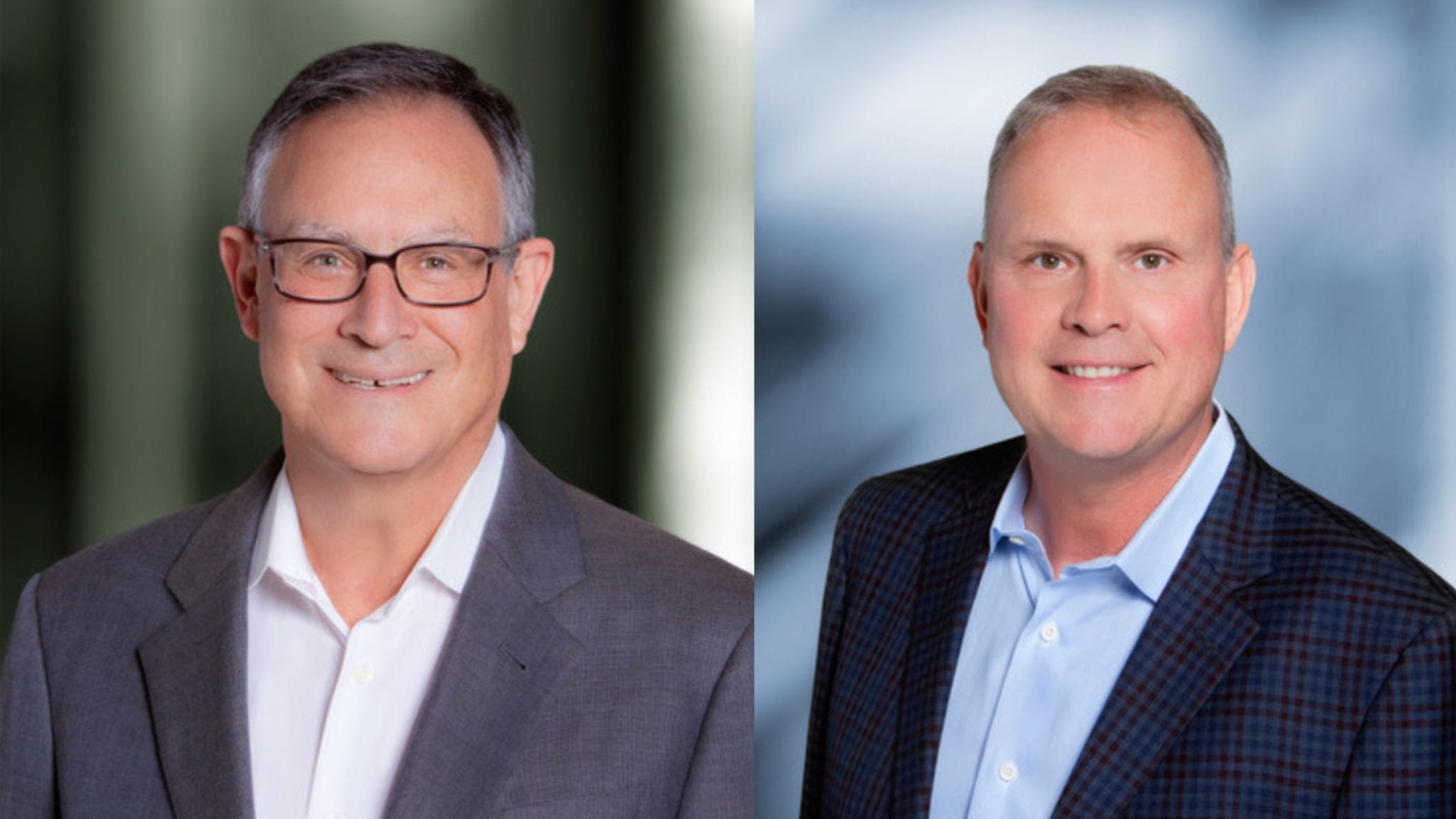 Alain Baron (L), Escient CEO and Marcus Boehm, Escient CSO
Thanks to a $77.5M Se­ries B, Escient moves in­to the clin­ic with the first of its sen­so­ry re­cep­tor can­di­dates
A lit­tle over two years af­ter emerg­ing from stealth, Escient Phar­ma­ceu­ti­cals is back Mon­day with a new fundrais­ing round and their first clin­i­cal tri­al.
The San Diego-based biotech an­nounced a $77.5 mil­lion Se­ries B and a Phase I/Ib study for their EP547 pro­gram, which is aim­ing to treat the neu­ro­log­i­cal "itch" that can man­i­fest when bile and waste prod­ucts are backed up in the liv­er and kid­neys, re­spec­tive­ly. This would be the first in what CEO Alain Baron hopes is a long line of Mas-re­lat­ed G pro­tein-cou­pled re­cep­tor can­di­dates.
"We should have an IND on av­er­age once every year and a half or so," Baron said. "So it al­lows us to de­vel­op the val­ue of some of these ear­ly tar­gets and cre­ate op­tion­al­i­ty for us to move the com­pa­ny for­ward in a num­ber of ways, and of course we'll be da­ta-dri­ven."
Sanofi's VC arm and Cowen Health­care In­vest­ments led the round and were joined by new in­vestors Red­mile and Per­cep­tive. All pre­vi­ous in­vestors, in­clud­ing The Col­umn Group, 5AM Ven­tures and Os­age Uni­ver­si­ty Part­ners, pitched in again.
MRG­PRs, a fam­i­ly of GPCRs, have been the fo­cus of Escient since its found­ing, stem­ming from re­search by Johns Hop­kins neu­rol­o­gist and Escient sci­en­tif­ic founder Xinzhong Dong. With­in the MRG­PR um­brel­la are eight sen­so­ry re­cep­tor tar­gets, four of which have been de-or­phaned in the last six years, Baron said, while the re­main­ing four are still be­ing de­cod­ed. Escient ex­pects the tar­gets to serve a wide range of ther­a­peu­tic us­es and has spent the last two years try­ing to un­der­stand every­thing about this fam­i­ly while prep­ping their clin­i­cal pro­grams.
"Each re­cep­tor can be uti­lized with an an­tag­o­nist to treat more than one dis­or­der, so if you think about that, it's pret­ty daunt­ing if we were to dis­cov­er util­i­ties for all eight," Baron said. "We could have eight times two, eight times three in­di­ca­tions. We're go­ing to be very dis­ci­plined in how we do this."
Escient CSO Mar­cus Boehm, pre­vi­ous­ly the co-founder of the biotech Re­cep­tos that sold to Cel­gene for $7.2 bil­lion in 2015, added that MRG­PRs "each rec­og­nize a unique ag­o­nist, so they clear­ly have a func­tion where they rec­og­nize some­thing in the en­vi­ron­ment, or en­doge­nous­ly, that is unique from one an­oth­er."
EP547 cen­ters around MRG­PRX4, an itch re­cep­tor trig­gered in cholesta­sis and ure­mia. Though the con­di­tions don't cause an itch in the typ­i­cal sense, pa­tients' brains per­ceive the sen­sa­tion of bile leak­age as an itch — caus­ing de­bil­i­tat­ing and even "em­bar­rass­ing" dis­com­fort in some cas­es, Baron said.
From the pa­tient's per­spec­tive, an even­tu­al ther­a­py would like­ly be a once-a-day pill to an­tag­o­nize the re­cep­tors. Should the drug prove ef­fec­tive, Baron an­tic­i­pates the treat­ment to func­tion sim­i­lar­ly to an an­ti­his­t­a­mine, dra­mat­i­cal­ly re­duc­ing the itch sen­sa­tion on the first ad­min­is­tra­tion.
"It im­proves the qual­i­ty of life for these pa­tients that have re­al­ly un­bear­able itch," Baron said. "Think about be­ing stung by 100 mos­qui­toes every day and you get a sense of the dis­tur­bance in your life that you would ex­pe­ri­ence."
The Phase I/Ib tri­al has al­ready be­gun en­rolling, and topline da­ta are ex­pect­ed some­time in the first half of next year. Escient plans to ex­am­ine mul­ti­ple dos­es of the can­di­date in a group of about 100 in­di­vid­u­als di­vid­ed in­to sev­er­al co­horts in a ran­dom­ized, dou­ble-blind, place­bo-con­trolled set­ting.
While that work goes on, the biotech has a sec­ond pro­gram in the works tar­get­ing MRG­PRX2, a mast-cell based re­cep­tor, which could prove as a workaround in dis­eases that are not re­spon­sive to con­ven­tion­al mast-cell sta­bi­liz­ing drugs. And with enough run­way to take them past the lead pro­gram's Phase II and the lat­ter's Phase Ib, Baron is ex­cit­ed for what's to come in this fam­i­ly of tar­gets.
"MRP­GRs are very in­ter­est­ing in that each is amenable to prob­a­bly more than one in­di­ca­tion," Baron said. "So what we're try­ing to do is pros­e­cute these re­cep­tors, and ba­si­cal­ly we do so ag­nos­tic to the ther­a­peu­tic area…whether it's asth­ma, whether it's der­ma­tol­ogy, whether it's CNS, whether it's GI, we'll pur­sue it."