Thanks to Supreme Court de­ci­sion, Mer­ck gets an­oth­er chance to throw out Fos­amax claims
In a tem­po­rary re­lief for Mer­ck amid on­go­ing le­gal dra­ma sur­round­ing its os­teo­poro­sis drug Fos­amax, the Supreme Court has va­cat­ed the judg­ment of a low­er court and di­rect­ed it to re­con­sid­er a rul­ing that al­lowed law­suits to go to tri­al.
While the jus­tices did not weigh in on the mer­its of those law­suits, the de­ci­sion re­vives Mer­ck's hopes of throw­ing out hun­dreds of pa­tients claims, which ac­cuse the phar­ma gi­ant of vi­o­lat­ing state laws by ne­glect­ing to warn them of risks as­so­ci­at­ed with Fos­amax for over a decade. Even though sci­en­tists had spec­u­lat­ed that Fos­amax — a bis­pho­s­pho­nate de­signed to pre­vent os­teo­porot­ic frac­tures — could in­crease the risk of atyp­i­cal femoral frac­tures be­fore the FDA ap­proved the drug in 1995, the la­bel did not fea­ture a warn­ing on that score. De­spite sub­se­quent ev­i­dence from pa­tient re­ports con­firm­ing the risk, a warn­ing was not added un­til 2010 fol­low­ing an or­der from reg­u­la­tors.
Why didn't Mer­ck do any­thing about it dur­ing that time? It's not for lack of try­ing, the com­pa­ny ar­gues. Rather, its at­tempt to add a warn­ing to the la­bel was re­ject­ed by the FDA, free­ing it of any le­gal re­spon­si­bil­i­ty for fail­ure to warn.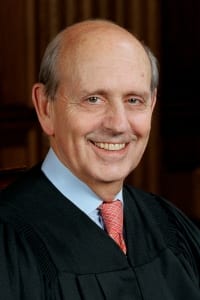 Stephen Brey­er
Key to val­i­dat­ing that ar­gu­ment is a le­gal prin­ci­ple in fed­er­al-state re­la­tions known as pre-emp­tion. In this case — fol­low­ing a 2009 prece­dent set in Wyeth v. Levine — it means that when there is "clear ev­i­dence" that the FDA would not have ap­proved the warn­ing that state law re­quires, the drug man­u­fac­tur­er could not be blamed for fail­ing to com­ply with that state law.
The plain­tiffs might dis­agree on whether that cri­te­ria is met. In fact, Jus­tice Stephen Brey­er ac­knowl­edged in the ma­jor­i­ty opin­ion that the FDA turned down Mer­ck's pro­posed change on the grounds that it was "in­ad­e­quate" and in­vit­ed them to re­sub­mit an ap­pli­ca­tion to ful­ly ad­dress its de­fi­cien­cies. But that's up for a judge, not a ju­ry, to de­cide — con­tra­dict­ing the de­ci­sion of the 2017 rul­ing by the Court of Ap­peals for the Third Cir­cuit.
That's where the case, 17-290 Mer­ck Sharp & Dohme Corp. v. Al­brecht, is head­ed back now.
From the head­note sum­ming up the unan­i­mous rul­ing:
The ques­tion of agency dis­ap­proval is pri­mar­i­ly one of law for a judge to de­cide. The ques­tion of­ten in­volves the use of le­gal skills to de­ter­mine whether agency dis­ap­proval fits facts that are not in dis­pute. More­over, judges, rather than lay ju­ries, are bet­ter equipped to eval­u­ate the na­ture and scope of an agency's de­ter­mi­na­tion, and are bet­ter suit­ed to un­der­stand and to in­ter­pret agency de­ci­sions in light of the gov­ern­ing statu­to­ry and reg­u­la­to­ry con­text. While con­test­ed brute facts will some­times prove rel­e­vant to a court's le­gal de­ter­mi­na­tion about the mean­ing and ef­fect of an agency de­ci­sion, such fac­tu­al ques­tions are sub­sumed with­in an al­ready tight­ly cir­cum­scribed le­gal analy­sis and do not war­rant sub­mis­sion alone or to­geth­er with the larg­er pre-emp­tion ques­tion to a ju­ry.
Law­suits against Mer­ck on Fos­amax first emerged around 2009, af­ter the drug had gone gener­ic. It still gar­nered $209 mil­lion in sales last year, ac­cord­ing to fi­nan­cial re­ports.
---
Im­age source: Shut­ter­stock