We were due for a pretty good year on new drug approvals from the FDA, and so far the agency and the industry have been performing on schedule.
Last year at this time the FDA had recorded just 7 new drug OKs on the way to a miserable 22 new drug approvals for 2016. In a number of cases the anemic rate of approvals was fed by temporary reversals based on manufacturing snafus, a condition still acutely felt at AstraZeneca, which just had its second rejection on ZS-9.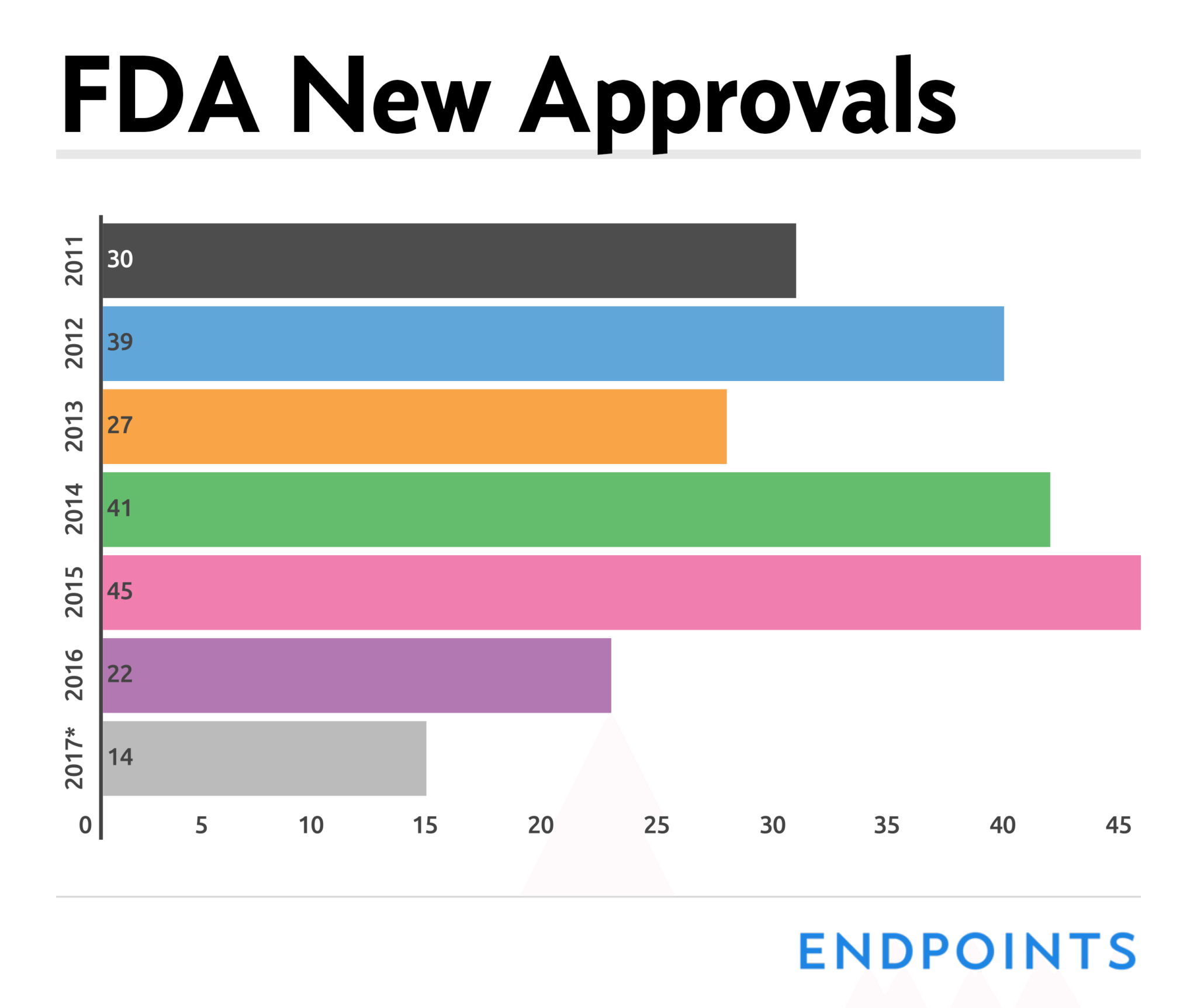 ---
This year, a little more than a quarter into the year, we have 14 new drug approvals, including the recent green light for Neurocrine's Ingrezza. The full list includes the questionable and controversial orphan drug approval of the steroid deflazacort for Duchenne muscular dystrophy, now owned by PTC Therapeutics. But it also includes some likely blockbusters, most notably Ocrevus from Roche and Dupixent from the cross-company team at Regeneron and Sanofi.
Most analysts were expecting a significantly better year in 2017 compared to 2016. New drug approvals rose at a fast clip in the previous few years, jumping to 45 in 2015 and triggering some buoyant expectations that the industry had turned the corner on a bleak period of scant product releases.
The question now is whether new approvals can get close to that 2015 number. RAPS counted the scheduled PDUFA deadlines and came up with 20, after you deduct the newly spurned baricitinib, which may hold back the expected bottom line. They all won't make it to the market.
The jury is still out on that, but this year's early crop of new products bodes well for the rest of 2017.
| | | | |
| --- | --- | --- | --- |
| 1 | trulance | plecanatide | Synergy |
| 2 | parsabiv | etelcalcetide | Kai Pharma |
| 3 | emflaza | deflazacort | Marathon* |
| 4 | siliq | brodalumab | Valeant |
| 5 | xermelo | telotristat ethyl | Lexicon |
| 6 | kisqali | ribociclib | Novartis |
| 7 | xadago | safinamide | Newron |
| 8 | bavencio | avelumab | EMD Serono |
| 9 | symproic | naldemedine | Shionogi |
| 10 | zejula | niraparib | Tesaro |
| 11 | dupixent | dupilumab | Regeneron/Sanofi |
| 12 | ocrevus | ocrelizumab | Genentech |
| 13 | austedo | deutetrabenazine | Teva |
| 14 | ingrezza | valbenazine | Neurocrine |
---
The best place to read
Endpoints News

? In your inbox.

Comprehensive daily news report for those who discover, develop, and market drugs. Join 44,000+ biopharma pros who read Endpoints News by email every day.

Free Subscription
---
---
---