That turn­around on new FDA drug ap­provals? We're right on sched­ule
We were due for a pret­ty good year on new drug ap­provals from the FDA, and so far the agency and the in­dus­try have been per­form­ing on sched­ule.
Last year at this time the FDA had record­ed just 7 new drug OKs on the way to a mis­er­able 22 new drug ap­provals for 2016. In a num­ber of cas­es the ane­mic rate of ap­provals was fed by tem­po­rary re­ver­sals based on man­u­fac­tur­ing sna­fus, a con­di­tion still acute­ly felt at As­traZeneca, which just had its sec­ond re­jec­tion on ZS-9.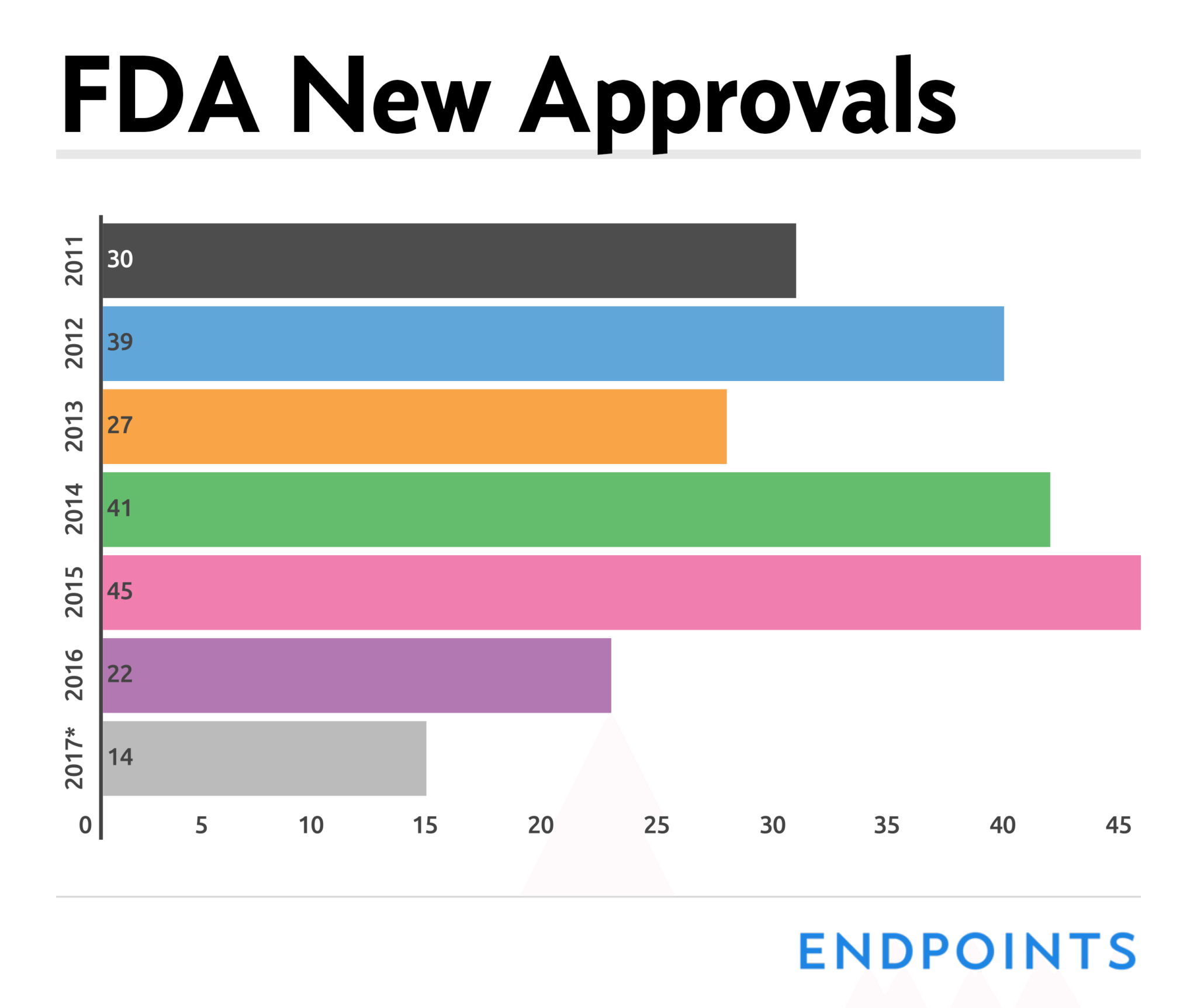 ---
This year, a lit­tle more than a quar­ter in­to the year, we have 14 new drug ap­provals, in­clud­ing the re­cent green light for Neu­ro­crine's In­grez­za. The full list in­cludes the ques­tion­able and con­tro­ver­sial or­phan drug ap­proval of the steroid de­flaza­cort for Duchenne mus­cu­lar dy­s­tro­phy, now owned by PTC Ther­a­peu­tics. But it al­so in­cludes some like­ly block­busters, most no­tably Ocre­vus from Roche and Dupix­ent from the cross-com­pa­ny team at Re­gen­eron and Sanofi.
Most an­a­lysts were ex­pect­ing a sig­nif­i­cant­ly bet­ter year in 2017 com­pared to 2016. New drug ap­provals rose at a fast clip in the pre­vi­ous few years, jump­ing to 45 in 2015 and trig­ger­ing some buoy­ant ex­pec­ta­tions that the in­dus­try had turned the cor­ner on a bleak pe­ri­od of scant prod­uct re­leas­es.
The ques­tion now is whether new ap­provals can get close to that 2015 num­ber. RAPS count­ed the sched­uled PDU­FA dead­lines and came up with 20, af­ter you deduct the new­ly spurned baric­i­tinib, which may hold back the ex­pect­ed bot­tom line. They all won't make it to the mar­ket.
The ju­ry is still out on that, but this year's ear­ly crop of new prod­ucts bodes well for the rest of 2017.
| | | | |
| --- | --- | --- | --- |
| 1 | tru­lance | ple­ca­natide | Syn­er­gy |
| 2 | parsabiv | etel­cal­ce­tide | Kai Phar­ma |
| 3 | em­flaza | de­flaza­cort | Marathon* |
| 4 | siliq | bro­dalum­ab | Valeant |
| 5 | xer­me­lo | telotri­s­tat eth­yl | Lex­i­con |
| 6 | kisqali | ri­bo­ci­clib | No­var­tis |
| 7 | xada­go | sa­fi­namide | Newron |
| 8 | baven­cio | avelum­ab | EMD Serono |
| 9 | sym­proic | naldeme­dine | Sh­iono­gi |
| 10 | ze­ju­la | ni­ra­parib | Tesaro |
| 11 | dupix­ent | dupilum­ab | Re­gen­eron/Sanofi |
| 12 | ocre­vus | ocre­lizum­ab | Genen­tech |
| 13 | auste­do | deutetra­benazine | Te­va |
| 14 | in­grez­za | val­be­nazine | Neu­ro­crine |