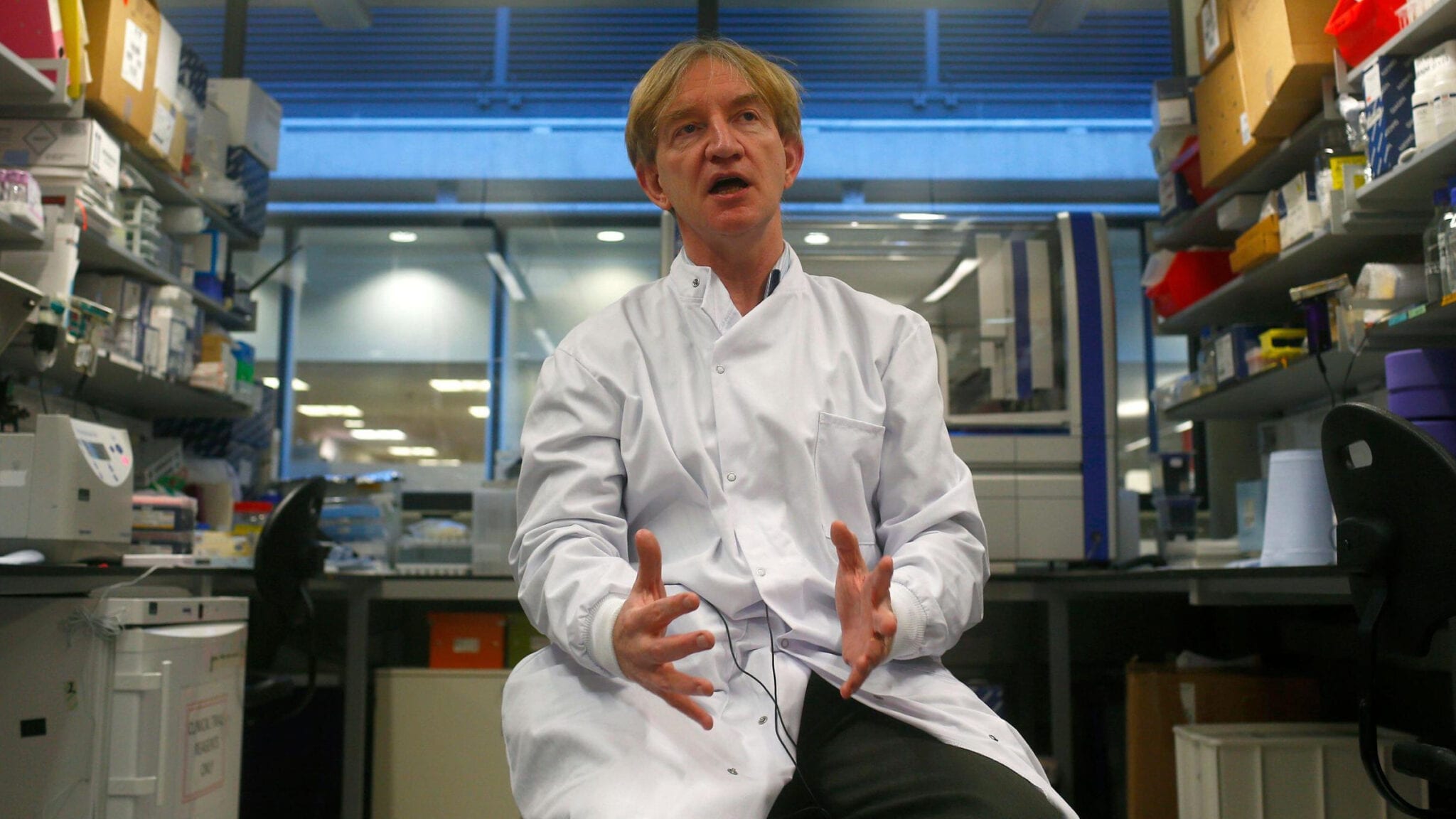 Oxford professor Adrian Hill (Eddie Keogh/Reuters via Alamy)
The com­pa­ny be­hind As­traZeneca's Covid-19 vac­cine just went pub­lic, weeks af­ter com­plet­ing mon­ster Se­ries B, as Were­wolf al­so makes the Nas­daq leap
Ed­i­tor's note: In­ter­est­ed in fol­low­ing bio­phar­ma's fast-paced IPO mar­ket? You can book­mark our IPO Track­er here.
The com­pa­ny be­hind the tech­nol­o­gy for As­traZeneca's Covid-19 vac­cine is prepped and ready to hit Nas­daq.
British biotech Vac­citech priced its IPO late Thurs­day night, pulling in a $110.5 mil­lion raise and will de­but at the mid­point of their range at $17. It's a quick pub­lic leap for the com­pa­ny, hav­ing com­plet­ed a Se­ries B just last month — though that crossover proved to be huge at $168 mil­lion.
Once Vac­citech be­gins trad­ing, it will do so on the tick­er $VACC.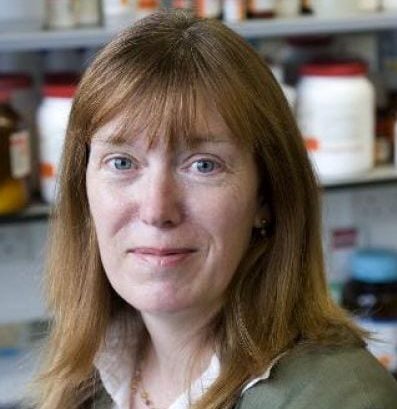 Sarah Gilbert
For­mer­ly a small biotech that spun out of Ox­ford in 2016, Vac­citech has seen its pro­file ex­pand sharply over the course of the Covid-19 pan­dem­ic. The com­pa­ny was found­ed on re­search from vac­ci­nol­o­gists Adri­an Hill and Sarah Gilbert, with Gilbert orig­i­nal­ly look­ing to raise funds for a po­ten­tial MERS vac­cine, per a Ju­ly 2020 Busi­ness­week re­port.
The pro­gram even­tu­al­ly proved fruit­ful in their ef­forts to de­vel­op a Covid-19 shot, as the spike pro­teins from the two virus­es are about 50% sim­i­lar. Gilbert al­so uti­lized the same plat­form as the MERS can­di­date to make their Covid-19 vac­cine, which is cen­tered around a chim­panzee ade­n­ovirus.
At the out­set of the pan­dem­ic, Gilbert and Hill at­tempt­ed to en­sure their vac­cine would be made avail­able glob­al­ly and fought against a li­cens­ing agree­ment with Mer­ck out of fear the Big Phar­ma wouldn't pro­vide it to poor­er na­tions at fair cost. They ul­ti­mate­ly changed course, prompt­ed by the Bill and Melin­da Gates Foun­da­tion, and part­nered ex­clu­sive­ly with As­traZeneca.
With the deal in hand, Vac­citech and As­traZeneca proved one of the ear­ly fron­trun­ners in the Covid-19 vac­cine race. Through­out last sum­mer, the pair had sailed smooth­ly from ear­ly tri­als in­to late-stage stud­ies, launch­ing their large-scale Phase III in the US just af­ter the teams from Mod­er­na and Pfiz­er/BioN­Tech last Sep­tem­ber.
But, just days lat­er, As­traZeneca was forced to pause its tri­als af­ter a par­tic­i­pant de­vel­oped what was thought to be se­vere spinal cord in­flam­ma­tion, a con­di­tion that can be caused by a va­ri­ety of trig­gers. The phar­ma on­ly got FDA per­mis­sion to re­sume in late Oc­to­ber, in part be­cause they were slow to share in­for­ma­tion with the reg­u­la­tor. It had restart­ed tri­als else­where ear­li­er, al­though things have been bumpy since.
As­traZeneca has been mired in fights over dis­tri­b­u­tion to Eu­rope as the cal­en­dar turned to 2021, with de­lays and ac­cu­sa­tions of re­neged promis­es ul­ti­mate­ly lead­ing to the EU su­ing the phar­ma ear­li­er this week.
Vac­citech, though, is ready to cash in on the heels of its Covid-19 pro­gram. Their Se­ries B was joined by promi­nent in­vestors M&G, Gilead and Ten­cent, among oth­ers. With­in the S-1, Vac­citech plans to com­plete clin­i­cal tri­als in he­pati­tis B and HPV pro­grams, and start a Phase I/II study for an­oth­er can­di­date in prostate can­cer. Fur­ther down the pipeline, funds will go to an NSCLC pro­gram and two pro­grams to pre­vent zoster and MERS.
As re­cent­ly as 2019, Vac­citech was val­ued at on­ly $86 mil­lion. But their Se­ries B raised spec­u­la­tion that they could notch a $1 bil­lion val­u­a­tion by the time their IPO rolled around, a the­o­ry that ul­ti­mate­ly over­shot that es­ti­mate — ac­cord­ing to Re­nais­sance Cap­i­tal, Vac­citech's mar­ket val­ue is $614 mil­lion.
The move to Nas­daq is al­so seen by some in the UK as a loss for British prime min­is­ter Boris John­son, who has been try­ing to mar­ket the coun­try as a bur­geon­ing life sci­ences hub in the wake of Brex­it.
Were­wolf howls its way on­to Nas­daq
Join­ing Vac­citech in the Nas­daq pa­rade is Were­wolf Ther­a­peu­tics, who priced their IPO at $16 per share and net­ted a $120 mil­lion raise.
The com­pa­ny has de­vel­oped three mol­e­cules be­long­ing to a class they dub In­dukines, which com­pris­es four com­po­nents: a cy­tokine, an in­ac­ti­va­tion do­main, a half-life ex­ten­sion do­main and a link­er that can be cleaved by pro­teas­es found in tu­mors. Were­wolf says the com­bi­na­tion can lay low through­out the body, wait­ing to strike specif­i­cal­ly against can­cer tar­gets.
Like Vac­citech, Were­wolf al­so re­cent­ly com­plet­ed a Se­ries B round, hav­ing raised $72 mil­lion back in Jan­u­ary. With an ini­tial fo­cus on IL-2 and IL-12, Were­wolf is look­ing to be­gin hu­man test­ing for WTX-124 and WTX-330 in 2022. The third can­di­date aims to con­di­tion­al­ly ac­ti­vate IFN-a.
With the pair go­ing pub­lic Fri­day, the to­tal biotech IPO raise is near­ing $6.5 bil­lion among the 39 com­pa­nies to de­but so far, per the End­points News tal­ly. Were­wolf plans to trade un­der the tick­er $HOWL.