The dis­rup­tors at EQRx have their eyes on the PD-(L)1 mar­ket — tee­ing up $150M cash to grab 2 back­bone ther­a­pies from Chi­na
EQRx is pay­ing top dol­lar to bring a pair of PD-(L)1 drugs in­to its port­fo­lio of fast-fol­low ther­a­pies, of­fer­ing $150 mil­lion up­front in what could shape up to be a $1.3 bil­lion al­liance with Chi­na's CStone.
As ear­ly as 2017 Cel­gene had bet on a made-in-Chi­na PD-1 via its pact with BeiGene, quick­ly fol­lowed by Ar­cus as the sec­ond check­point wave was loom­ing; more re­cent­ly Eli Lil­ly im­port­ed long­time part­ner In­novent's PD-1 in a $1 bil­lion deal. All are div­ing in­to a space now dom­i­nat­ed by Mer­ck's Keytru­da fran­chise, where six oth­er play­ers are try­ing to catch up by carv­ing out their own nich­es — and more are on their way to tap in­to the var­i­ous I/O pair­ings an­chored by a PD-(L)1. But none so far has quite shared EQRx's ex­plic­it mis­sion to dis­rupt the multi­bil­lion-dol­lar mar­ket by of­fer­ing a low­er cost op­tion.
With sev­en drugs al­ready ap­proved, though, one has to won­der: Why hasn't there been more com­pe­ti­tion on price? And what makes EQRx think it can make any dif­fer­ence?
"That's a re­al­ly in­ter­est­ing ques­tion, isn't it? In most in­dus­tries that's what you'd ex­pect," Alex­is Borisy, co-founder and CEO, told End­points News. "There's a lot of an­swers to it[…] It's a very com­plex set of in­ter­ac­tions, the net re­sult of which has been spi­ral­ing ever high­er prices in our in­dus­try."
The promise at EQRx, as Borisy and Melanie Nal­licheri wide­ly pitched at this year's JP Mor­gan con­fab, is not just to de­vel­op drugs against known tar­gets more ef­fi­cient­ly — but al­so set a new mod­el for how the in­dus­try brings drugs to mar­ket.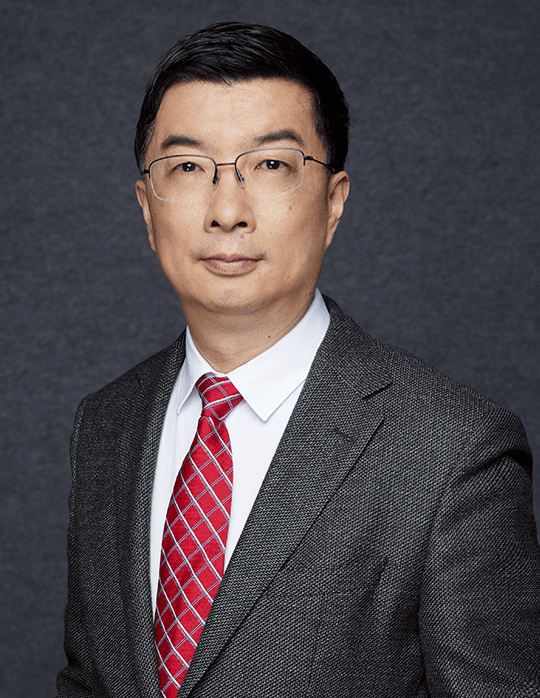 Frank Jiang
A Sanofi vet who spent sev­er­al years in New Jer­sey be­fore mov­ing back to Shang­hai, CStone CEO Frank Jiang is clear­ly a big fan of what Borisy is build­ing at EQRx in terms of sell­ing drugs and paving a path to adop­tion, even though the de­tails won't be pub­lic for an­oth­er year or two.
"Many of those things are con­fi­den­tial but when you look in­to it, these are re­al­ly trans­form­ing the way that we do the busi­ness, like nor­mal busi­ness," Jiang told in­vestors on a call. "Their in­no­v­a­tive mod­el can po­si­tion them, put both sug­e­mal­imab and PD-1 com­pet­i­tive­ly against the ex­ist­ing al­ter­na­tive ther­a­pies in many of the largest health­care glob­al mar­kets by hav­ing strate­gic col­lab­o­ra­tions with pay­ers and health sys­tems."
Aside from scor­ing cash to in­vest in what he calls CStone's pipeline 2.0, Jiang not­ed that his R&D team will be able to tag along as EQRx plots glob­al tri­als for var­i­ous com­bi­na­tion ther­a­pies uti­liz­ing CS1003 as a back­bone.
The CStone deal is no­tably larg­er than the oth­er two EQRx has dis­closed so far: Li­cens­ing the CDK4/6 in­hibitor le­ro­ci­clib from G1 Ther­a­peu­tics took $20 mil­lion up­front and $290 mil­lion in mile­stones, while the li­cense for Han­soh Phar­ma's EGFR-tar­get­ed al­moner­tinib is val­ued at around $100 mil­lion.
Yet sug­e­mal­imab is al­so ar­guably high­er pro­file, hav­ing scored break­through ther­a­py des­ig­na­tion from the FDA just days ago for re­lapsed or re­frac­to­ry ex­tra­n­odal nat­ur­al killer/T-cell lym­phoma. CStone has re­peat­ed tout­ed it as a po­ten­tial best-in-class drug, post­ing some en­cour­ag­ing Phase III da­ta in non-small cell lung can­cer this sum­mer.
While a Third Rock part­ner, Borisy al­so co-found­ed Blue­print Med­i­cines, a CStone part­ner that's con­tributed three clin­i­cal as­sets to the pipeline. And that's giv­en him a front row seat in how Jiang does his busi­ness.
"The qual­i­ty of the da­ta that they gen­er­ate and the qual­i­ty of the team is ab­solute­ly ex­cel­lent," he said.
Hav­ing launched with a time­line to bring its first med­i­cine to mar­ket by 2025, Borisy added that his crew is now ahead of the orig­i­nal sched­ule, with mul­ti­ple drugs slat­ed for ap­proval in the next hand­ful of years.
With the deal — which cov­ers world­wide rights ex­cept in the re­gion known as Greater Chi­na — CStone has now ful­ly sold all rights to the PD-L1 drug sug­e­mal­imab. In a li­cens­ing pact un­veiled last month, Pfiz­er bagged Chi­na com­mer­cial­iza­tion rights by buy­ing up $200 mil­lion worth of CStone stock.
The Chi­nese biotech, though, re­tains rights to de­vel­op the PD-1 in­hibitor CS1003 in main­land Chi­na, Tai­wan, Hong Kong and Macau.