The FDA opens an in­side track to let No­var­tis race ahead on Zyka­dia as Roche ri­val­ry heats up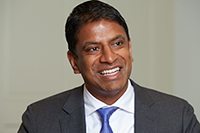 Vas­ant Narasimhan, Glob­al Head Drug De­vel­op­ment and Chief Med­ical Of­fi­cer for No­var­tis
No­var­tis just leaped for­ward with its can­cer drug Zyka­dia (cer­i­tinib), gain­ing a pri­or­i­ty re­view from the FDA as a front­line treat­ment for ALK-pos­i­tive non-small cell lung can­cer as well as break­through sta­tus for lung can­cer pa­tients with brain metas­tases. The ad­vances are keep­ing the phar­ma gi­ant close to their fel­low Basel res­i­dents at Roche in their head-to-head ri­val­ry with Ale­cen­sa, which an­a­lysts have blessed as the odds-on win­ner.
Last fall No­var­tis not­ed that Zyka­dia had aced a Phase III study for lung can­cer, hand­i­ly beat­ing out chemother­a­py in hold­ing back ALK-pos­i­tive lung can­cer pro­gres­sion among pa­tients pre­vi­ous­ly treat­ed with Pfiz­er's Xalko­ri. Roche's Ale­cen­sa has a break­through drug des­ig­na­tion — a like­ly in­di­ca­tor of a quick OK in this case — for use as a front­line drug in ALK-pos­i­tive lung can­cer.
Ale­cen­sa has jumped to an ear­ly, though small, sales lead as the two Big Phar­ma com­pa­nies duke it out over front­line sta­tus. And Roche land­ed its sec­ond break­through des­ig­na­tion from the FDA last Oc­to­ber af­ter their drug beat out Xalko­ri among Japan­ese pa­tients with an ALK-pos­i­tive form of the dis­ease.
The FDA is like­ly to act quick­ly on both of these drugs, pos­si­bly not even wait­ing out the full six-month re­view for Zyka­dia now that No­var­tis will get a pri­or­i­ty re­view. In No­var­tis' Phase III Zyka­dia pa­tients had a me­di­an pro­gres­sion-free sur­vival rate of 16.6 months com­pared to 8.1 months for chemo.
There are about 1.8 mil­lion lung can­cer di­ag­noses each year and rough­ly 2% to 7% of cas­es are ALK-pos­i­tive. Ale­cen­sa is man­u­fac­tured by Roche's big Genen­tech sub­sidiary.
"We are com­mit­ted to ad­vanc­ing our un­der­stand­ing of mu­ta­tion-dri­ven lung can­cer, where there con­tin­ues to be sig­nif­i­cant un­met need," said Vas Narasimhan, Glob­al Head Drug De­vel­op­ment and Chief Med­ical Of­fi­cer, No­var­tis. "To­day`s Pri­or­i­ty Re­view of Zyka­dia for new­ly di­ag­nosed pa­tients with ALK+ metasta­t­ic NSCLC, in­clud­ing Break­through Ther­a­py des­ig­na­tion for those with brain metas­tases, brings us clos­er to de­liv­er­ing the right treat­ment to the right pa­tient at the right time."