The pan­dem­ic IPOs keep rolling, as Gen­er­a­tion, Avid­i­ty, Vax­cyte each claim 200M+
If it wasn't al­ready, biotech's pan­dem­ic IPO boom is in full swing.
Af­ter a week that saw the largest Chi­nese biotech IPO in his­to­ry and an­oth­er $154 mil­lion for a com­pa­ny that emerged on­ly last Sep­tem­ber, four dif­fer­ent biotechs raised over $200 mil­lion. Each of them up­sized their of­fer­ings or priced at the top end — or more — of their orig­i­nal range.
Col­lec­tive­ly, they raised $926 mil­lion, or an av­er­age of $231 mil­lion per com­pa­ny.
The new rais­es are part of a broad­er trend, as in­vestors have flocked to biotech stocks as is­lands of sta­bil­i­ty in an in­creas­ing­ly rocky and pan­dem­ic-strick­en stock mar­ket. Large­ly, that's meant bal­loon­ing val­u­a­tions for pub­lic com­pa­nies, such as Mod­er­na and Vir, who are mak­ing treat­ments or vac­cines for Covid-19.
But the com­pa­nies go­ing pub­lic this week don't have large Covid-19 pro­grams. They con­sist of a Chi­nese can­cer de­tec­tion com­pa­ny and three com­pa­nies that are still pre­clin­i­cal, a stage when it used to be rare for com­pa­nies to go pub­lic, let alone raise vast cap­i­tal. The new rounds are a con­tin­u­a­tion of that trend, glimpses of which were seen be­fore the out­break hit the US, as the mar­ket showed an ap­petite for such ear­ly-stage ven­tures.
Six pre­clin­i­cal biotechs have now raised over $150 mil­lion in 2020, com­pared with just two over the pre­vi­ous three years, ac­cord­ing to num­bers from Re­nais­sance Cap­i­tal. That in­cludes David Liu's Beam Ther­a­peu­tics, which raised $180 mil­lion on a base pair edit­ing plat­form in Feb­ru­ary, Jim Wil­son's Pas­sage Bio, and Ver­sant's Black Di­a­mond Ther­a­peu­tics.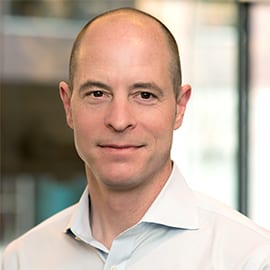 Ge­off Mc­Do­nough Gen­er­a­tion
Gen­er­a­tion Bio was the first com­pa­ny to go pub­lic this week, grab­bing $200 mil­lion in a twice-up­sized of­fer­ing. Run by Gen­zyme vet Ge­off Mc­Do­nough, it's de­vel­op­ing gene ther­a­pies that can be de­liv­ered by lipid nanopar­ti­cles in­stead of vi­ral vec­tors. The idea is that the nanopar­ti­cles can last as long as the now-com­mon ade­no-as­so­ci­at­ed virus­es, while be­ing eas­i­er to scale and sell for less than the cur­rent mul­ti-mil­lion dol­lar price tags for gene ther­a­pies.
In Jan­u­ary, the com­pa­ny raised $110 mil­lion, bring­ing their to­tal to $235 mil­lion. At the time, Mc­Do­nough told End­points News they might look for an IPO in 12 to 18 months to fund their clin­i­cal work.
Avid­i­ty Bio­sciences, an Eli Lil­ly-backed an­ti­sense biotech, priced at $14 to $16, up­sized the range to $17 to $18, and then priced at the high end of that, earn­ing $259 mil­lion in the end. The com­pa­ny works on mus­cle dis­or­ders, par­tic­u­lar­ly my­oton­ic mus­cu­lar dy­s­tro­phy. They com­bine an­ti­sense oligonu­cleotides — an old way of drug­ging RNA — with hom­ing an­ti­bod­ies to cre­ate what they call an­ti­body oligonu­cleotides con­ju­gates. The idea is that the an­ti­body will guide the an­ti­sense to se­quences that were pre­vi­ous­ly dif­fi­cult to tar­get. Their last round was in No­vem­ber, for $100 mil­lion.
Vax­cyte filed for its IPO ex­act­ly two months af­ter it raised $110 mil­lion in a Se­ries D, and end­ed up rais­ing $249 mil­lion. At the time of the last raise, it was known as SutroVax — a holdover from its days as a spin­out of Sutro Bio­phar­ma — but they changed their name and lo­go in ad­vance of fil­ing for what was orig­i­nal­ly sten­ciled as a $100 mil­lion IPO.
There may be no bet­ter time to go pub­lic as a vac­cine com­pa­ny, and the re­turn of vac­cines to the cen­ter of pub­lic at­ten­tion may have boost­ed their over­all raise, but Vax­cyte is work­ing on a far dif­fer­ent mar­ket and type of in­oc­u­la­tion than coro­n­avirus. The com­pa­ny is try­ing to cre­ate a fol­low-up to Pre­vnar13, the Pfiz­er pneu­mo­nia vac­cine that's earned over $30 bil­lion in one of the few block­buster vac­cine mar­kets. Vax­cyte's lead prod­uct is meant to guard against 24 strains of bac­te­ria, in­stead of Pre­vnar's 13, and is com­pet­ing against ex­per­i­men­tal in­oc­u­la­tions at Pfiz­er and else­where.
In the fi­nal large raise, Il­lu­mi­na-part­nered Burn­ing Rock Biotech, a DNA-se­quenc­ing based can­cer de­tec­tion com­pa­ny, earned $223 mil­lion, pric­ing a dol­lar above their orig­i­nal $13.50 to $15.50 range. They got to ring the open­ing bell to­day at the Nas­daq.
And on a small­er note, AI-fo­cused Chi­nese biotech, Lantern Phar­ma had an ever-so-slight­ly up­sized IPO. They filed for $25 mil­lion and raised $26 mil­lion.