Hindsight is 20/20 vision. But the drug market analysts at IQVIA believe they can also paint a clear picture of what lies ahead for all of biopharma in the next 5 years.
And it looks quite compelling — especially for the up-and-coming smaller companies with a hard focus on drug development and a taste for jumping into marketing. Globally, the industry can expect to see overall drug spending rise from $1.2 trillion in 2018 to $1.5 trillion in 2023 — with the pressure on US pricing rising.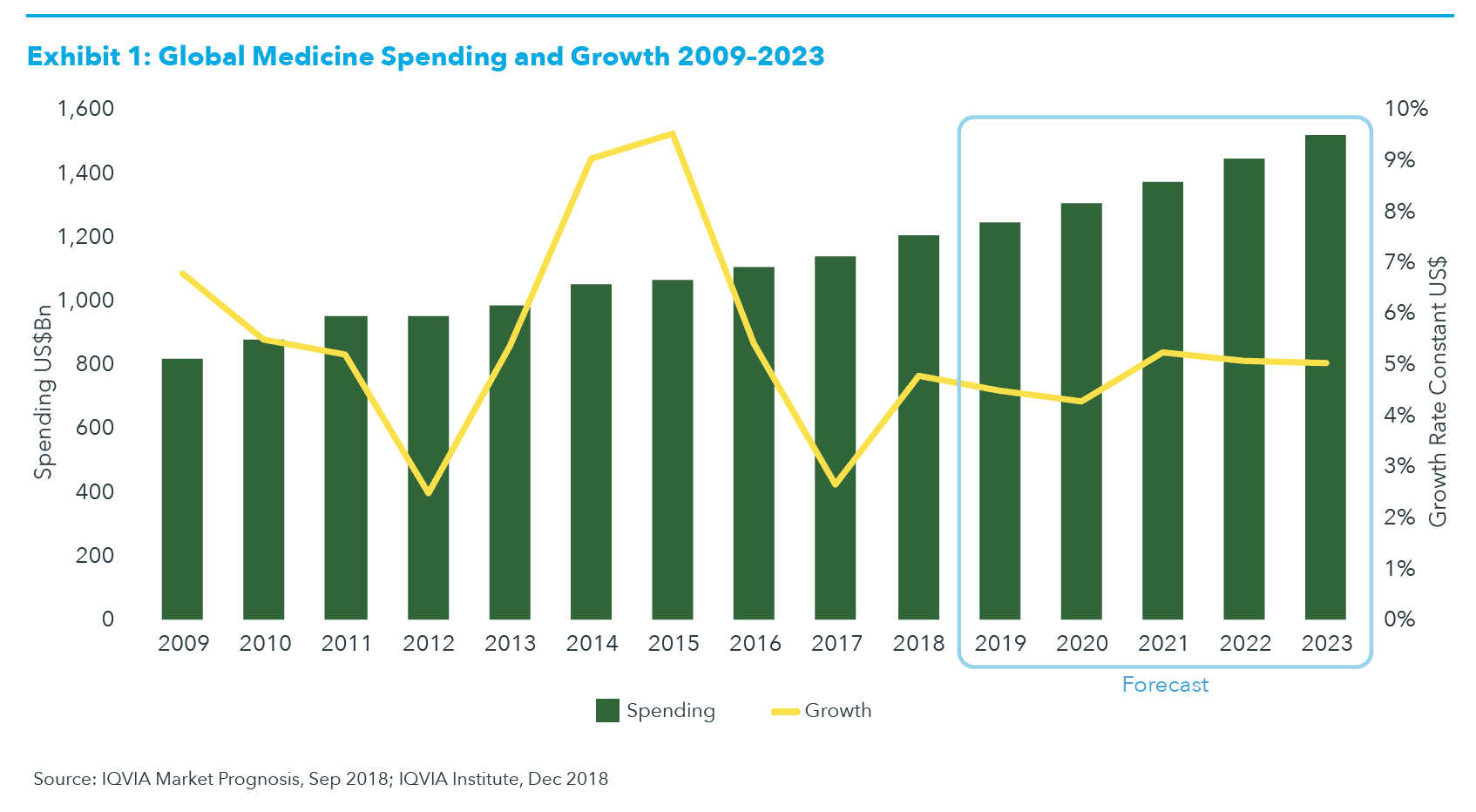 ---
IQVIA offered us a chance to get a preview of their new report, out on Tuesday. And with plenty of bold predictions on offer for all aspects of the industry, we're going to focus on drug R&D trends, with a shot at clarifying the uncertain picture around drug pricing.
There's a relatively high and steady rate of new drug launches expected between now and the end of 2023, says IQVIA in their new report on this topsy turvy industry. Over the last 5 years, the industry averaged 46 new drug launches per year. Over the next 5 years, that average will rise to 54. Specialty drugs will account for two thirds of those launches, compared to 61% in the last 5 years.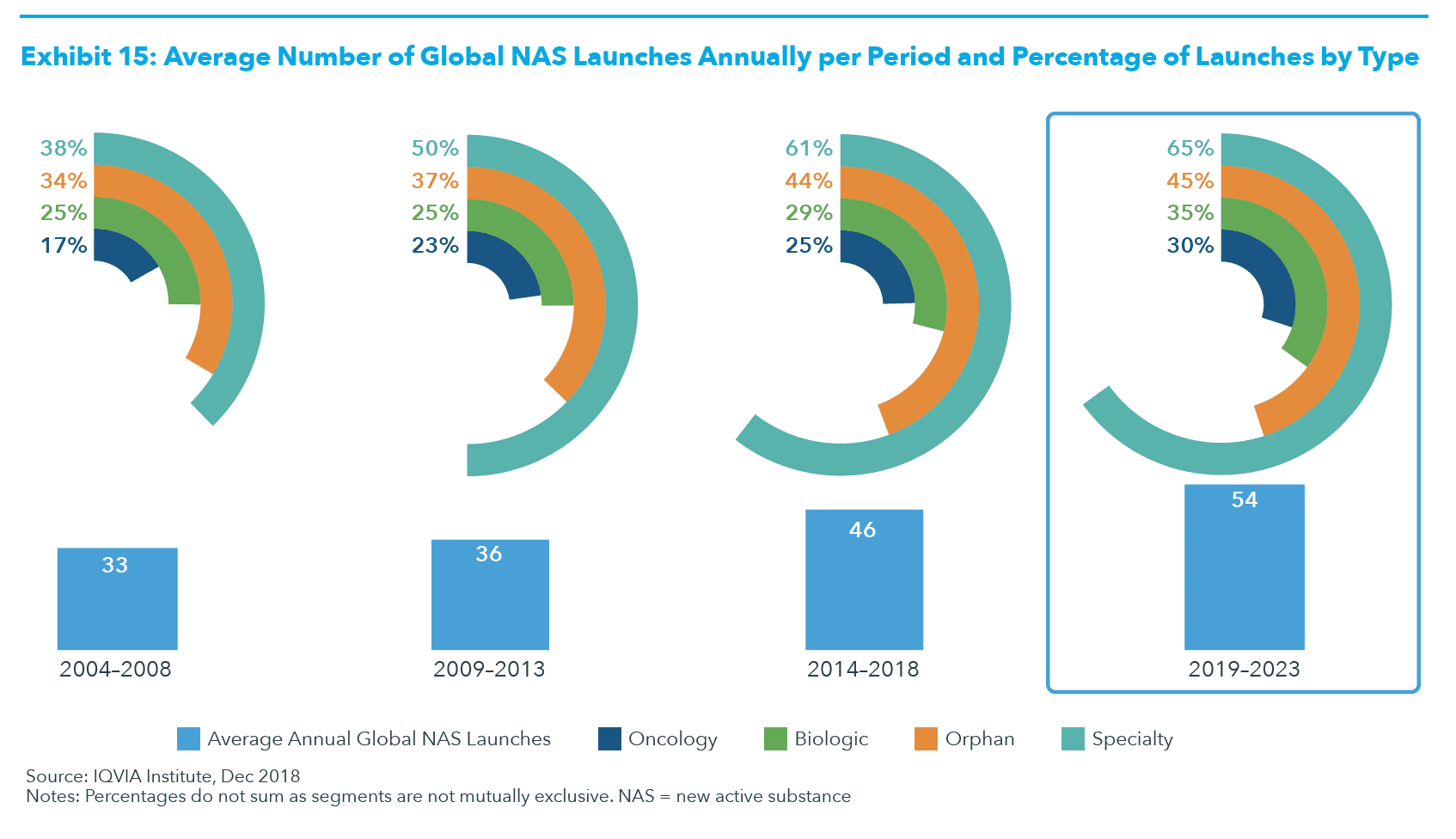 ---
But R&D won't be dominated entirely by Big Pharma.
Instead, the new report says up-and-coming smaller biotechs — defined as those with less than $500 million in revenue or R&D budgets under $200 million a year — have seen their percentage of R&D activity jump from 60% to 72% over the past 10 years. That's led to 68 new drugs over the last 5 years, up from 47 from this group over the 5 years before that.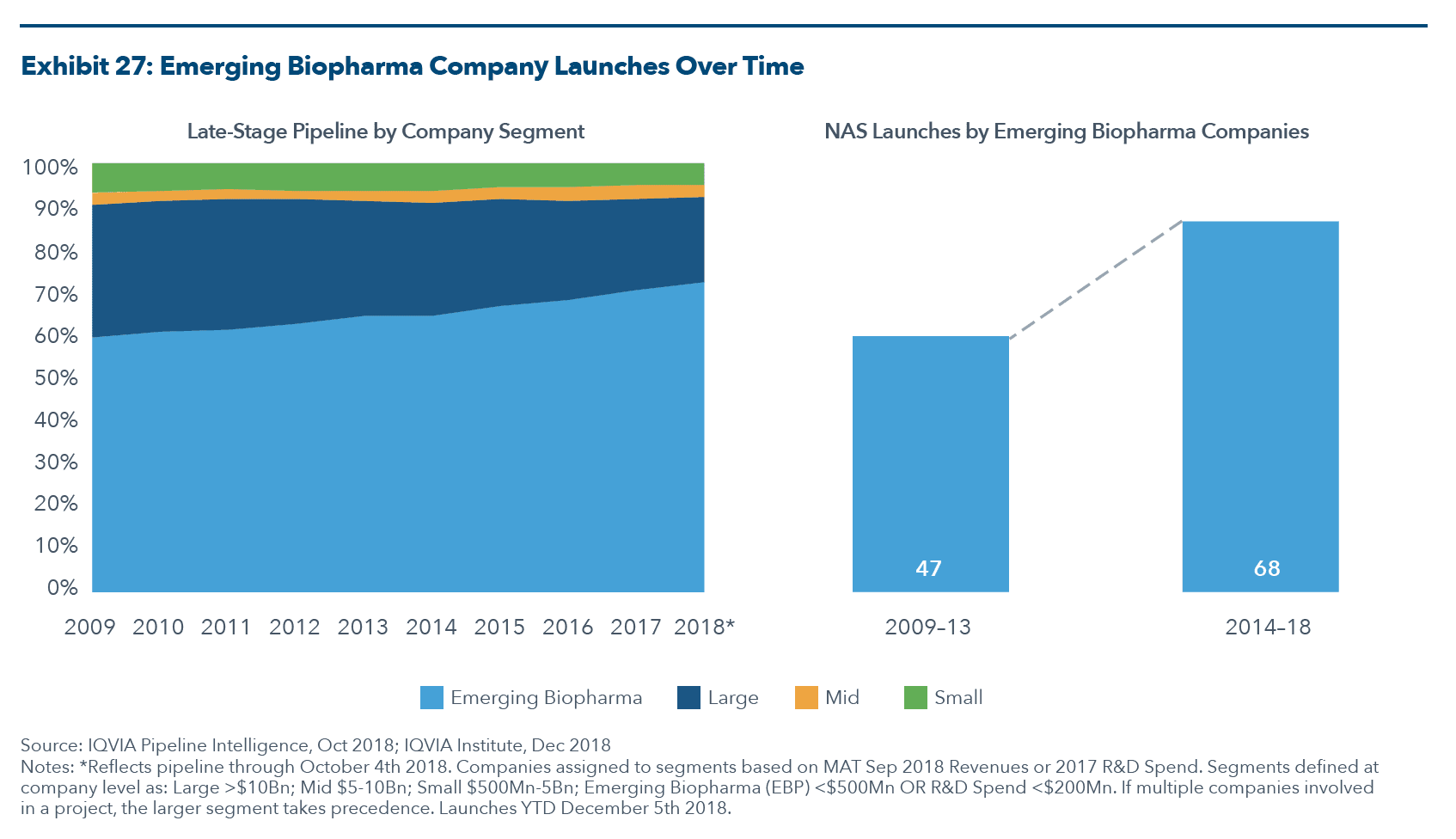 ---
The next 5 years? Look for these smaller companies to produce more than a third of the new drugs approved, with a much greater likelihood that they'll undertake the marketing without a pharma partner.
As for pharma, the big companies will prefer to do more partnering rather than shoulder all of the commercial risk themselves. In the near future, the emphasis at the giants will be on clarity and solid, reliable numbers, and that means less likelihood of making extravagant bets on new drugs.
In this brave new world pictured by IQVIA, you can expect players to maintain margins in an uncertain world or slash R&D spending to compensate. Anyone who can't adjust will be subject to a buyout.
Here are some more snippets of what they've seen in the IQVIA crystal ball:
— Real world evidence gains traction and devotees
The use of real world evidence is here to stay, with growing sophistication in gather RWE and using it with regulators at the FDA — which have signaled their readiness for what lies ahead. Randomized trials will remain the gold standard in R&D, but where they're not viable, RWE can fill the gap. And where new technology can generate data at lower costs, through site-less studies for example, look for developers to change as rapidly as possible.
— AI is happening, and it's getting bigger
Machine learning and artificial intelligence are gaining ground, and their use will grow significantly over the coming 5 years. AI and ML will have an impact on clinical as well as commercial settings, driving drug management and identifying patients. And as data sets continue to grow in size, the information and analysis that they will provide will grow in value, further driving adoption.
— Prescription digital therapeutics have a role to fill
The first prescription digital therapeutic was approved last year. But look for lots more in the coming wave. What's up first: "ADHD, major depressive disorder, and schizophrenia apps are among late-stage pipelines and may be early entrants."
— That next-gen R&D revolution? It could take awhile
You've likely read plenty about the next-gen cell and gene therapies that have been hitting the market. CRISPR-Cas9, stem cells and more gene modification approaches are in the works. But the reality is that the first drugs of this new group — think CAR-T here — are extraordinarily expensive to make, difficult to manufacture and aren't that widely used. As a result, IQVIA expects only 5 to 8 true, new next-gen therapies to make their way to an approval in the next 5 years — fewer than we've seen in earlier predictions. The analysts expect "only a few companies will end up dominating here," for all the above reasons.
— So what about pricing and market development?
Public perception of the industry and drug pricing has been shaped by highly publicized incidents of price gouging — what I choose to call the Shkreli Effect. With drug pricing a hot political issue, there will be lots of efforts built around capping prices. But the reality of the political situation in DC will likely leave real change in the hands of the executive branch, says IQVIA, which can influence pricing through new rules and regulations.
The shift in R&D innovation over the last few years has tilted the market to specialty, orphan and oncology drugs, with new therapies often winning 6-figure list prices. That trend will continue, says IQVIA, pushing list prices on new drugs past the $200,000 market. But look for lots of pressure to rein in future price increases, with fewer real breakthroughs like checkpoint inhibitors, more backlash from independent pricing review organizations like ICER and more competition in new classes of drugs.
All of this will play out as some of the world's biggest drug franchises are hit with biosimilar rivals, capped by Humira, which loses patent protection (most likely) in 2023, at the end of the 5-year window. Biosimilar development, which has lagged in the US, will expand significantly over the next 5 years, with more competitors bringing more competitive pricing.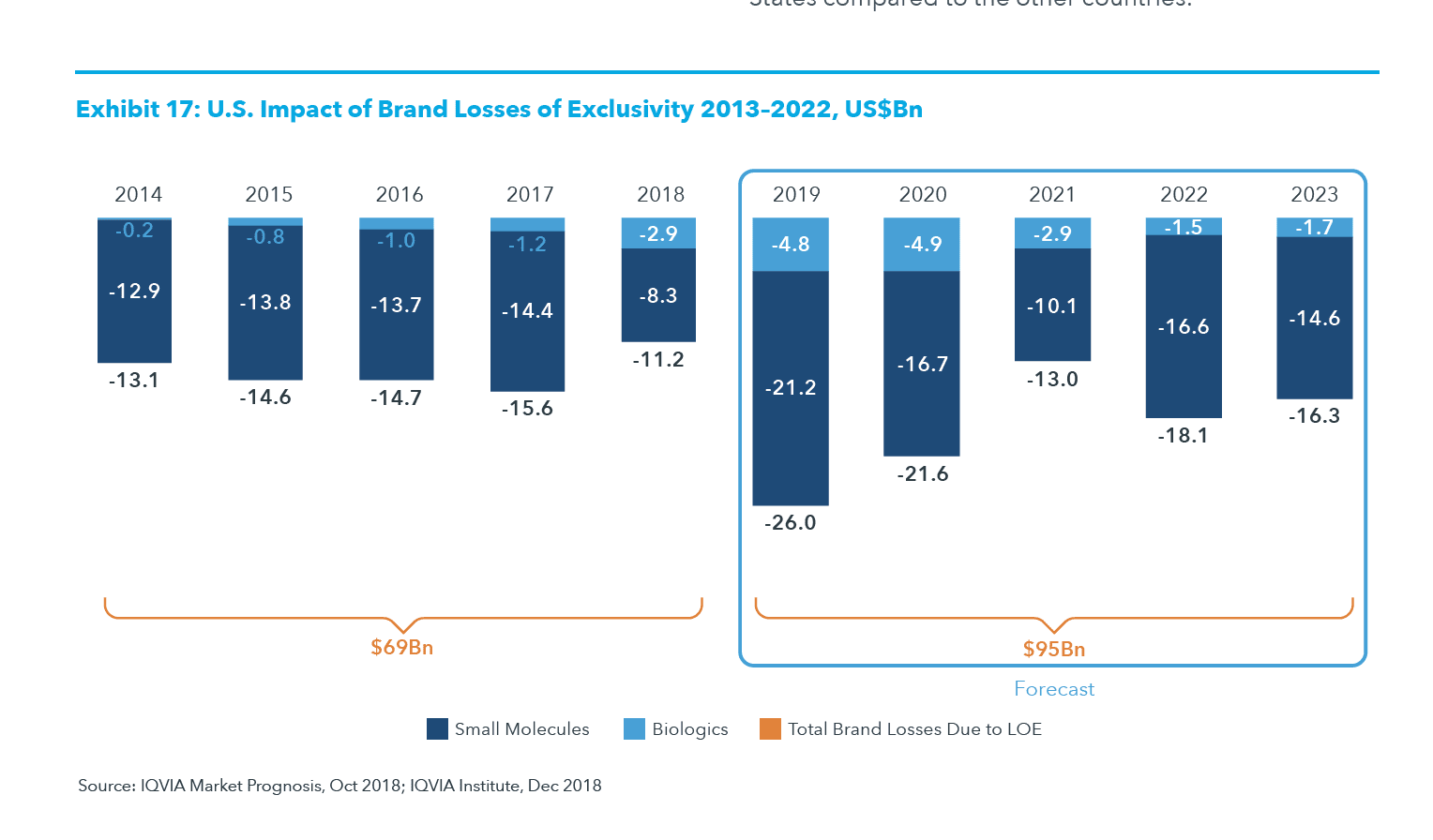 ---
Fast growth through greater insurance access, meanwhile, has made China the world's second largest pharma market. Growth will continue, but at a slower pace, declining to 3-6% through 2023. That compares to an average of 11% per year for original brands over the past 5 years. China will remain big, but the explosive expansion appears to be behind us.
---
The best place to read
Endpoints News

? In your inbox.

Comprehensive daily news report for those who discover, develop, and market drugs. Join 51,200+ biopharma pros who read Endpoints News by email every day.

Free Subscription
---
---
---