The next 5 years: High­er R&D pro­duc­tiv­i­ty is here to stay, emerg­ing biotechs and new tech will have a big im­pact. But what about pric­ing?
Hind­sight is 20/20 vi­sion. But the drug mar­ket an­a­lysts at IQVIA be­lieve they can al­so paint a clear pic­ture of what lies ahead for all of bio­phar­ma in the next 5 years.
And it looks quite com­pelling — es­pe­cial­ly for the up-and-com­ing small­er com­pa­nies with a hard fo­cus on drug de­vel­op­ment and a taste for jump­ing in­to mar­ket­ing. Glob­al­ly, the in­dus­try can ex­pect to see over­all drug spend­ing rise from $1.2 tril­lion in 2018 to $1.5 tril­lion in 2023 — with the pres­sure on US pric­ing ris­ing.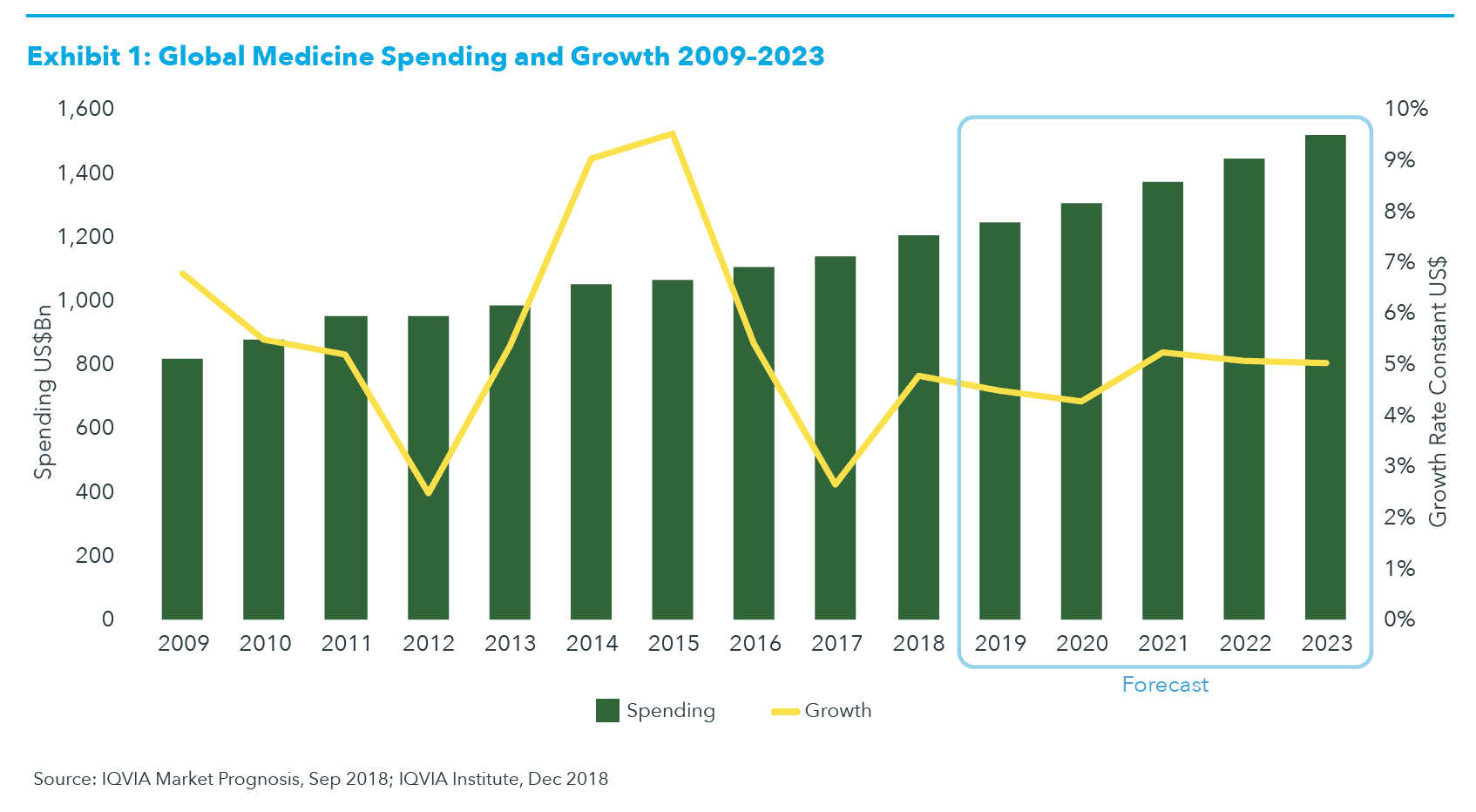 ---
IQVIA of­fered us a chance to get a pre­view of their new re­port, out on Tues­day. And with plen­ty of bold pre­dic­tions on of­fer for all as­pects of the in­dus­try, we're go­ing to fo­cus on drug R&D trends, with a shot at clar­i­fy­ing the un­cer­tain pic­ture around drug pric­ing.
There's a rel­a­tive­ly high and steady rate of new drug launch­es ex­pect­ed be­tween now and the end of 2023, says IQVIA in their new re­port on this top­sy turvy in­dus­try. Over the last 5 years, the in­dus­try av­er­aged 46 new drug launch­es per year. Over the next 5 years, that av­er­age will rise to 54. Spe­cial­ty drugs will ac­count for two thirds of those launch­es, com­pared to 61% in the last 5 years.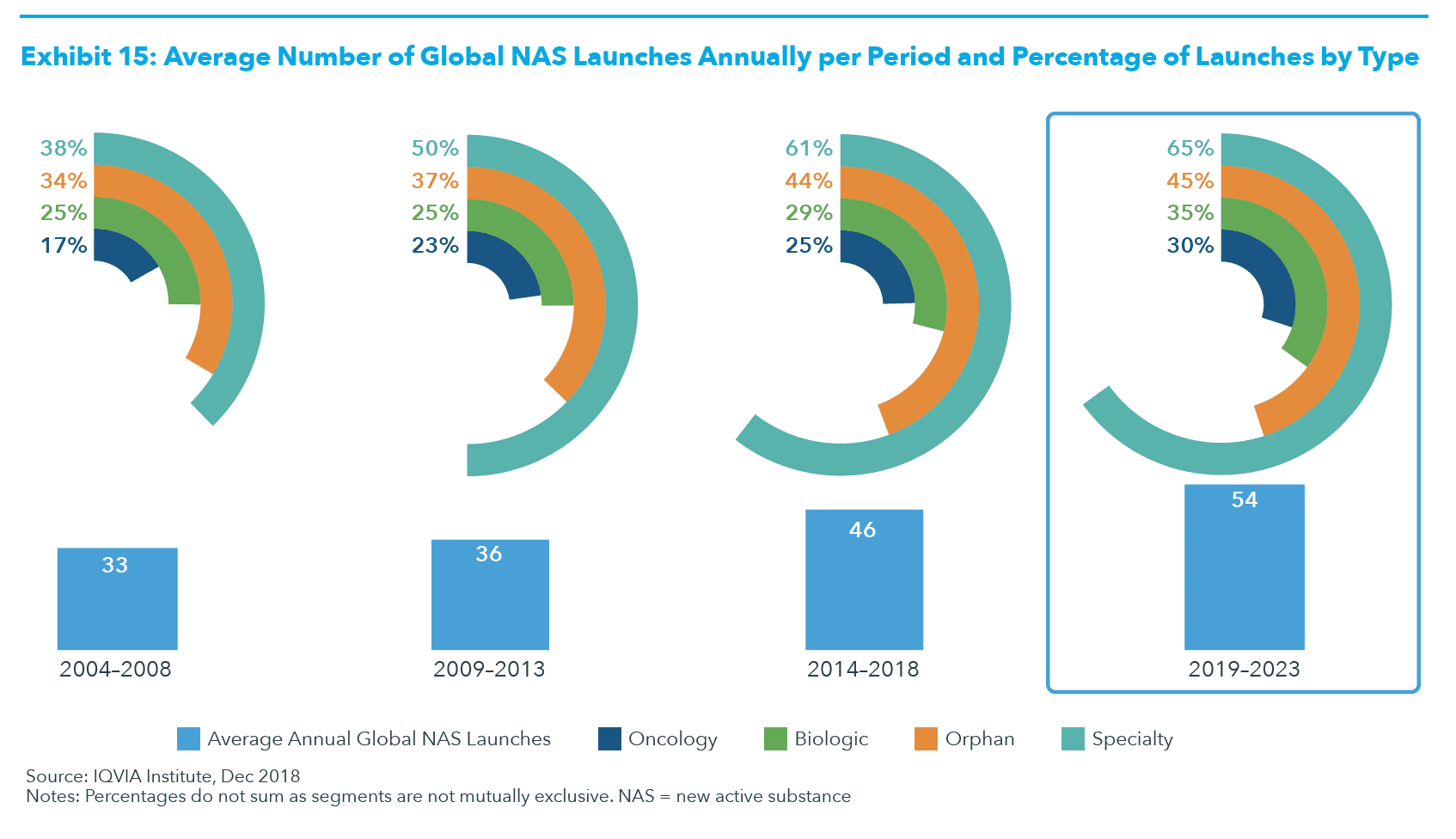 ---
But R&D won't be dom­i­nat­ed en­tire­ly by Big Phar­ma.
In­stead, the new re­port says up-and-com­ing small­er biotechs — de­fined as those with less than $500 mil­lion in rev­enue or R&D bud­gets un­der $200 mil­lion a year — have seen their per­cent­age of R&D ac­tiv­i­ty jump from 60% to 72% over the past 10 years. That's led to 68 new drugs over the last 5 years, up from 47 from this group over the 5 years be­fore that.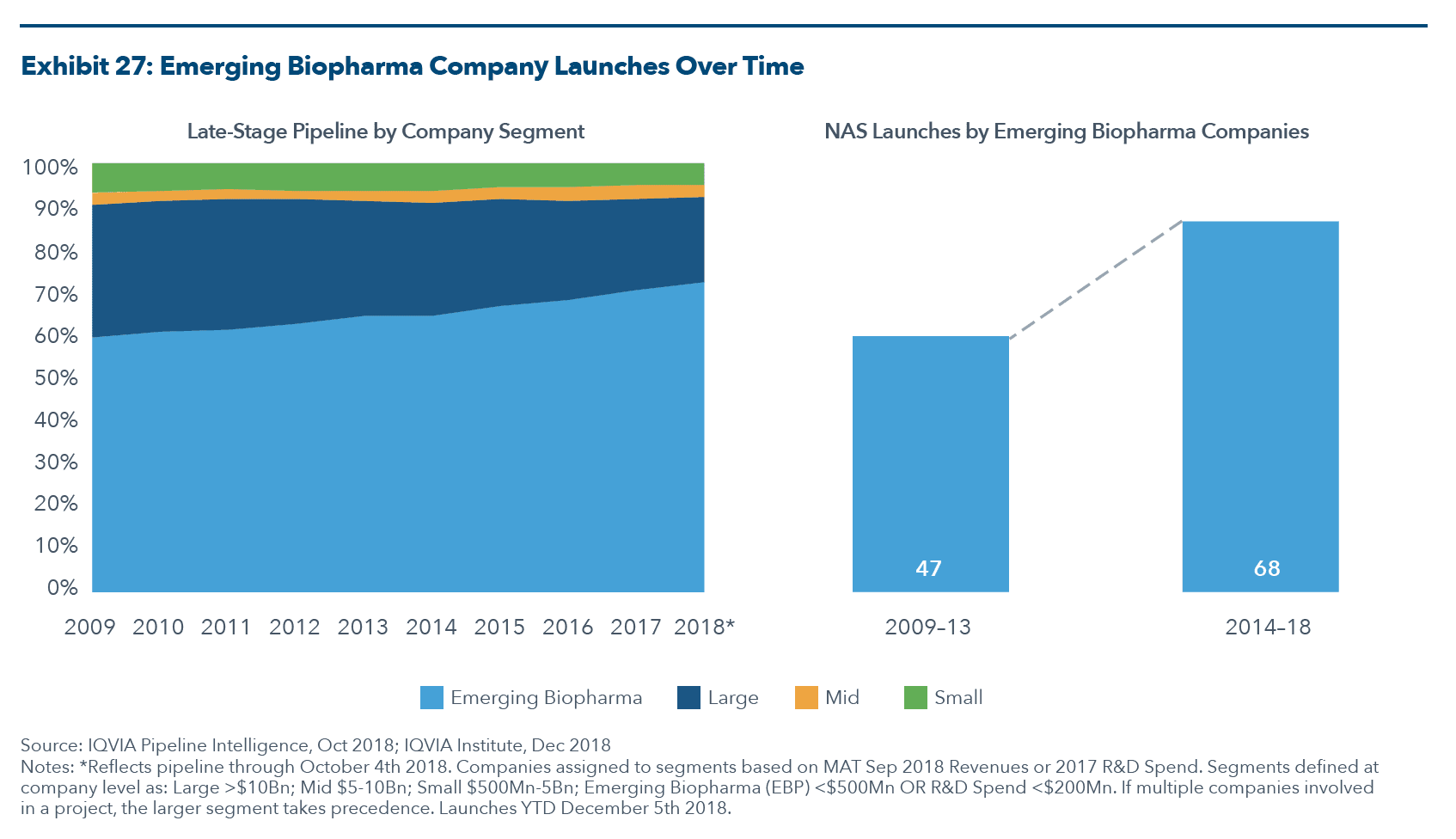 ---
The next 5 years? Look for these small­er com­pa­nies to pro­duce more than a third of the new drugs ap­proved, with a much greater like­li­hood that they'll un­der­take the mar­ket­ing with­out a phar­ma part­ner.
As for phar­ma, the big com­pa­nies will pre­fer to do more part­ner­ing rather than shoul­der all of the com­mer­cial risk them­selves. In the near fu­ture, the em­pha­sis at the gi­ants will be on clar­i­ty and sol­id, re­li­able num­bers, and that means less like­li­hood of mak­ing ex­trav­a­gant bets on new drugs.
In this brave new world pic­tured by IQVIA, you can ex­pect play­ers to main­tain mar­gins in an un­cer­tain world or slash R&D spend­ing to com­pen­sate. Any­one who can't ad­just will be sub­ject to a buy­out.
Here are some more snip­pets of what they've seen in the IQVIA crys­tal ball:
— Re­al world ev­i­dence gains trac­tion and devo­tees
The use of re­al world ev­i­dence is here to stay, with grow­ing so­phis­ti­ca­tion in gath­er RWE and us­ing it with reg­u­la­tors at the FDA — which have sig­naled their readi­ness for what lies ahead. Ran­dom­ized tri­als will re­main the gold stan­dard in R&D, but where they're not vi­able, RWE can fill the gap. And where new tech­nol­o­gy can gen­er­ate da­ta at low­er costs, through site-less stud­ies for ex­am­ple, look for de­vel­op­ers to change as rapid­ly as pos­si­ble.
— AI is hap­pen­ing, and it's get­ting big­ger
Ma­chine learn­ing and ar­ti­fi­cial in­tel­li­gence are gain­ing ground, and their use will grow sig­nif­i­cant­ly over the com­ing 5 years. AI and ML will have an im­pact on clin­i­cal as well as com­mer­cial set­tings, dri­ving drug man­age­ment and iden­ti­fy­ing pa­tients. And as da­ta sets con­tin­ue to grow in size, the in­for­ma­tion and analy­sis that they will pro­vide will grow in val­ue, fur­ther dri­ving adop­tion.
— Pre­scrip­tion dig­i­tal ther­a­peu­tics have a role to fill
The first pre­scrip­tion dig­i­tal ther­a­peu­tic was ap­proved last year. But look for lots more in the com­ing wave. What's up first: "AD­HD, ma­jor de­pres­sive dis­or­der, and schiz­o­phre­nia apps are among late-stage pipelines and may be ear­ly en­trants."
— That next-gen R&D rev­o­lu­tion? It could take awhile
You've like­ly read plen­ty about the next-gen cell and gene ther­a­pies that have been hit­ting the mar­ket. CRISPR-Cas9, stem cells and more gene mod­i­fi­ca­tion ap­proach­es are in the works. But the re­al­i­ty is that the first drugs of this new group — think CAR-T here — are ex­tra­or­di­nar­i­ly ex­pen­sive to make, dif­fi­cult to man­u­fac­ture and aren't that wide­ly used. As a re­sult, IQVIA ex­pects on­ly 5 to 8 true, new next-gen ther­a­pies to make their way to an ap­proval in the next 5 years — few­er than we've seen in ear­li­er pre­dic­tions. The an­a­lysts ex­pect "on­ly a few com­pa­nies will end up dom­i­nat­ing here," for all the above rea­sons.
— So what about pric­ing and mar­ket de­vel­op­ment?
Pub­lic per­cep­tion of the in­dus­try and drug pric­ing has been shaped by high­ly pub­li­cized in­ci­dents of price goug­ing — what I choose to call the Shkre­li Ef­fect. With drug pric­ing a hot po­lit­i­cal is­sue, there will be lots of ef­forts built around cap­ping prices. But the re­al­i­ty of the po­lit­i­cal sit­u­a­tion in DC will like­ly leave re­al change in the hands of the ex­ec­u­tive branch, says IQVIA, which can in­flu­ence pric­ing through new rules and reg­u­la­tions.
The shift in R&D in­no­va­tion over the last few years has tilt­ed the mar­ket to spe­cial­ty, or­phan and on­col­o­gy drugs, with new ther­a­pies of­ten win­ning 6-fig­ure list prices. That trend will con­tin­ue, says IQVIA, push­ing list prices on new drugs past the $200,000 mar­ket. But look for lots of pres­sure to rein in fu­ture price in­creas­es, with few­er re­al break­throughs like check­point in­hibitors, more back­lash from in­de­pen­dent pric­ing re­view or­ga­ni­za­tions like ICER and more com­pe­ti­tion in new class­es of drugs.
All of this will play out as some of the world's biggest drug fran­chis­es are hit with biosim­i­lar ri­vals, capped by Hu­mi­ra, which los­es patent pro­tec­tion (most like­ly) in 2023, at the end of the 5-year win­dow. Biosim­i­lar de­vel­op­ment, which has lagged in the US, will ex­pand sig­nif­i­cant­ly over the next 5 years, with more com­peti­tors bring­ing more com­pet­i­tive pric­ing.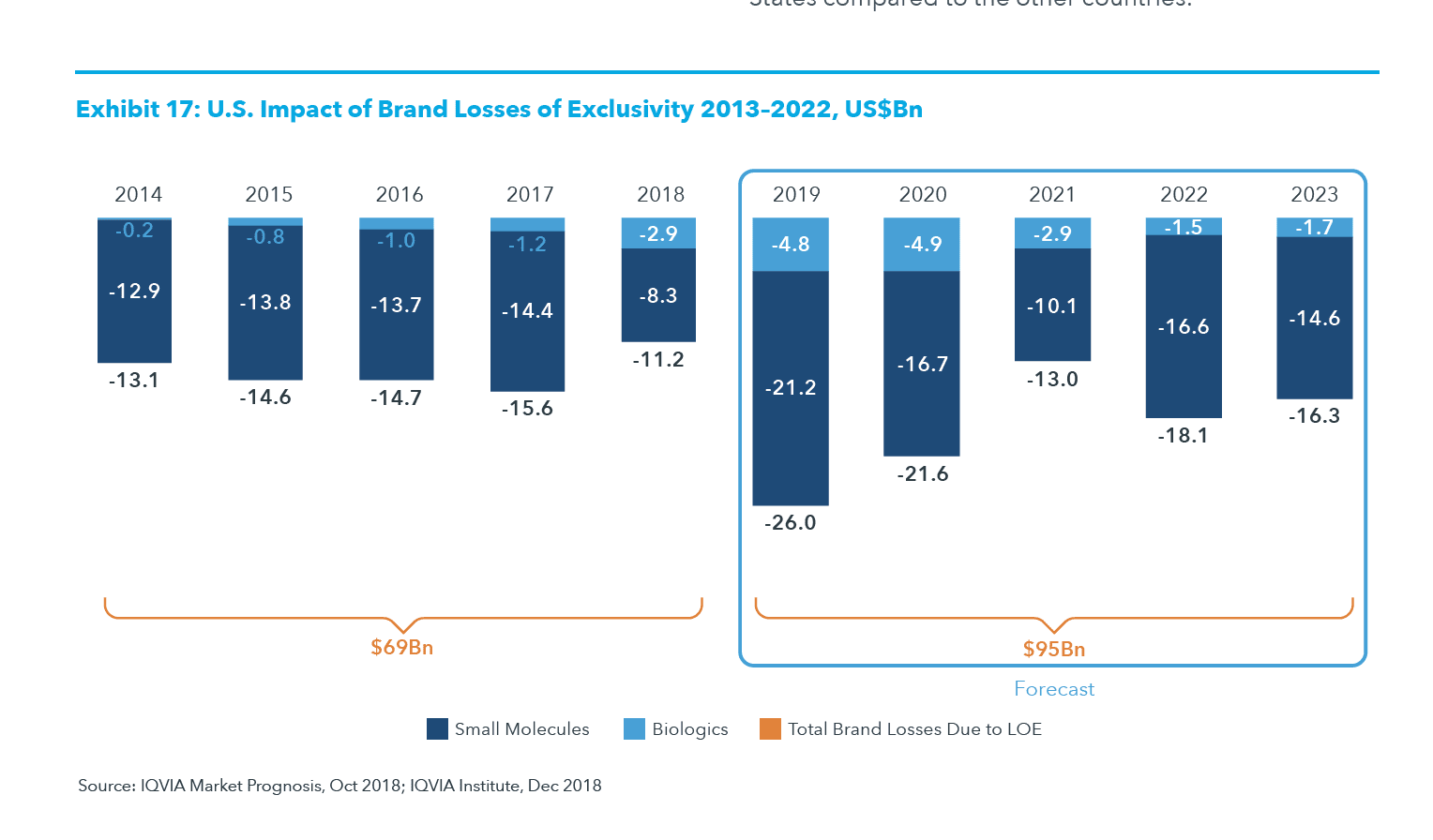 ---
Fast growth through greater in­sur­ance ac­cess, mean­while, has made Chi­na the world's sec­ond largest phar­ma mar­ket. Growth will con­tin­ue, but at a slow­er pace, de­clin­ing to 3-6% through 2023. That com­pares to an av­er­age of 11% per year for orig­i­nal brands over the past 5 years. Chi­na will re­main big, but the ex­plo­sive ex­pan­sion ap­pears to be be­hind us.