Nestlé puts $200M more be­hind a treat­ment for peanut al­ler­gy
Aim­mune's pa­tients won't ever be able to eat much or even most of their can­dy, but every time they open a cap­sule, they'll be con­sum­ing a prod­uct Nestlé helped pro­duce.
Since the im­munother­a­py com­pa­ny com­plet­ed its Phase II stud­ies, Nestlé has be­come one of its largest back­ers. They in­vest­ed $145 mil­lion in 2016 and $98 mil­lion in 2018. And to­day, days af­ter Aim­mune won FDA ap­proval for their peanut al­ler­gy drug Pal­forzia, Nestlé an­nounced a $200 mil­lion eq­ui­ty in­vest­ment. They will now have in­vest­ed $473 mil­lion and com­mand 19.9% of the com­pa­ny.
Baird's Bri­an Sko­r­ney es­ti­mat­ed that the new cash, along with their cred­it fa­cil­i­ty with KKR, should give Aim­mune a $450 mil­lion reser­voir and re­solve any ques­tions about whether they'll have the ca­pac­i­ty to com­mer­cial­ize Pal­forzia.
It "is more than enough to fund the launch of Pal­forzia and get to a point that set­tles the bull/bear launch de­bate," he wrote in a note to in­vestors.
Sep­a­rate­ly, Aim­mune an­nounced an ex­clu­sive, $10 mil­lion li­cens­ing agree­ment for Xen­cor's XmAb7195, a hu­man­ized an­ti­body de­signed to treat the un­der­ly­ing mech­a­nisms be­hind al­ler­gic re­ac­tion.
Aim­mune's val­ue has in­creased by over a third since Nestlé's ini­tial in­vest­ment, in large part thanks to Pal­forzia's suc­cess. The drug is no cure — pa­tients won't be able to eat But­terfin­gers, let alone Reese's — but it's the first thing ap­proved to low­er the risk of an ex­treme al­ler­gic re­ac­tion. Al­ler­gic chil­dren take a cap­sule with es­ca­lat­ing amounts of peanut pow­der and sprin­kle it on their food over the course of sev­er­al months. Giv­ing peanut pow­der to kids with peanut al­ler­gies can, un­sur­pris­ing­ly, cause sub­stan­tial re­ac­tions and some pa­tients dis­con­tin­ue, but at the end of a 12-month Phase III tri­al the re­sults were clear: 67% of pa­tients who re­ceived the drug could tol­er­ate eat­ing around 2 peanuts, ver­sus 4% of place­bo.
That da­ta, along­side a pa­tient pop­u­la­tion of up to 1.6 mil­lion peo­ple, led an­a­lysts to project over $1 bil­lion in peak sales. The com­pa­ny has since an­nounced a price of $10,680, more than twice what some an­a­lysts pro­ject­ed. Sko­r­ney ex­pects it will still re­ceive wide re­im­burse­ment.
Still, the drug has not evad­ed crit­i­cism. In ad­di­tion to its side ef­fects, crit­ics note that Aim­mune will es­sen­tial­ly be charg­ing over $10,000 for peanut flour that, with slight al­ter­ation, is large­ly iden­ti­cal to the flour found on su­per­mar­ket shelves. Some al­ler­gists al­ready use that, some­times with sub­stan­tial ef­fect.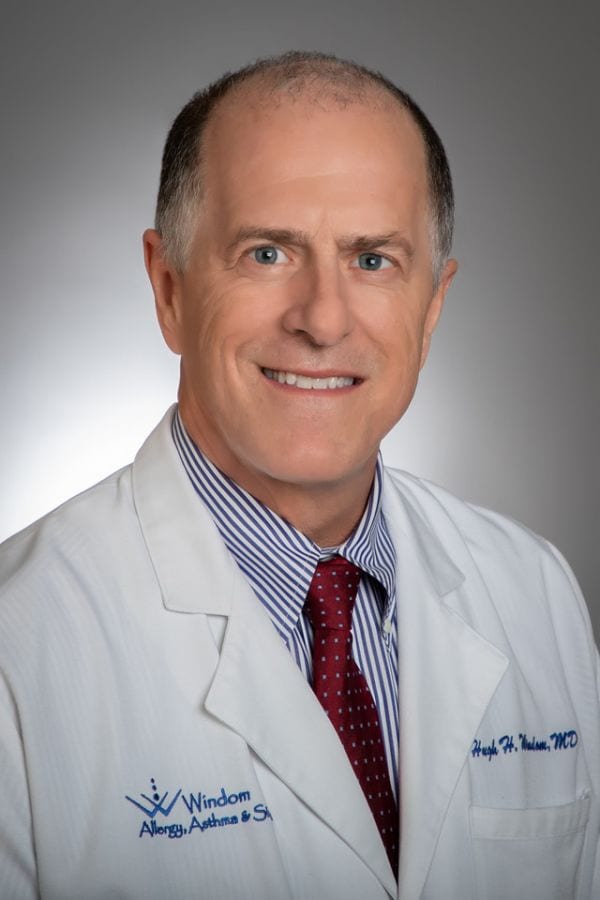 Hugh Win­dom Win­dom Al­ler­gy
"They are just pack­ag­ing up what we al­ready do, in a gold-plat­ed cap­sule," Hugh Win­dom, an al­ler­gist in Sara­so­ta, FL, told NPR last year. Oth­er al­ler­gists say they need the stan­dard­ized prod­uct and dos­ing reg­i­men Pal­forzia pro­vides.
Pal­forzia, though, may soon not be alone. DBV Tech­nolo­gies is de­vel­op­ing a patch that's ex­pect­ed to be less ef­fec­tive but al­so less dan­ger­ous. They with­drew their FDA sub­mis­sion in De­cem­ber of 2018 over man­u­fac­tur­ing and qual­i­ty con­trol ques­tions but re­sub­mit­ted in Au­gust and they ex­pect a de­ci­sion this year.
An ap­proval could put com­pet­i­tive pres­sure on Aim­mune to ex­pand their pipeline. That could lead to more deals like to­day's li­cens­ing agree­ment with Xen­cor. XmAb7195 — now re­named AIMab7195 — in­ter­acts with IgE cells that can dri­ve an im­mune re­sponse. Aim­mune plans to test it as an ad­ju­vant to Pal­forzia and oth­er im­munother­a­pies.
They al­so have an egg and a tree nut im­munother­a­py in de­vel­op­ment.