Eau de poop: Bill Gates tests a new way to sweet­en the world's worst odors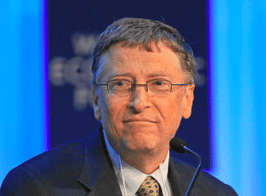 Bill Gates, cred­it WEC
Bill Gates is well known as an en­thu­si­as­tic in­vestor in biotech, both as a tech mogul as well as a leader of the Bill & Melin­da Gates Foun­da­tion, which is al­ways on the hunt for new drugs that can ben­e­fit the world's poor.
Now, he's tak­ing a mol­e­c­u­lar-lev­el in­ter­est in smells.
It turns out that of about 350 ol­fac­to­ry re­cep­tors in the brain, on­ly a hand­ful are used to rec­og­nize foul odors, even though there are hun­dreds of chem­i­cal com­pounds in­clud­ed in the world's worst smells. At Gates' re­quest, a Swiss com­pa­ny named Fir­menich cre­at­ed a fra­grance that blocks those spe­cif­ic re­cep­tors. So when Gates was re­cent­ly ex­posed to a smell that com­bines the worst of sewage, sweat and over­ripe cheese, all he got was the sweet­ness from the fra­grance they con­coct­ed. The smell was blocked.
Fir­menich's re­search was in­spired by a sim­ple need that Gates wants to sat­is­fy. Bil­lions of peo­ple in the world ei­ther do not have ac­cess to toi­lets or use fa­cil­i­ties that dump the waste out un­treat­ed. Gates wants to urge the use of more pit la­trines that would pro­vide bet­ter san­i­ta­tion, but the odors are keep­ing many peo­ple away.
Sci­ence may pro­vide the best an­swer to the san­i­ta­tion chal­lenge, pro­vid­ed they can of­fer the world's poor a cheap new per­fume that will turn the most foul­ing smelling places on the plan­et in­to a gar­den of de­light­ful odors.
They're do­ing some test stud­ies in Africa and In­dia now to see how this works on the ground. Ul­ti­mate­ly, bil­lions of peo­ple could be in­tro­duced to Gates' new poop per­fume.