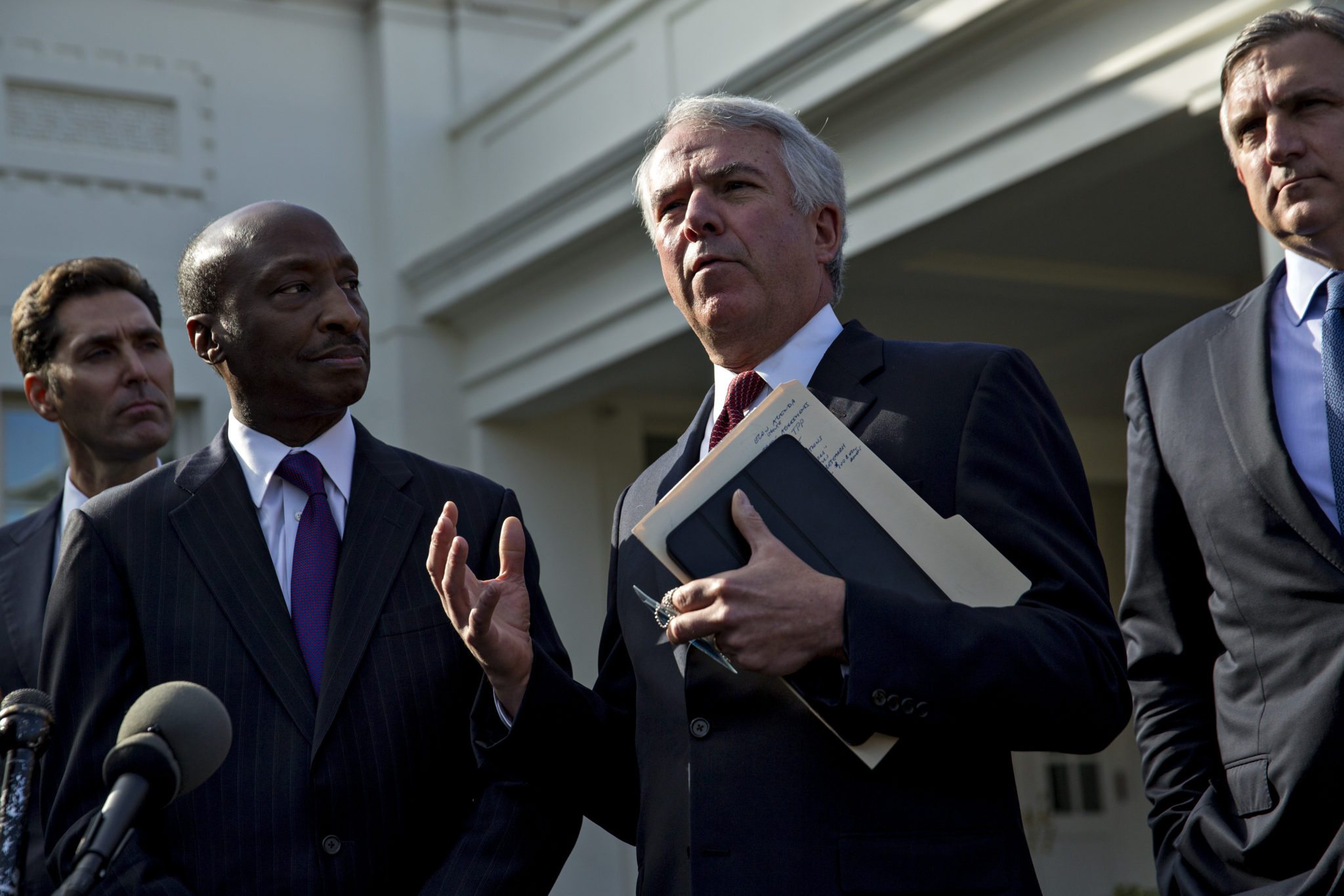 The top 9 over­seas ac­counts in bio­phar­ma hold $133B in M&A fire­pow­er
Pic­tured (L-R): Stephen Ubl, CEO PhRMA; Ken Fra­zier, CEO Mer­ck; Robert Hug­in, Cel­gene chair­man; Robert Brad­way, CEO Am­gen on Jan­u­ary 31, 2017 at the White House af­ter meet­ing with Pres­i­dent Trump. An­drew Har­rer/Bloomberg via Get­ty
---
Dur­ing Am­gen's Q1 dis­cus­sion with an­a­lysts on Wednes­day evening, CEO Bob Brad­way re­peat­ed one of the key themes in the land of Big Bio­phar­ma. Biotech val­u­a­tions are high, he not­ed, mak­ing it dif­fi­cult to ac­quire the kind of drug as­sets he'd like to lay his hands on.
But. Tax re­form could make M&A eas­i­er for Am­gen.
And why is that? Says Brad­way:
We've long ad­vo­cat­ed the need for cor­po­rate tax re­form. If in­no­v­a­tive U.S. com­pa­nies are to re­main com­pet­i­tive, we need a lev­el tax play­ing field. We don't have one now, but we're hope­ful this ad­min­is­tra­tion will de­liv­er that in 2017. Ob­vi­ous­ly, we think such change would im­prove our flex­i­bil­i­ty for cap­i­tal al­lo­ca­tion.
Am­gen has been shel­ter­ing a cache of about $35 bil­lion in ex-US ac­counts, ac­cord­ing to some num­bers that Ever­cor­eISI's Umer Raf­fat put to­geth­er as he be­gan as­sess­ing the im­pact tax re­form could have on the top play­ers in over­seas hold­ings.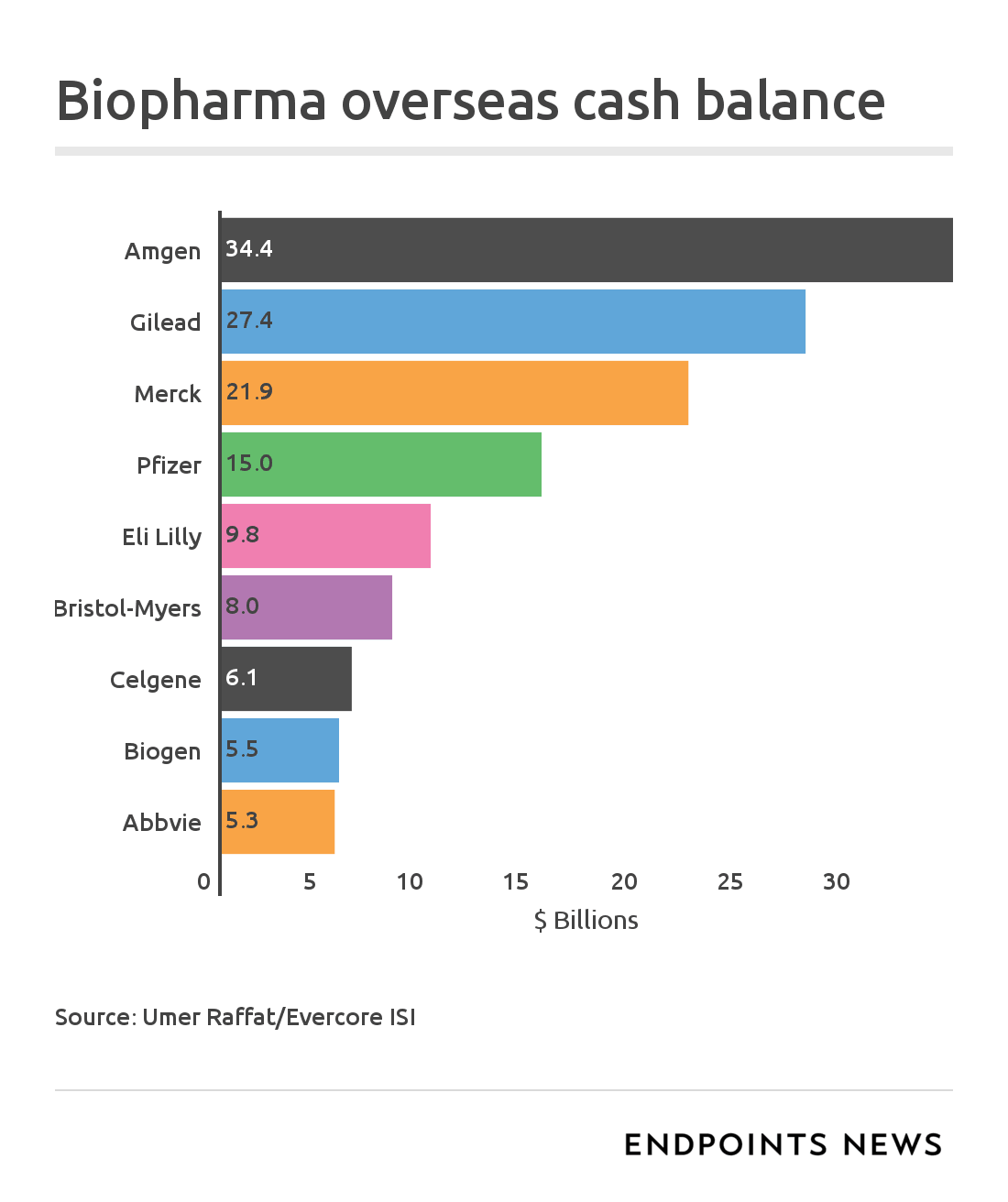 Raf­fat's quick­ly as­sem­bled top 10 — based on fil­ings and con­ver­sa­tions with ex­ecs, re­arranged by or­der of ex-US hold­ings — add up to rough­ly $133 bil­lion. That's enough to fu­el quite a few ac­qui­si­tions.
A year ago, by the way, a num­ber of sto­ries in the fi­nan­cial press cit­ed Pfiz­er for hold­ing $80 bil­lion in over­seas ac­counts. But this gives you an idea of some of the cash that would be avail­able to the big US play­ers if tax re­form al­lowed for quick repa­tri­a­tion.
Sweep­ing tax re­form, though, may be even hard­er to do than health­care re­form. But you'll note that there are sev­er­al com­pa­nies on this list that have in­di­cat­ed that they are hunt­ing deals, par­tic­u­lar­ly Am­gen, Gilead, Pfiz­er and Bio­gen. At Cel­gene, the deal pace has been con­stant for years now.
So far, 2017 has been some­thing of a dis­ap­point­ment in the M&A world. Maybe some of these com­pa­nies are just hold­ing fire, though, to see how the land­scape changes in the next few weeks.