With a total of 36 IPOs within the Swedish life science sector in 2017 — up over 30 percent from 2016 — the influx of new biotech and med tech companies on the Swedish stock market is noteworthy. From an international perspective, the considerably bigger US market saw 44 IPOs in the sector during the same period, whereas the Copenhagen stock exchange of Denmark trailed behind the Swedes with a mere two new listings.
Swedish news- and analysis firm BioStock (biostock.se) has taken a closer look at the performance of recently listed Swedish companies during their first year on the stock market. Even when excluding extremes such as the dramatic 548 percent spike in the share price of Prolight Diagnostics, a developer of mobile instruments for quick diagnosis of coronary thrombosis, it would have paid off to have invested in Swedish Life Science's stock market newbies during 2017.
Taking Prolight Diagnostics into account, the mean average yield was 31 percent. Without it, median yield was around 16 percent, which also beat the index to boot. This development corresponds well with the US IPO market last year where according to analysts the median yield for the 44 recently listed companies was around +12 percent, excluding AnaptysBio and Argenx, which soared by 528 percent and 240 percent respectively after their initial public offerings.
Long term vs. short term strategy – and the winner is
During the glory days of biotech in the past years, many Scandinavian investors exploited an exceedingly short-term "subscribe-and-sell" investment strategy, due to the seemingly mandatory increases in share price following a listing. This strategy, however, has become increasingly risky with the enormous influx of new companies on the market.
There are no longer any guarantees for an initial spike in share price – on the contrary, several listings have been followed by dramatic drops in share price directly after the listing. The 2017 IPO winner Prolight Diagnostics was in fact one of last year's biggest disappointments when zooming in only on the initial period from its listing, with a 33 percent drop in share price from the IPO on March 31 to mid-July.
Life Science investors who advocate a more long-term perspective could also point to the example of Enorama Pharma, developer of medical chewing gum and inarguably the overall sector winner of 2017, with a share price that had soared 864 percent by the end of the year. Nevertheless, from its IPO in July 2016 and a whole year onwards its share price hovered around 6 SEK (slightly under the listing price), until the company was able to present a series of good news, including a partnership with global pharma giant Dr Reddy's Laboratories regarding product development and distribution of its primary product – an NRT chewing gum – on the North American market.    
No clear trend indicators
In BioStock's review of this year's Swedish IPO winners and losers, it was impossible to identify a clear trend regarding which indications or development fields were more or less popular with investors. Among the best-performing newcomers, biotech company Prolight Diagnostics (+548 percent) was an extreme case. Second best, with a more "modest" +183 percent rise was XSpray Pharma, which develops improved and generic versions of cancer drugs already in the market, using its patented RightSize-technology. Third on the winner list was IRLAB Therapeutics, which develops pharmaceuticals for neurodegenerative disease and dementia, with a +138 percent increase in share price as per the last day of trading in 2017.
Respectively, there was no obvious common denominator concerning industry focus among the year's three biggest IPO losers. Chordate Medical Holding, which lost 74 percent of its trading value during the year, works with treating rhinitis, Annexin Pharmaceuticals (-65 percent) focuses on cardiovascular diseases and Panion Animal Health (-58 percent) is developing a gene therapy for the treatment of epilepsy-like conditions in dogs and other animals.
Overall, looking at all the Swedish industry newcomers, BioStock concludes that the IPO year of 2017 produced as many winners as it did losers, with 18 companies showing a share price increase (out of which 13 gained more than 50 percent) and 18 companies dropping after their listing. Out of the misfortunate ones, five companies had lost more than half their market value by December 31. The chart below shows a summary of all Life Science newcomers on the Swedish stock market and their share price development respectively during the year.
Development for Life Science companies listed during 2017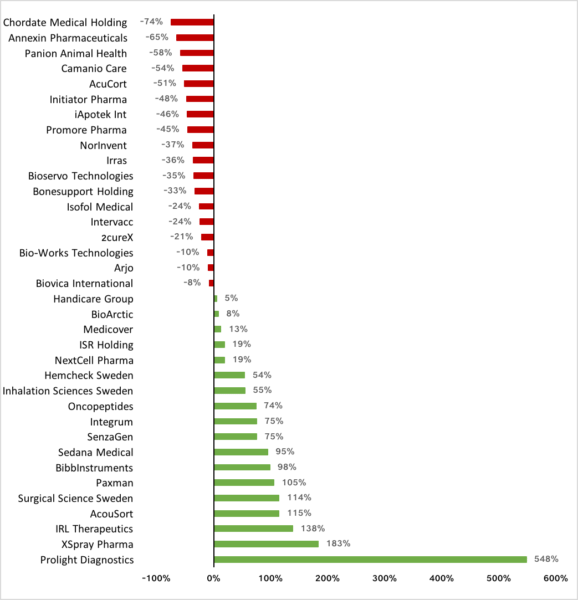 ---
The best place to read
Endpoints News

? In your inbox.

Comprehensive daily news report for those who discover, develop, and market drugs. Join 47,900+ biopharma pros who read Endpoints News by email every day.

Free Subscription
---
---
---