Here's a simple set of facts with some complex implications.
There were 469 new PD-1/L1 cancer checkpoint studies launched this year, which require 52,000 patients to fully enroll all of them.
On the one hand, researchers for the nonprofit Cancer Research Institute say, that sentence underscores the boom in immunotherapy that's been transforming cancer treatment around the world.
But there's more.
The explosion of preclinical and clinical-stage programs that has erupted in immunotherapies is raising serious questions about the intrinsic value of each human study being mounted for more than 2,000 I/O agents now in development. Is there a more efficient way to manage studies, to get the maximum impact from every new trial? Can you justify all these trials, particularly small, single-site efforts?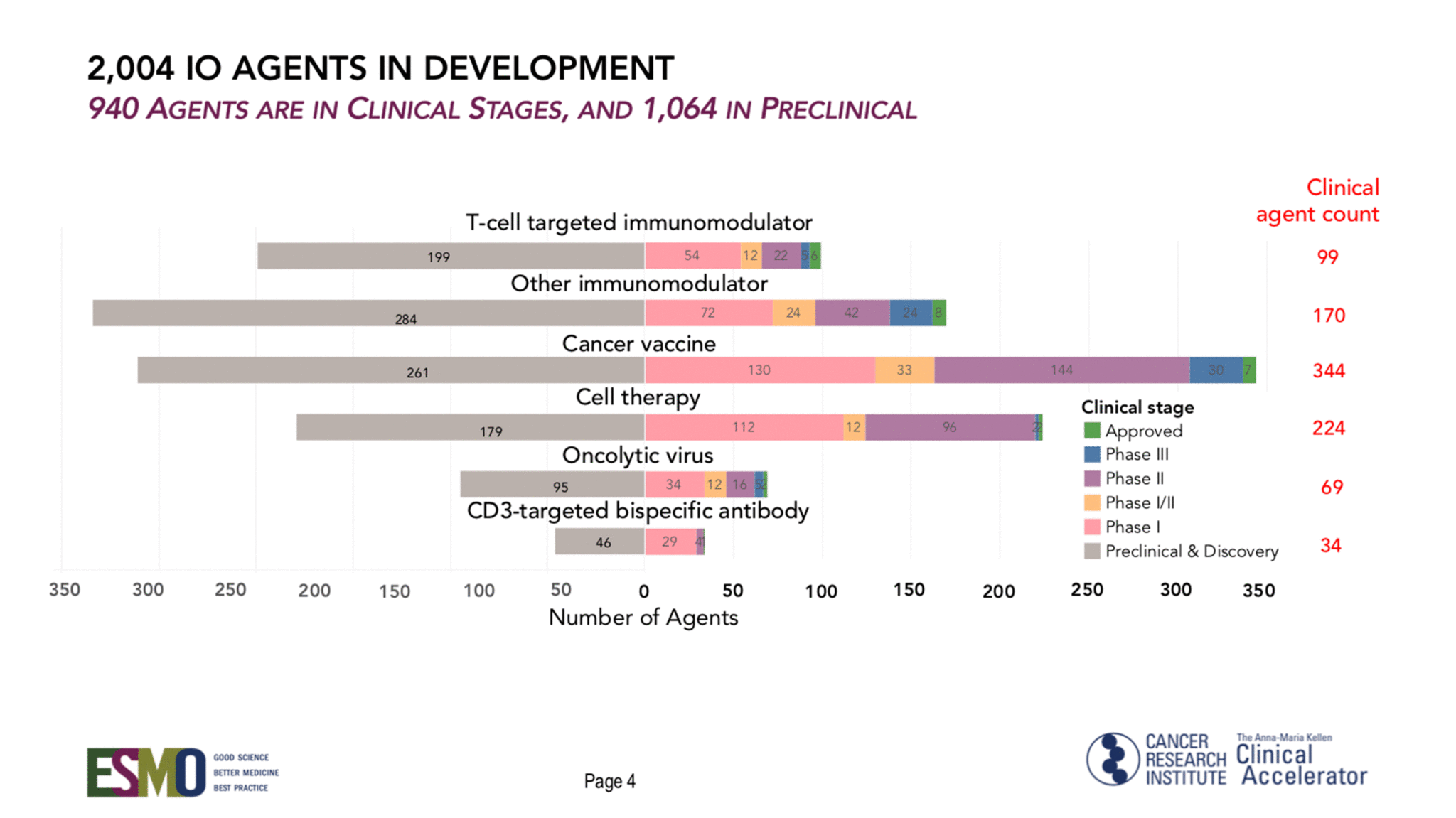 Before raising the issue, the CRI — which specializes in immunotherapies — wanted to present a clear picture of the scene to everyone in the field.
By assigning two tumor immunologists to comb through a variety of global trial databases over a year's time, Aiman Shalabi — CRI's chief medical officer and director of the Anna-Maria Kellen Clinical Accelerator — believes that they have, for the first time, established a bird's eye view of the entire immunotherapy landscape spanning the planet, from Shanghai to Boston. Shalabi journeyed to Geneva to share the results this weekend with the European Society of Medical Oncology IO meeting in Geneva.
It is staggering in scope.
"It's never been seen before in the drug development space or the cancer space," says Shalabi, and it's reshaping cancer R&D in ways that demand some new approaches to development. "It's time to stop putting new science on top of the old infrastructure and do things differently."
Doing that is going to rely on more collaborative efforts in the industry and academia, and he is spearheading a move to do more of that at the CRI after raising the subject in cancer R&D circles.
Among the highlights of the CRI report:
— There are 2,004 immunotherapy agents in development.
— 940 of these I/O therapies are in clinical-stage development, with 1,064 in the preclinical stage.
— There are 164 PD-1/L1 agents in development, with 50 in the clinic and 5 on the market. They have inspired 1,502 trials with 1,105 combos.
— 344 are cancer vaccines in human studies, and 224 are clinical-stage cell therapies.
— There are 69 oncolytic viruses in clinical development, all in the second wave behind Amgen's T-Vec; 95 are preclinical.
— There are 99 T cell targeted immunomodulators in clinical development, 199 in preclinical development.
— There are 165 different targets being combined in checkpoint studies, with 251 including an anti-CTLA-4 and 170 involving chemotherapies.
— 0f 1,105 PD-1/L1 drug studies CRI examined, 60% are smaller, non-industry supported trials.
That last point in particular attracted Shalabi's attention. These smaller studies often involve academic researchers in single-site trials, relying on modest support from the manufacturer. At a time that each new study in the recent wave involves dwindling numbers of patients, Shalabi sees two underlying trends: The ability to track a benefit with smaller patient groups, and these single-site affairs that are likely to deliver data that will be harder to interpret.
Says Shalabi: "It's going to be a big challenge to recruit and then interpret them."
"More and more of these studies are just being designed locally; there's an appearance of overcrowding," he says. "I wonder if these small studies are going to make a contribution."
Shalabi believes the data underscore the need for more collaborations, a greater emphasis on multi-site studies with a more careful use of umbrella trial platforms to find faster and more efficient means of putting I/O agents through human studies.
There's one other thing that Shalabi doesn't doubt.
"What we've found is just an unbelievable amount of innovation out there," he says. And it is having a real impact on the standard of care in cancer.
---
The best place to read
Endpoints News

? In your inbox.

Comprehensive daily news report for those who discover, develop, and market drugs. Join 51,200+ biopharma pros who read Endpoints News by email every day.

Free Subscription
---
---
---