Don't let a slump in bio­phar­ma deals get you down — yet; The con­tro­ver­sy on drug prices is tak­ing a toll
End­points as­sess­es the big bio­phar­ma sto­ries of the week, with a lit­tle added com­men­tary on what they mean for the in­dus­try.
---
Hey, what about that big up­swing pre­dict­ed for bio­phar­ma M&A?
Deal­mak­ers in bio­phar­ma are end­ing April with a con­sid­er­able amount of grum­bling. This was the year that M&A was sup­posed to take off, with a new pres­i­dent bull­ish­ly as­sert­ing plans to re­form tax­es in a way that would free up bil­lions in Big Phar­ma cash held over­seas.
Didn't hap­pen. Don­ald Trump is so far bogged down on Oba­macare re­form and not able to de­liv­er a much bal­ly­hooed tax re­form pledge — for now.
"Most peo­ple would say they are dis­ap­point­ed with the pace of M&A," Ge­of­frey Hsu, a part­ner at the deal-ori­ent­ed Or­biMed Ad­vi­sors, told Bloomberg. "Frankly, we were ex­pect­ing more to hap­pen by this time."
The newswire ser­vice con­clud­ed that Q1 deals were down 13% cash-wise, com­pared to the same pe­ri­od a year ago.
True, deal­mak­ers are hard to please. It's a feast or famine world in M&A, and lean pick­ings cause a lot of dis­sat­is­fac­tion.
The year, though, is a long way from over. Don't let a Q1 re­port make you too un­hap­py. Con­cerned, yes. Un­hap­py, no.
---

Drug­mak­ers face a turn­ing point on pric­ing — putting the fo­cus where it be­longs
An­oth­er big trend that is draw­ing con­sid­er­able at­ten­tion these days is the im­mense pres­sure be­ing put on drug mak­ers to rein in prices. Pay­ers in the US are get­ting bet­ter at ap­ply­ing pres­sure right on the most sen­si­tive parts of the in­dus­try, and Pres­i­dent Trump start­ed his ad­min­is­tra­tion stomp­ing on the in­dus­try's rep for stick­er shock.
Cred­it Su­isse put its thumb right on the pulse, though, with a new re­port this week show­ing just how im­por­tant an­nu­al price hikes are to the big play­ers. Their an­a­lysts con­clude:
Ar­guably, this is the most im­por­tant is­sue for a Phar­ma in­vestor to­day. De­spite pub­lic scruti­ny, we es­ti­mate US net price ris­es con­tributed c$8.7bn in 2016 to net in­come, 100% of sec­tor EPS growth. US net price growth was >100% of Bio­gen, Lil­ly, and Ab­b­Vie's to­tal net in­come growth. Bio­Marin, Gilead, No­vo and Re­gen­eron were the least re­liant on US net price ris­es.
In this brave new world, on­ly the in­no­v­a­tive can thrive. And that means more part­ner­ing with biotech — the true source of in­no­va­tion in the drug world. I sus­pect we'll see a grow­ing scram­ble for the best ex­per­i­men­tal drugs lat­er in the year. And that means val­u­a­tions should con­tin­ue to point north.
---

A con­tro­ver­sial Marathon is mar­gin­al­ized
We just learned that Marathon has been es­sen­tial­ly forced out at PhRMA, fol­low­ing a res­ig­na­tion by Mallinck­rodt — an­oth­er de­vel­op­er that has been dogged by a drug pric­ing scan­dal.
Ku­dos to PhRMA, which has been mak­ing life more un­com­fort­able for the com­pa­nies that set the pace for Mar­tin Shkre­li. Far too many com­pa­nies have found it easy to get cheap drugs and jack up the price by as­tro­nom­i­cal amounts.
In this new bio­phar­ma world we're liv­ing in, that kind of con­duct won't fly. You can't be in the club now un­less you're dead se­ri­ous about in­vest­ing in im­por­tant new ther­a­pies. That's not enough, but it is a healthy start. And PTC Ther­a­peu­tics may want to think over their strat­e­gy one more time.
---

You have a pho­to op com­ing up Sat­ur­day morn­ing. Don't miss it.
To­mor­row Mass­Bio and some of the top lead­ers of the Boston area biotech sec­tor want to cre­ate a mo­ment for every­one to reg­is­ter their op­po­si­tion to some of the re­cent moves from Pres­i­dent Trump on im­mi­gra­tion, H1B visas and NIH fund­ing.
It has come to no sur­prise to me that the vast ma­jor­i­ty of the in­dus­try hates what it's been see­ing over the last few months. Biotech thrives when it can re­cruit the best and the bright­est from all over the world, and the US is home to the most dy­nam­ic drug de­vel­op­ment sec­tor in the world be­cause of it.
NIH fund­ing, mean­while, cre­ates the sci­en­tif­ic foun­da­tion that bio­phar­ma rests on. Cut­ting fund­ing sig­nif­i­cant­ly now would mean lay­ing waste to a gen­er­a­tion of young sci­en­tists look­ing to make their mark.
So at 10am on Sat­ur­day every­one is be­ing asked to give up some of their free time and join the crowd on Kendall Square for an aer­i­al shot to cap­ture a pic­ture of the in­dus­try's sol­i­dar­i­ty on this is­sue. Too bad it's not a week­day, when most peo­ple would on­ly have to walk over from their of­fices. But that might have stopped traf­fic.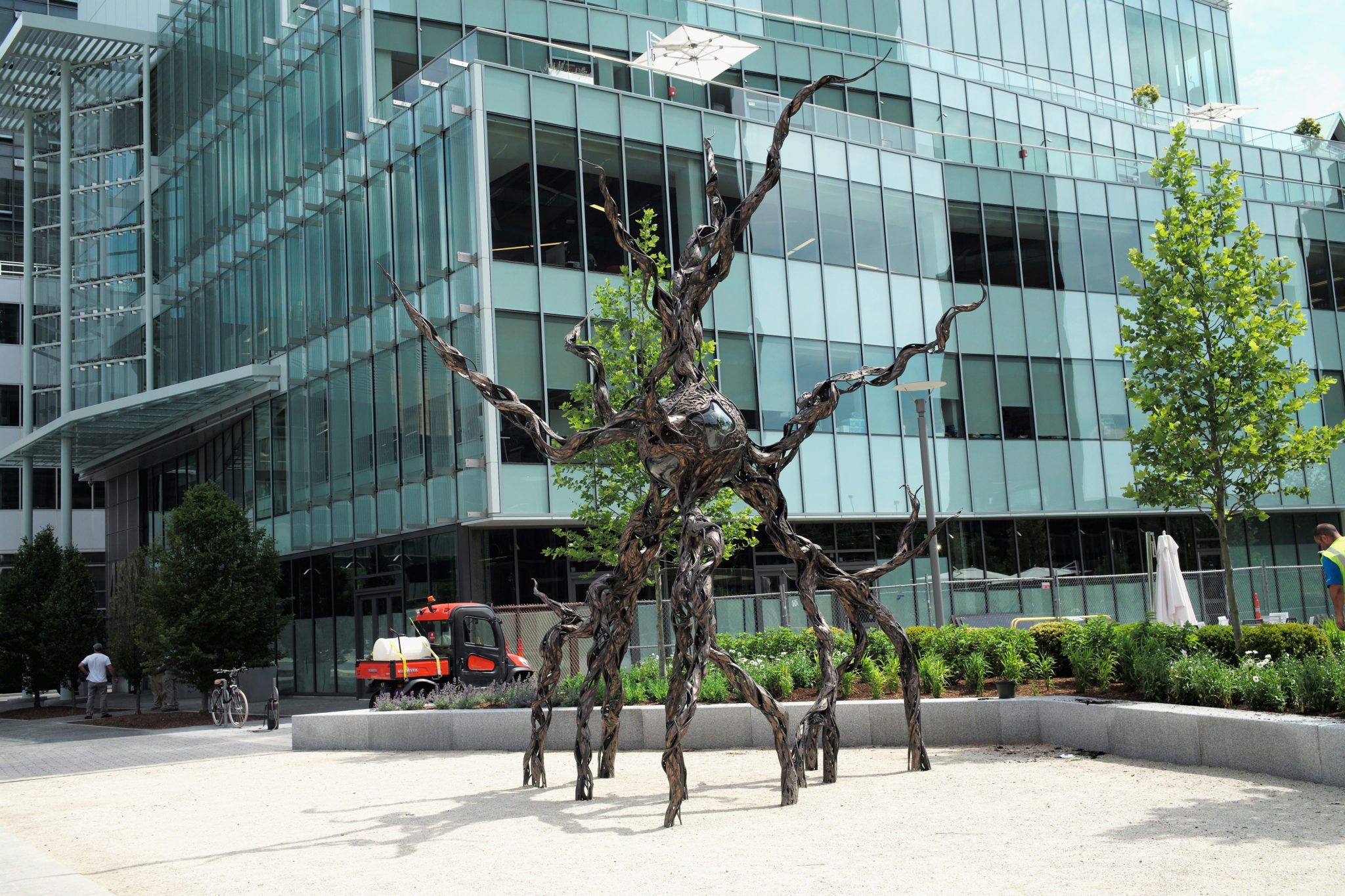 A gen­er­al view of the bronze and glass pub­lic art sculp­ture "Nerve Cen­ter" by artist Chris Williams in Kendall Square on Ju­ly 1, 2016 in Cam­bridge, Mass­a­chu­setts.

Pho­to by Paul Marot­ta/Get­ty Im­ages