Puma's fresh shin­er, what the biotech IPO surge tells us, and the trou­ble with can­cer R&D
End­points as­sess­es the big bio­phar­ma sto­ries of the week, with a lit­tle added com­men­tary on what they mean for the in­dus­try.
---
Puma gets an­oth­er shin­er as BioTwit­ter chews on an­oth­er morsel of in­for­ma­tion
One thing you don't want to see in the fi­nal few days lead­ing up to an FDA pan­el re­view of your big drug is trou­ble on the reg­u­la­to­ry team. This, af­ter all, is where the rub­ber hits the road for reg­u­la­to­ry as they steer the ap­pli­ca­tion to­ward a group of peo­ple at the FDA and their cho­sen ad­vis­ers who will of­fer their ex­pert opin­ions on what you've been hop­ing to sell for bad­ly need­ed rev­enue.
Point­ed ques­tions will be raised. Point­ed an­swers need to be sup­plied. And the reg­u­la­to­ry head is sup­posed to be your guide for what's ahead, help­ing shore up your ar­gu­ment in the com­pa­ny's fa­vor. They may not do a lot of talk­ing in pub­lic, or qual­i­fy as a top biotech ex­ec, but strat­e­gy and prep from your reg­u­la­to­ry li­ai­son is key to a good pan­el pre­sen­ta­tion and de­fense.
So when Puma Biotech­nol­o­gy $PBYI briefly not­ed on Thurs­day that their reg­u­la­to­ry head — Se­nior VP Robert Char­nas — had de­cid­ed to leave the com­pa­ny "for health rea­sons" in 11 days, 9 days ahead of their pan­el re­view, BioTwit­ter swung in­to ac­tion and be­gan to of­fer a va­ri­ety of con­spir­a­cy the­o­ries to fill the in­for­ma­tion gap.
Did he, per­haps, know that Puma had al­ready been tor­pe­doed in the FDA's drug re­view?
It sound­ed bad, and Puma's stock, which was trad­ing at $200 a share a year ago, took an­oth­er hit, cost­ing it about 10% of its share price. And this af­ter the stock closed at $36.55.
It didn't help that the rea­son cit­ed in their 8-K for Char­nas' de­par­ture may have been a lit­tle af­ter-the-fact. Cred­it Su­isse says they talked to CEO Alan Auer­bach, and he told an­a­lysts that there was some fric­tion be­tween the reg­u­la­to­ry chief and the team at Puma. The CEO sug­gest­ed a month and a half ago that Char­nas start con­sid­er­ing what he'd like to do next with his ca­reer, and the health rea­son was cit­ed in the reg­u­la­to­ry chief's res­ig­na­tion last Fri­day. That all hap­pened be­fore he could have seen the FDA's docs.
So case closed?
Not a chance. There are oth­er an­a­lysts notes and more con­jec­ture. The de­bate over Puma's chances at the FDA — with a drug that has been both praised and pum­meled for ef­fi­ca­cy as well as some se­vere side ef­fects — is just reach­ing red-hot tem­per­a­tures as a sure-fire cat­a­lyst ap­proach­es. So it's a nat­ur­al for Twit­ter, where small in­vestors flock for tips and cues. Mon­ey will be made and lost in a war of words where mo­ti­va­tion and iden­ti­ty are the first ca­su­al­ties in the fog of blog war.
It's not ide­al, but it is the new re­al­i­ty. For biotech CEOs look­ing to go pub­lic, that's some­thing you'll want to keep front of mind.
Biotech IPOs flare again, and the bright light spot­lights a new com­pa­ny-build­ing strat­e­gy
Speak­ing of biotech stocks.
Bio­haven got its pipeline the new fash­ioned way. It found a promis­ing ther­a­py on the shelf at Bris­tol-My­ers Squibb, bagged it for a small amount and put it at the top of the pipeline. Hes­to presto and you have a com­pa­ny ready to go pub­lic, Ax­o­vant style.
That's a lit­tle flip, to be sure, but not too ex­treme. Any­way, what makes it im­por­tant is that Bio­haven pulled off an up­sized $168 mil­lion IPO over the range at $17 a share this week. That's not some­thing you see very of­ten in biotech cir­cles, where the biotech boom of 2014 is now some­thing of a dis­tant echo. Add that with an up­sized IPO for Uro­Gen and a sol­id score by Ovid, and we have the mak­ings of a biotech IPO resur­gence — at least for a brief pe­ri­od.
I'm not a stock pick­er and there are plen­ty of peo­ple who are bet­ter at sort­ing out these trends than I am, but a mar­ket that's ready to em­brace biotech again — even as in­sid­ers shore up the price and prob­lems abound with the ul­tra risk in­volved in drug de­vel­op­ment — would prove help­ful to keep­ing the food chain tuned up.
What you shouldn't over­look in this is the role big­ger play­ers in bio­phar­ma have in set­ting up this next wave of biotech com­pa­nies. And not just at Bio­haven. Ovid got its lead in a cre­ative 50/50 deal with Take­da, which is wide open to new ideas and re­la­tion­ships. In a re­lat­ed move, Ma­gen­ta, which brought its ven­ture tal­ly to $98.5 mil­lion this week, gained a lead drug from their con­tacts at No­var­tis.
So as the big or­ga­ni­za­tions re­or­ga­nize and reeval­u­ate, new op­por­tu­ni­ties are be­ing made for new com­pa­nies.
These IPO trends can turn on a dime. So let's say con­grats to the win­ners and keep an eye on this. It's been a good week. Pick­ing up R&D as­sets like this may tur­bo charge a com­pa­ny's growth. But not all of these re­dis­cov­ered di­a­monds in the rough will sparkle in Phase III.
Can­cer is the king of all pipeline strate­gies — so be care­ful
Con­grats to As­traZeneca for their ap­proval of dur­val­um­ab this week. Yes, it was ex­pect­ed. Yes, they were fifth to the par­ty with the third OK for blad­der can­cer. No, that's not go­ing to win any prizes in R&D work, par­tic­u­lar­ly for a phar­ma gi­ant that faces mul­ti­ple pipeline is­sues at a time it's still strug­gling to mount a turn­around.
As­traZeneca, though, has scored some im­por­tant wins in can­cer un­der CEO Pas­cal So­ri­ot and this tro­phy can be added to the block­buster show­case.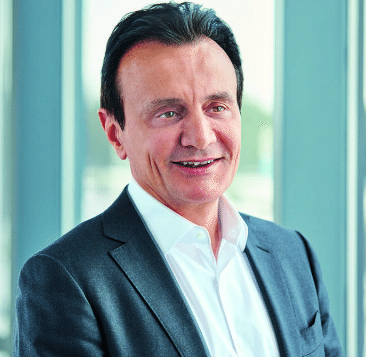 As­traZeneca CEO Pas­cal So­ri­ot
But there are some big­ger trends at work here that de­serve some at­ten­tion.
It's clear from the lat­est fore­cast from Quin­tiles­IMS that can­cer is go­ing to be the big fo­cus in bio­phar­ma R&D over the next five years. As­traZeneca went af­ter check­points be­cause the bi­ol­o­gy is well un­der­stood and you can make some mon­ey here. But their late ar­rival al­so un­der­scores just how ex­tra­or­di­nar­i­ly com­pet­i­tive this field can be­come al­most overnight. Mon­ey is be­ing poured in­to a whole pipeline of PD-1 and PD-L1 check­points. In the near fu­ture you'll see ap­provals tar­get­ing par­tic­u­lar coun­tries, like Chi­na. Com­pa­nies with a can­cer vac­cine or a next-gen CT­LA-4, re­lat­ed check­points, etc., will want their own check­point. Like In­cyte.
And why not? We know how to make these ther­a­pies.
The FDA, which has helped ush­er in a rev­o­lu­tion in can­cer R&D by en­cour­ag­ing ac­cel­er­at­ed ap­pli­ca­tions, will have lit­tle prob­lem re­view­ing and ap­prov­ing these new meds.
Pay­ers aren't blind to this. Com­pe­ti­tion will force prices down with for­mu­la­ries as the weapon of choice. Biotech's role here is to look be­yond where drugs are now and on to the new cock­tails of the fu­ture, like Cy­tomX is do­ing. And out of all the churn­ing, there will be a few win­ners and many losers.
This is not work for the weak of heart; win­ning isn't al­ways go­ing to be enough to be suc­cess­ful.