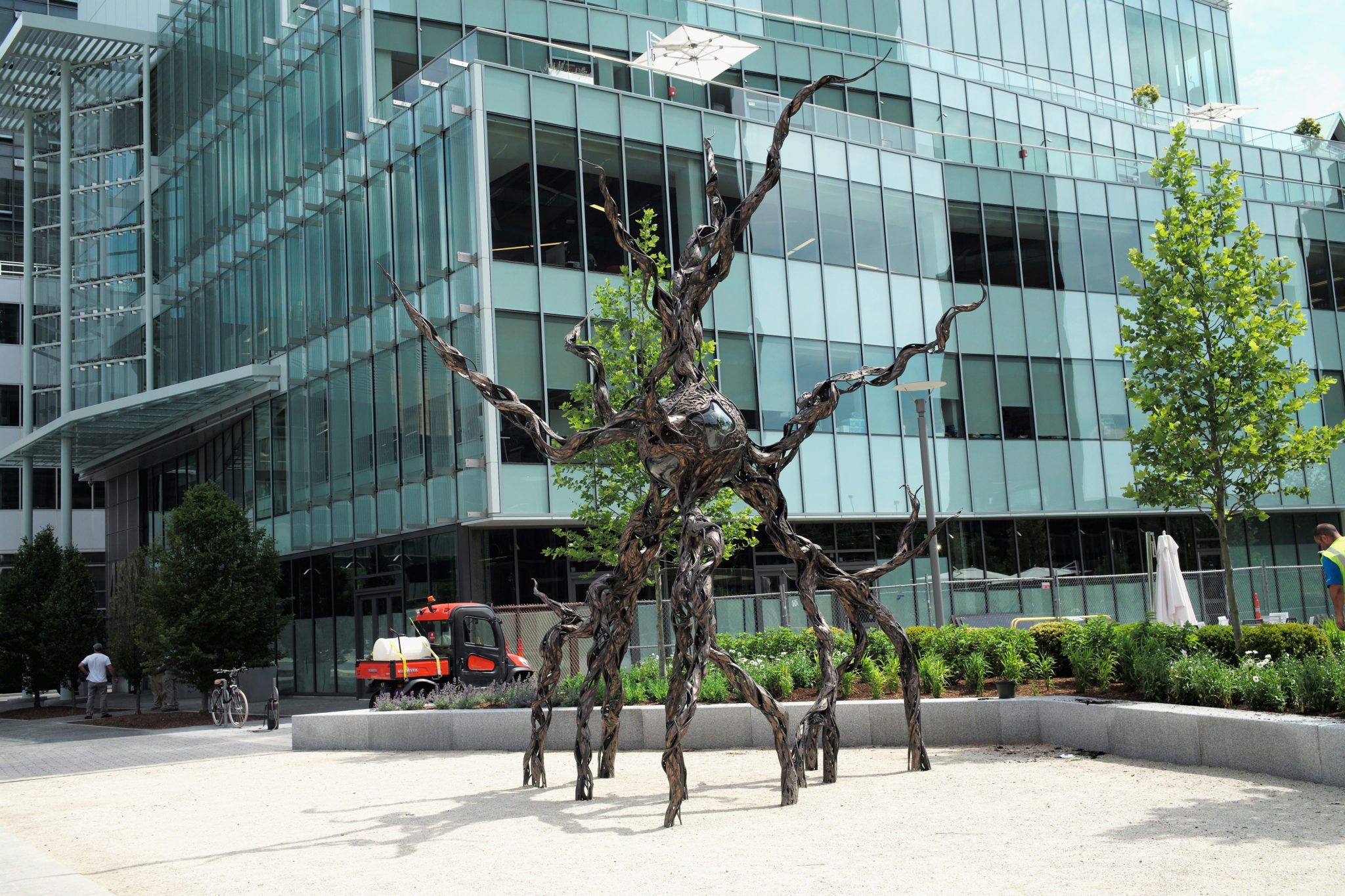 Time for biotechies to stand up and be count­ed on Kendall Square
'Nerve Cen­ter', a bronze and glass pub­lic art sculp­ture, by artist Chris Williams in Kendall Square on Ju­ly 1, 2016 in Cam­bridge, Mass­a­chu­setts Paul Marot­ta/Get­ty Im­ages
---
Not hap­py with plans to trim the bud­get at the NIH? More than a bit dis­turbed at the way the ad­min­is­tra­tion is han­dling im­mi­gra­tion and H1B visas for work­ers? Care to reg­is­ter that thought?
Then this is a great time to step over to Kendall Square and join your biotech col­leagues in a mo­ment of biotech sol­i­dar­i­ty. The Kendall Square As­so­ci­a­tion is plan­ning an aer­i­al pho­to shoot to cap­ture the mo­ment April 22 at 10 am.
Says the group on their Face­book page:
Join us at the cor­ner of Main and Vas­sar streets at 10am on April 22nd along with hun­dreds of your col­leagues and friends to stand up in cel­e­bra­tion of our col­lec­tive suc­cess, and in sol­i­dar­i­ty against the many pro­pos­als that threat­en these in­dus­tries.
This all start­ed with an open let­ter from more than 200 biotech ex­ecs, in­clud­ing crowd or­ga­niz­er and Al­ny­lam CEO John Maraganore, protest­ing new im­mi­gra­tion rules tar­get­ing a group of large­ly Mus­lim coun­tries.
Now they're tak­ing it to the streets. Or the Square, in any case. With a big help­ing hand from Mass­Bio.
There will be no speech­es. No signup nec­es­sary.
Just bring your­self and maybe a few col­leagues. Tweet about it — #di­ver­si­ty­wins. Make it a thing.