To­bi­ra chair­man's din­ner with Brent: In­dus­try chat led to a 3-month pur­suit and a stun­ning $1.7B deal
It start­ed with din­ner last sum­mer in New York.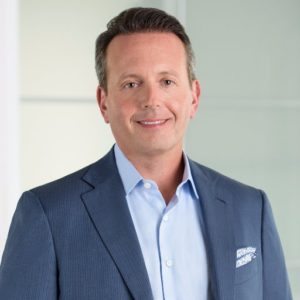 Brent Saun­ders, Al­ler­gan
Al­ler­gan CEO Brent Saun­ders broke bread with To­bi­ra Chair­man Den­nis Podle­sak and a board mem­ber, Do­main's Eckard We­ber on June 21. Some­time be­fore the dessert cart rolled, the con­ver­sa­tion turned from var­i­ous in­dus­try top­ics to To­bi­ra's lead drug.
It end­ed a few days ago, af­ter Saun­ders was re­peat­ed­ly prod­ded to keep up­ping an of­fer to buy the com­pa­ny, start­ing at $310 mil­lion in cash and $740 mil­lion in con­tin­gent val­ue rights. And even though the lead NASH drug sub­se­quent­ly failed a key study, Saun­ders even­tu­al­ly jumped in­to a bid­ding war for To­bi­ra, agree­ing to pay a jaw-drop­ping pre­mi­um to bag the biotech for $595 mil­lion and a CVR pack­age worth $1.1 bil­lion.

To­bi­ra Chair­man Den­nis Podle­sak
The back-and-forth, spelled out in SEC doc­u­ments, helps il­lus­trate just how high an ac­tive bid­der will go for an as­set when they de­cide to mas­ter an auc­tion. The clos­ing amount alone re­flect­ed a 518% pre­mi­um over the clos­ing price Sep­tem­ber 16, the biggest pre­mi­um many an­a­lysts had ever wit­nessed. And the cash price was close to twice the stock's 52-week high, a fig­ure that had been blast­ed by the tri­al fail­ure.
In this case, Al­ler­gan al­so went a step be­yond the usu­al, of­fer­ing to sign up key ex­ecs on new con­tracts. And the ex­ecs al­so did well with their fi­nal buy­out pack­ages. CEO Lau­rent Fis­ch­er grabbed a $6.3 mil­lion gold­en para­chute on his way to a $51 mil­lion cash-out.
To­bi­ra owes a lot to a com­pa­ny iden­ti­fied on­ly as "Par­ty A" in the SEC docs. Orig­i­nal­ly in­ter­est­ed in a part­ner­ship a cou­ple of years ago, Par­ty A would even­tu­al­ly of­fer $550 mil­lion in cash plus $1.05 bil­lion for a CVR to ac­quire To­bi­ra. And that of­fer set the stage for Al­ler­gan's best and fi­nal of­fer.
The biotech's ceni­crivi­roc flunked a Phase IIb study for NASH in Ju­ly, but the South San Fran­cis­co-based biotech said it got enough pos­i­tive da­ta on a sec­ondary end­point to war­rant a move in­to a piv­otal Phase III pro­gram.
Saun­ders clear­ly agreed on that point.
---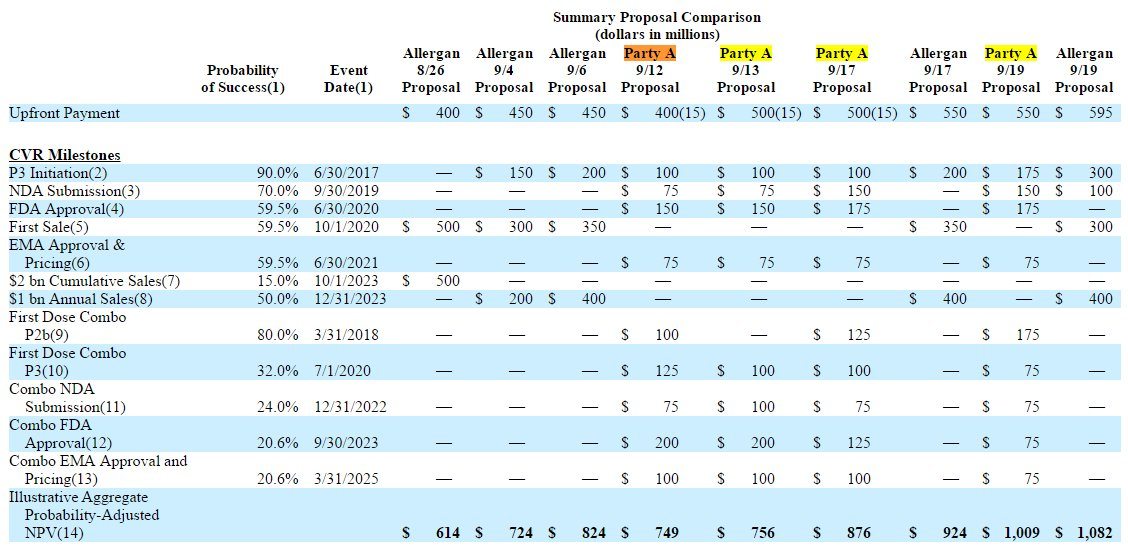 @endpts Now if I could get my teenage daugh­ters to want to have din­ner with me, I would be in great shape 😉

— Brent Saun­ders (@brentl­saun­ders) Oc­to­ber 4, 2016