It started with dinner last summer in New York.
Allergan CEO Brent Saunders broke bread with Tobira Chairman Dennis Podlesak and a board member, Domain's Eckard Weber on June 21. Sometime before the dessert cart rolled, the conversation turned from various industry topics to Tobira's lead drug.
It ended a few days ago, after Saunders was repeatedly prodded to keep upping an offer to buy the company, starting at $310 million in cash and $740 million in contingent value rights. And even though the lead NASH drug subsequently failed a key study, Saunders eventually jumped into a bidding war for Tobira, agreeing to pay a jaw-dropping premium to bag the biotech for $595 million and a CVR package worth $1.1 billion.
The back-and-forth, spelled out in SEC documents, helps illustrate just how high an active bidder will go for an asset when they decide to master an auction. The closing amount alone reflected a 518% premium over the closing price September 16, the biggest premium many analysts had ever witnessed. And the cash price was close to twice the stock's 52-week high, a figure that had been blasted by the trial failure.
In this case, Allergan also went a step beyond the usual, offering to sign up key execs on new contracts. And the execs also did well with their final buyout packages. CEO Laurent Fischer grabbed a $6.3 million golden parachute on his way to a $51 million cash-out.
Tobira owes a lot to a company identified only as "Party A" in the SEC docs. Originally interested in a partnership a couple of years ago, Party A would eventually offer $550 million in cash plus $1.05 billion for a CVR to acquire Tobira. And that offer set the stage for Allergan's best and final offer.
The biotech's cenicriviroc flunked a Phase IIb study for NASH in July, but the South San Francisco-based biotech said it got enough positive data on a secondary endpoint to warrant a move into a pivotal Phase III program.
Saunders clearly agreed on that point.
---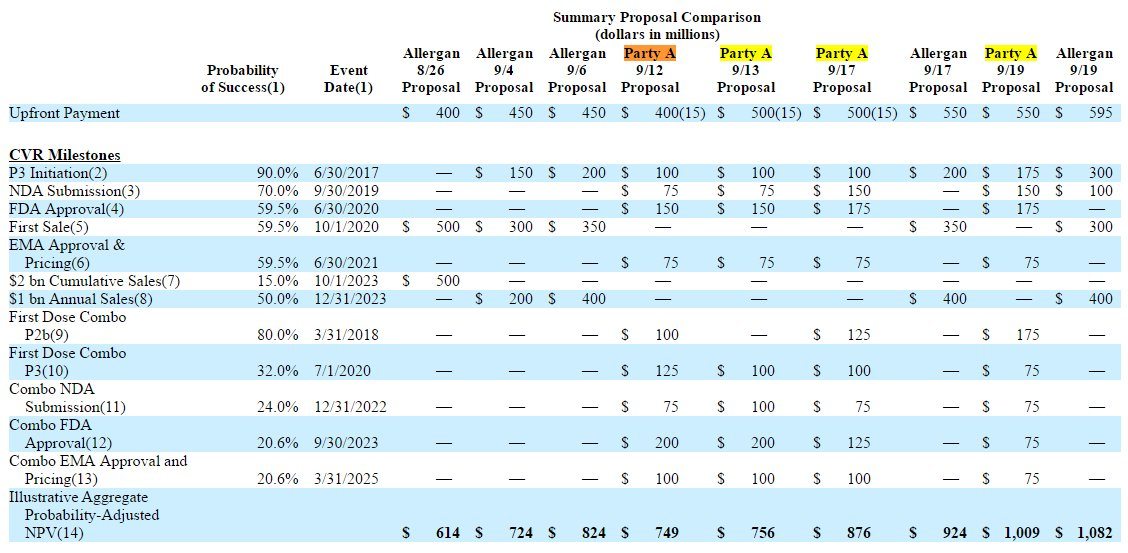 @JohnCendpts @endpts Now if I could get my teenage daughters to want to have dinner with me, I would be in great shape ?

— Brent Saunders (@brentlsaunders) October 4, 2016
---
The best place to read
Endpoints News

? In your inbox.

Comprehensive daily news report for those who discover, develop, and market drugs. Join 47,300+ biopharma pros who read Endpoints News by email every day.

Free Subscription
---
---
---