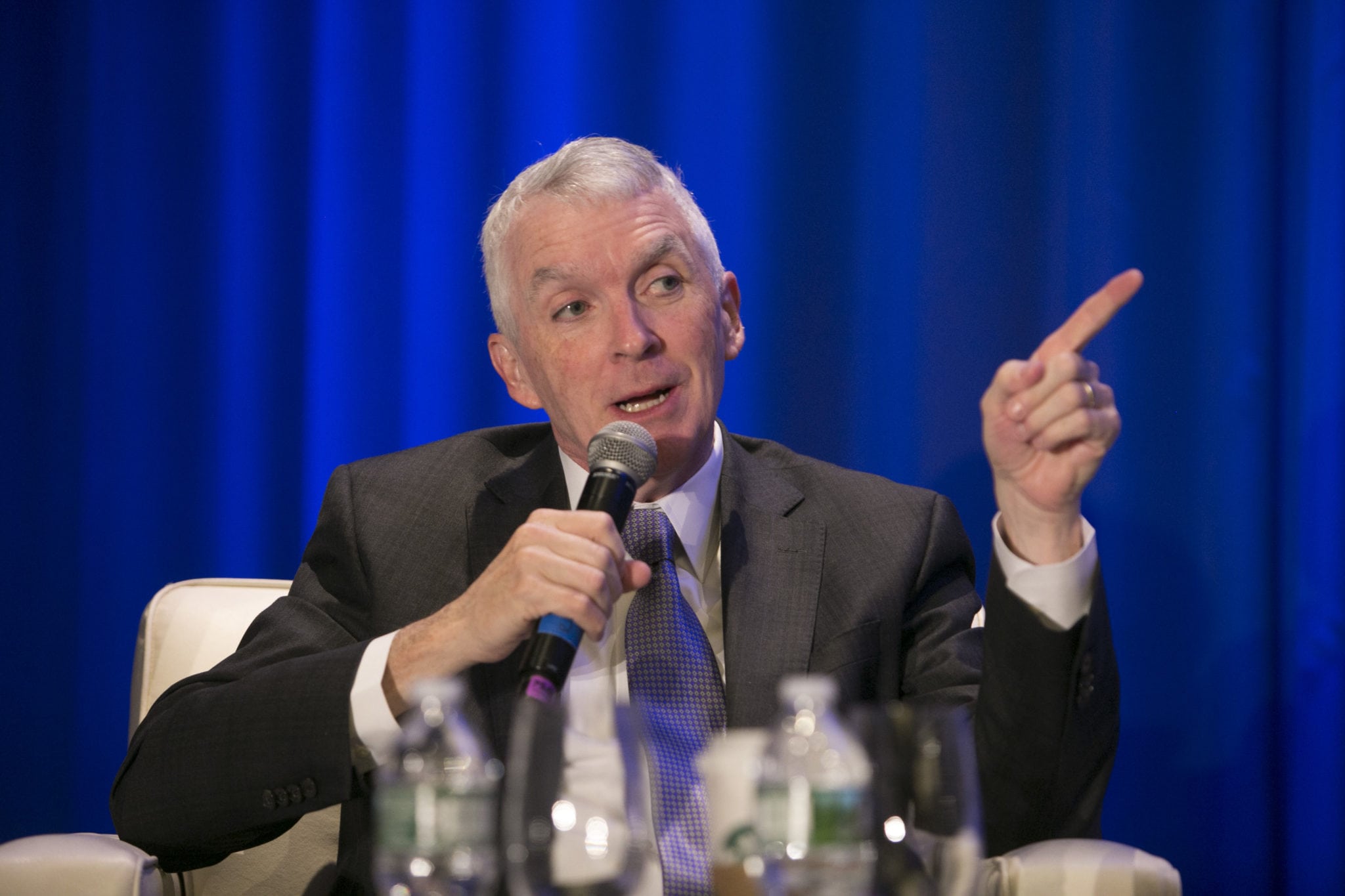 Tom Lynch (Rob Tannenbaum, Endpoints News)
Tom Lynch moves to re­struc­ture Fred Hutch as acad­e­mia, in­dus­try con­tin­ue to push cell ther­a­py in­to sol­id tu­mors
By the time for­mer Bris­tol My­ers Squibb CSO Tom Lynch stepped in to run the Fred Hutch Can­cer Re­search Cen­ter last year, both the po­ten­tial and lim­its of the in­sti­tute's pre­clin­i­cal re­search had be­come clear.
The in­sti­tute's re­searchers, in­clud­ing famed vi­rol­o­gist Lar­ry Corey, had helped make CAR-T ther­a­pies a re­al­i­ty, con­tribut­ing ba­sic sci­ence and co-found­ing Juno Ther­a­peu­tics, the cell ther­a­py start­up Cel­gene bought out for $9 bil­lion. But while cell ther­a­pies have now proven an ef­fec­tive — even some­times cu­ra­tive — ther­a­py across mul­ti­ple blood can­cers, the ap­proach has been frus­trat­ing­ly dif­fi­cult to ap­ply to sol­id tu­mors.
Lynch is try­ing to change that. In one of his first ma­jor moves as di­rec­tor — he spent most of his first months deal­ing with the pan­dem­ic — the long­time can­cer re­searcher an­nounced plans to re­struc­ture Fred Hutch's re­la­tion­ship with two oth­er ma­jor Seat­tle in­sti­tu­tions, Seat­tle Chil­dren's and UW Med­i­cine, and form the Fred Hutch Can­cer Cen­ter.
The move is de­signed to ac­cel­er­ate clin­i­cal re­search. It will do so, in part, by more di­rect­ly con­nect­ing pa­tients with the new work Hutch's trans­la­tion­al re­searchers have done on sol­id tu­mors while ex­pand­ing re­searchers' abil­i­ties to progress in the field. Pre­vi­ous­ly, Lynch said, while many blood can­cer pa­tients were re­ferred to Fred Hutch, most pa­tients with sol­id tu­mors had been treat­ed at UW.
Now, they will be un­der one roof, where pa­tients might get bet­ter ac­cess to new dis­cov­er­ies.
"We have that [depth] cov­ered in vi­rol­o­gy, we have that cov­ered in cell ther­a­pies," Lynch told End­points News. "We don't have that same depth in sol­id tu­mors."
The ex­pan­sion from one of the na­tion's top can­cer in­sti­tutes is no­table, re­flect­ing the broad­er di­rec­tion in­dus­try and acad­e­mia have tak­en over the last cou­ple years. There are nu­mer­ous hur­dles to get­ting cell ther­a­pies for sol­id tu­mors. Most no­tably, it can be dif­fi­cult to get T cells to pen­e­trate the im­mune-sup­press­ing de­fens­es many sol­id tu­mors sur­round them­selves with. It's al­so hard to find tar­gets on sol­id tu­mors that won't al­so send the T cells af­ter healthy tis­sues.
And that's just the known risks. Ear­li­er this year, one of the most watched sol­id tu­mor cell ther­a­py star­tups, Tmu­ni­ty Ther­a­peu­tics, scrapped their lead prostate can­cer pro­gram af­ter two pa­tients died from un­ex­pect­ed neu­ro­tox­i­c­i­ty.
Yet the pro­found ben­e­fits blood can­cer pa­tients have seen from cell ther­a­pies have sent re­searchers search­ing for cre­ative so­lu­tions, and ven­ture cap­i­tal­ists and phar­ma com­pa­nies have poured bil­lions of dol­lars in­to new ef­forts.
Lynch said the new struc­ture, which would re­place a pri­or col­lab­o­ra­tion called the Seat­tle Can­cer Care Al­liance, would "in­crease the scope" of what re­searchers such as Hans-Pe­ter Kiem, a promi­nent gene ther­a­py re­searcher, could study. In­di­vid­ual dis­cov­er­ies could be trans­lat­ed as well. He cit­ed a re­cent study from com­pu­ta­tion­al bi­ol­o­gist Robert Bradley show­ing that RNA ther­a­pies could help T cells — and thus cell ther­a­pies — en­ter sol­id tu­mors.
"Not in the next six months — the way we did with Covid vac­cines — but over the next five to 10 years, I think you're go­ing to see a sig­nif­i­cant ac­cel­er­a­tion in can­cer sci­ence in pa­tients with sol­id tu­mors," Lynch said.