Over the last 5 years biotech has been booming. And that could pose a big problem for everyone involved.
Like others in the industry, Leerink's Geoffrey Porges hasn't overlooked evidence that every hot new target in drug discovery quickly attracts a cluster of biopharma companies. At ASH, he counted at least a dozen BCMA drugs in the pipeline. So Porges decided to quantify the trend, breaking it down into 15 therapeutic areas.
Over the last 5 years, as money has been pouring into drug development, Porges found that there was an average increase in competitiveness of 65% across the board, with a mean jump from 4 to 7 drugs per indication.
But you haven't seen anything yet.
Just looking at what's in the pipeline, Porges factors in a 35% approval rate for late-stage drugs — a conservative figure — and estimates that the level of competition will jump by an average of 120% over the next 5 years. Broken down by indication, the increases range from 10% to 250%.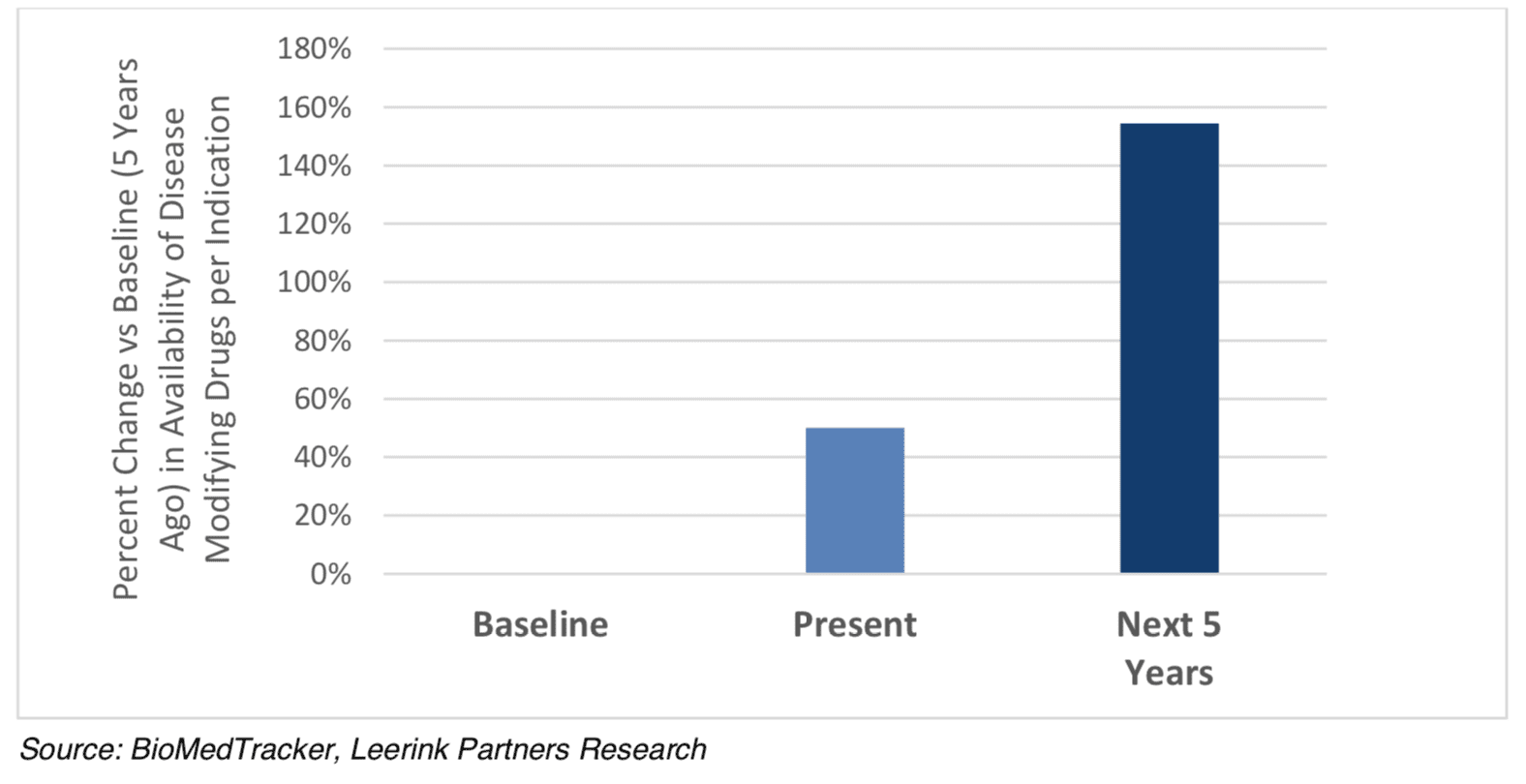 HIV is on the low end of that spectrum, with PNH, atopic dermatitis and other diseases on the high end.
Stated another way, competitive intensity in established and emerging therapeutic categories is increasing, but more importantly, it appears that the rate of increase in competitive intensity is accelerating. By the beginning of 2024 it appears that many of these emerging indications could see up to three times as many novel medicines as they do today.
These drugs will be pouring into a commercial system that is likely to reward inferior drugs priced at lower rates, disrupting the market in ways that could have a big impact on pricing and revenue potential for everyone involved.
In addition, this trend isn't just limited to the big diseases that command big bucks, like lung cancer. Competition is growing everywhere, with a rapid escalation in diseases like SMA and pemphigus.
These diseases are likely to go from underserved five years ago, to highly competitive with many treatment options, in the course of a 5 to 10 year span. Concern about the commercial risks from this increased competitive intensity has created valuation overhangs for two of our coverage companies primarily invested in these markets, Biogen (BIIB, MP) and Principia (PRNB, OP), and similar concerns already weigh on the valuation outlook for companies developing drugs for other rare, and relatively rare, disease indications.
---
---
The best place to read
Endpoints News

? In your inbox.

Comprehensive daily news report for those who discover, develop, and market drugs. Join 50,700+ biopharma pros who read Endpoints News by email every day.

Free Subscription
---
---
---