Top 10: Takeda's late-stage pipeline will re­ly heav­i­ly on Shire drugs — but is it worth $62B?
If you're look­ing for some sol­id rea­sons for Take­da CEO Christophe We­ber's re­lent­less pur­suit of a $62 bil­lion Shire buy­out, you need look no fur­ther than the Japan-based com­pa­ny's Q2 num­bers.
Take­da just post­ed its weak­est sec­ond quar­ter num­bers in three years, with prof­its down by half. And an­a­lysts are not hap­py with Take­da's late-stage pipeline. So how does it make up for its poor R&D per­for­mance?
Mark your­self down for a point if you said Shire's late-stage pipeline.
Glob­al­Da­ta just put to­geth­er a chart on the com­bined 2018-2023 peak sales pro­jec­tions on the ful­ly com­bined pipeline of the two com­pa­nies, and Shire rings up 7 of the top 10 drugs that have a rea­son­able ex­pec­ta­tion of mak­ing it to the mar­ket.
Lanadelum­ab, Shire's po­ten­tial $1.3 bil­lion prospec­tive block­buster for HAE, looms very, very large. That drug is now un­der re­view, with good odds for a suc­cess.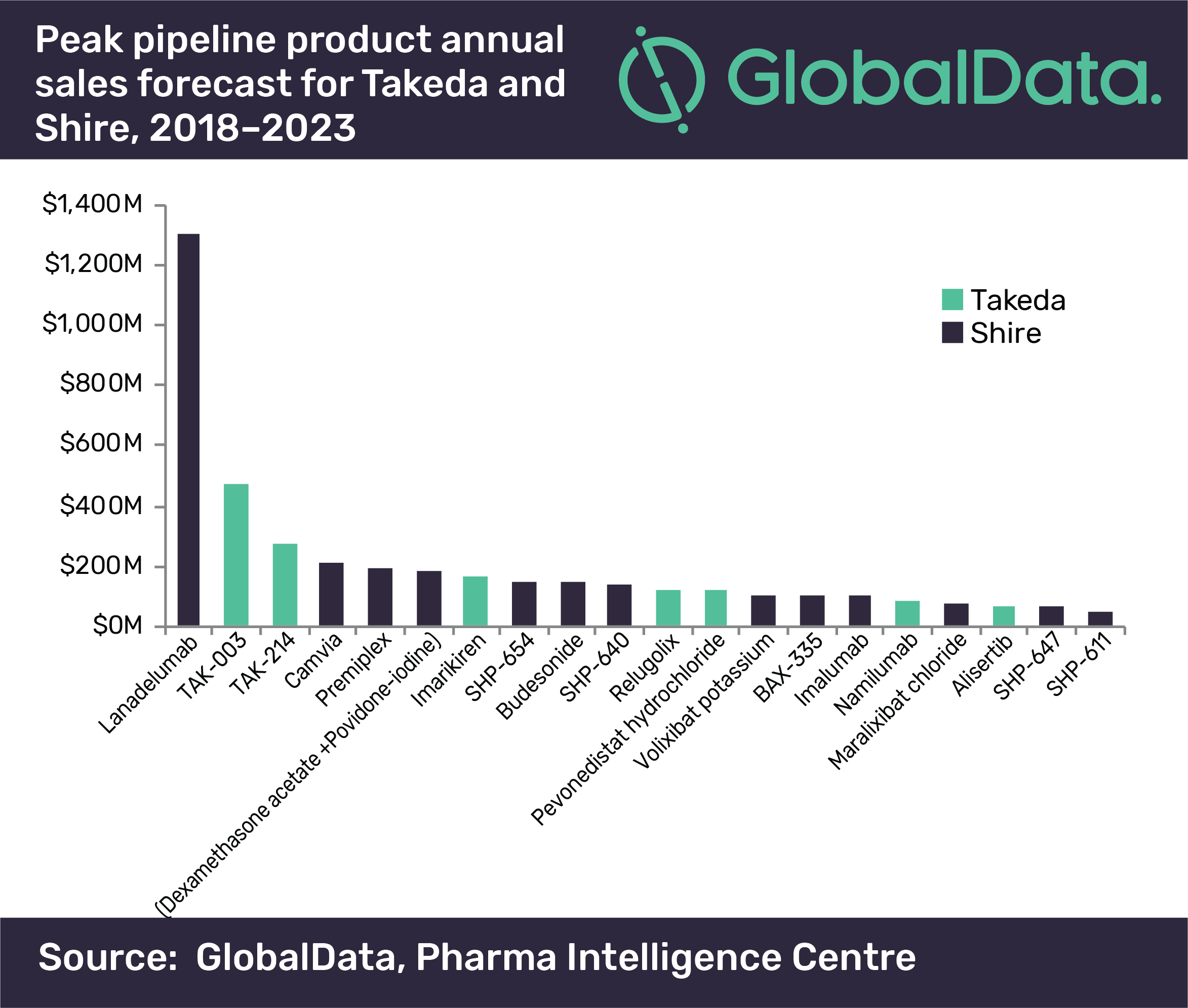 Glob­al­Da­ta's re­mark:
Com­pared to Shire's fu­ture of­fer­ings, Taka­da's own pipeline is look­ing a lit­tle bare, and so the com­pa­ny will be look­ing to lever­age Shire's pipeline once the merg­er has com­plet­ed in or­der to reignite its stum­bling op­er­at­ing prof­its.
The top 10 in­clude lanadelum­ab, TAK-oo3 (a dengue vac­cine that could sub­sti­tute for Deng­vax­ia), TAK-214 (an­oth­er vac­cine), camvia (marib­avir, Shire's break­through drug for CMV in­fec­tions), pre­mi­plex, dex­am­etha­sone ac­etate + povi­done-iodone, imarikiren, SHP-654, budes­onide and SHP-640.
Not on the list: SHP-626 for NASH. Shire's Q2 re­lease to­day says that the com­pa­ny an­nounced in June that it was tank­ing the pro­gram. But it es­caped my at­ten­tion and doesn't seem to have made it in­to any re­lease.
If Glob­al­Da­ta's chart has every­thing to look for­ward to, Take­da is look­ing at a lot of shots on goal, but on­ly one near-term block­buster. Does that add up to $62 bil­lion?