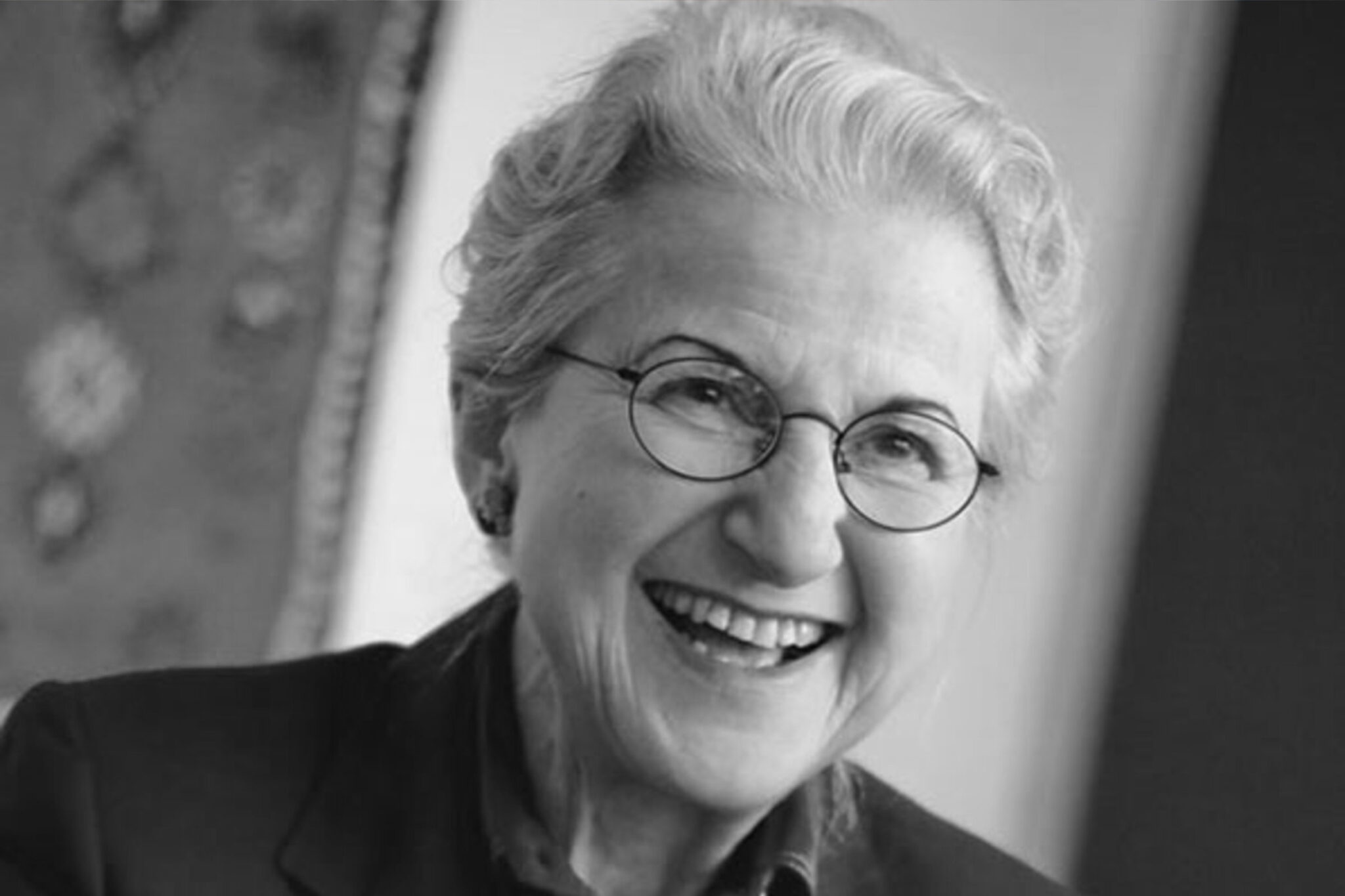 Beatrice Mintz (via Fox Chase Cancer Center)
Trail­blaz­ing can­cer re­searcher Beat­rice Mintz dies at 100 years old
Beat­rice Mintz, the can­cer re­search pi­o­neer whose dis­cov­er­ies laid the ground­work for many of to­day's ther­a­pies, passed away on Jan. 3 at the age of 100.
"Bea," as col­leagues would call Mintz, spent the last 60 years at the Fox Chase Can­cer Cen­ter in Philadel­phia, where she held a hand­ful of roles, in­clud­ing the Jack Schultz Chair in Ba­sic Sci­ence for more than a decade.
She was one of the mas­ter­minds be­hind sev­er­al im­por­tant break­throughs in can­cer bi­ol­o­gy and bio­med­ical re­search, in­clud­ing the de­vel­op­ment of trans­genic mice — ge­net­i­cal­ly en­gi­neered mouse mod­els that are used ex­ten­sive­ly to­day.
"Her con­tri­bu­tions to the field of can­cer re­search are myr­i­ad. Among oth­er im­pacts, Dr. Mintz's work en­abled the study of can­cer and oth­er ge­net­ic dis­eases to be car­ried out with­in the frame­work of the whole or­gan­ism," the Na­tion­al Foun­da­tion for Can­cer Re­search said in a state­ment.
But ac­cord­ing to a Tem­ple Health Mag­a­zine fea­ture pub­lished back in 2018, Mintz wasn't in it for the ac­co­lades. She said it was "sim­ply the pur­suit of a se­ries of ques­tions that I've en­joyed an­swer­ing."
Mintz was born in New York City on Jan. 24, 1921 to Janie Stein and Samuel Mintz, who were from Aus­tri­an Gali­cia, which is now part of Ukraine, ac­cord­ing to a New York Times re­port. The youngest of four, she went to Hunter Col­lege in Man­hat­tan be­fore pack­ing her bags for the Uni­ver­si­ty of Iowa, where she re­ceived her mas­ter's and even­tu­al­ly her doc­tor­ate in 1946.
In 1946, she ac­cept­ed a po­si­tion as an in­struc­tor in the De­part­ment of Bi­o­log­i­cal Sci­ences at the Uni­ver­si­ty of Chica­go. She spent sev­er­al years there — and stud­ied in France on a Ful­bright schol­ar­ship — be­fore tak­ing a job at Fox Chase in 1960, where she spent the rest of her life.
One of her ear­ly achieve­ments was the cre­ation of al­lophenic mice, or mice con­tain­ing mul­ti­ple, ge­net­i­cal­ly iden­tifiable pop­u­la­tions of cells. By tak­ing cells from a pair of white mice and cells from a pair of dark mice and im­plant­i­ng them in a sur­ro­gate, she was able to cre­ate off­spring that came out striped, the Times re­port­ed. She dubbed the mice "al­lophenic," be­cause they pre­sent­ed mul­ti­ple phe­no­types.
Those very mice helped Mintz come to a clon­al the­o­ry of de­vel­op­ment — es­sen­tial­ly, that each stripe on the mice must orig­i­nate from a sin­gle cell or a group of re­lat­ed cells called a clon­al unit, ac­cord­ing to Ari­zona State Uni­ver­si­ty's Em­bryo Pro­ject En­cy­clo­pe­dia. She lat­er demon­strat­ed that can­cers are clon­al, or de­rived from a sin­gle so­mat­ic cell, which was dis­put­ed at the time.
In the 1970s, Mintz shift­ed her fo­cus to a type of can­cer called ter­a­to­car­ci­no­ma. But af­ter in­tro­duc­ing ter­atoma cells in­to a nor­mal mouse em­bryo, she no­ticed some­thing in­ter­est­ing: The re­sult­ing mice were tu­mor-free. In her lat­er work, she proved that the stem cells of an ear­ly car­ci­no­ma can be nor­mal­ized if they're in­tro­duced to a nor­mal en­vi­ron­ment — a re­al­iza­tion that im­pacts the way that can­cers are treat­ed to­day.
Mintz's work earned her a range of hon­ors over the years, in­clud­ing the New York Acad­e­my of Sci­ences Award in Bi­o­log­i­cal and Med­ical Sci­ences in 1979, the Ge­net­ics So­ci­ety of Amer­i­ca Medal in 1981, the Ernst Jung Gold Medal for Med­i­cine in 1990, the Na­tion­al Medal of Hon­or for Ba­sic Re­search from the Amer­i­can Can­cer So­ci­ety in 1997, the Al­bert Szent-Györ­gyi Prize for Progress in Can­cer Re­search in 2011, and the Amer­i­can As­so­ci­a­tion for Can­cer Re­search's Life­time Achieve­ment Award in 2012, among many oth­ers.
"Dr. Mintz was a bril­liant sci­en­tist whose trail­blaz­ing work es­tab­lished clon­al reg­u­la­tion as one of can­cer's fun­da­men­tal units of de­vel­op­ment," AACR CEO Mar­garet Foti said in a state­ment. "She made foun­da­tion­al dis­cov­er­ies and rev­o­lu­tion­ized many tools and tech­niques of mol­e­c­u­lar bi­ol­o­gy that paved the way for tremen­dous progress in our un­der­stand­ing of can­cer."