Trou­bled by deaths, FDA or­ders Mer­ck to slam the brakes on three Keytru­da stud­ies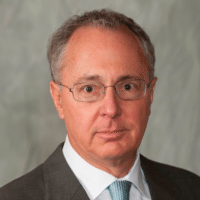 Roger Perl­mut­ter, Mer­ck
A month af­ter Mer­ck flagged a high­er risk of death in two com­bo stud­ies us­ing its flag­ship drug Keytru­da, the FDA has fol­lowed up with a clin­i­cal hold that will slam the brakes on fur­ther treat­ment in three mul­ti­ple myelo­ma tri­als.
Mer­ck said a few weeks ago that it planned to con­tin­ue treat­ment in the two stud­ies – KEYNOTE 183 and KEYNOTE 185 – while paus­ing en­roll­ment of new pa­tients. Those mul­ti­ple myelo­ma tri­als matched Mer­ck's block­buster ther­a­py with two drugs from Cel­gene, Po­m­a­lyst and its big drug Revlim­id.
The FDA, though, wants pa­tients tak­en off of Keytru­da in the two Phase III stud­ies and al­so or­dered Mer­ck to stop treat­ing pa­tients in KEYNOTE-023 Co­hort 1, match­ing Keytru­da in com­bi­na­tion with lenalido­mide and dex­am­etha­sone in pa­tients who re­ceived pri­or an­ti-mul­ti­ple myelo­ma treat­ment with an im­munomod­u­la­to­ry (IMiD) treat­ment (lenalido­mide, po­ma­lido­mide or thalido­mide).
The lat­est news com­pounds a new headache for Mer­ck just as it was putting some se­ri­ous dis­tance be­tween it­self and Bris­tol-My­ers Squibb's trou­bled ri­val PD-1 drug Op­di­vo. The phar­ma gi­ant notes that these are the on­ly three tri­als – among dozens in the clin­ic – that are af­fect­ed by the agency's de­ci­sion. Mer­ck has nev­er of­fered an ex­pla­na­tion, or the­o­ry, about the high­er risk of deaths in these com­bi­na­tion stud­ies.
Mer­ck shares were down about 1% in af­ter-mar­ket trad­ing.
The clin­i­cal hold al­so rais­es ques­tions about some of the oth­er com­bi­na­tion stud­ies in the clin­ic. Ever­core ISI's Umer Raf­fat notes:
It will be very in­ter­est­ing to see the fate of BMY's Check­mate-602 (ni­vo + pom/dex) as well as Cel­gene/AZN's FU­SION­MM-03 of dur­va+dara+pom/dex in mul­ti­ple myelo­ma. Here's what we know at present: BMY tri­al was ini­ti­at­ed ~6 months af­ter MRK's un­suc­cess­ful myelo­ma tri­als … and the Cel­gene/AZN tri­al was ini­ti­at­ed ~9 months af­ter MRK's
"Pa­tient safe­ty is Mer­ck's pri­ma­ry con­cern, and we are grate­ful to the study in­ves­ti­ga­tors and pa­tients in­volved in these stud­ies for their com­mit­ment to this im­por­tant re­search," said Roger Perl­mut­ter, pres­i­dent, Mer­ck Re­search Lab­o­ra­to­ries. "Mer­ck's de­vel­op­ment pro­gram for KEYTRU­DA, span­ning more than 30 dif­fer­ent tu­mor types, has one pri­or­i­ty: help­ing pa­tients suf­fer­ing from can­cer."