Trou­bled Te­va poach­es Lund­beck CEO Schultz with an of­fer he could­n't refuse, in­clud­ing $20M in cash
A lit­tle more than two years af­ter No­vo Nordisk heir ap­par­ent Kåre Schultz jumped ship for the top job at Lund­beck, he's mov­ing on to take the helm at a storm-tossed Te­va Phar­ma­ceu­ti­cal. Schultz will al­so re­main in the CEO spot at Lund­beck un­til the Dan­ish bio­phar­ma play­er can find a new CEO of its own.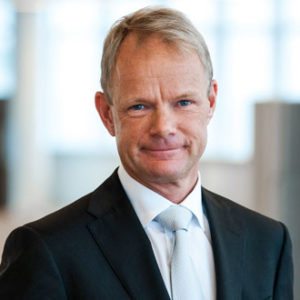 Kare Schultz
And that's not all. Co­in­ci­den­tal­ly chief com­mer­cial of­fi­cer Staffan Schüberg is al­so leav­ing Lund­beck and tak­ing over at a pri­vate­ly-held com­pa­ny.
Te­va's shares shot up more than 12% on the news, with Lund­beck stock tank­ing by the same amount.
Te­va's re­volv­ing door out­side the ex­ec­u­tive suite has seen a num­ber of com­ings and go­ings in re­cent years. Now the com­pa­ny has been stag­gered by a sud­den drop in gener­ic prices right on the heels of a big deal with Al­ler­gan for their port­fo­lio of knock­offs.
Te­va al­so has a weak drug pipeline that has been blitzed by re­peat­ed set­backs as its flag­ship MS ther­a­py Co­pax­one is ex­pect­ed to lose ground to grow­ing gener­ic com­pe­ti­tion.
As a re­sult, Te­va has be­gun to get se­ri­ous about a long-await­ed re­struc­tur­ing of the com­pa­ny in an at­tempt to sal­vage a steadi­ly de­te­ri­o­rat­ing fi­nan­cial po­si­tion. A num­ber of the world's top bio­phar­ma ex­ecs have been con­sid­ered for the job, in­clud­ing As­traZeneca CEO Pas­cal So­ri­ot and Jack­ie Fouse, who left a top job at Cel­gene and is now run­ning her own biotech com­pa­ny.
They re­port­ed­ly turned down the of­fers.
So the re­cruit­ment team, led by Chair­man Sol Bar­er, turned to Schultz, who has had a mixed record dur­ing his brief run at Lund­beck field­ing new drugs. No­vo Nordisk, mean­while, re­mains one of the most ad­mired com­peti­tors in the in­dus­try.
For CEOs in this cat­e­go­ry, the bulk of their in­come comes from stock awards. Schultz is start­ing with a base pay of $2 mil­lion, up to $4 mil­lion in bonus­es for hit­ting his goals, a $5 mil­lion chunk of stock as a sign-on bonus, an­nu­al eq­ui­ty in­cen­tives of $6 mil­lion, a $20 mil­lion sign­ing bonus and ad­di­tion­al eq­ui­ty awards, plus mon­ey for mov­ing to Is­rael. The ini­tial pack­age is worth around $44 mil­lion-plus, ac­cord­ing to the SEC fil­ing.
Schultz is mak­ing his move at a key point in bio­phar­ma's his­to­ry. There's been a wave of top-lev­el changes in the in­dus­try, with new CEOs at GSK, Eli Lil­ly, No­var­tis, Sanofi, Bio­gen, Alex­ion and more. And every new CEO brings their own new R&D and com­mer­cial strat­e­gy in­to play.
For Schultz, Te­va looks like the op­por­tu­ni­ty of a life­time.
"The out­look (at Lund­beck) is strong with high prof­itabil­i­ty and sol­id cash flow gen­er­a­tion many years ahead and I could eas­i­ly see my­self work­ing at Lund­beck for many years. I just got an of­fer that I couldn't refuse, be­ing CEO at one of the biggest phar­ma­ceu­ti­cal com­pa­nies in the world," says Schultz in a state­ment.
Im­age cred­it: Shut­ter­stock