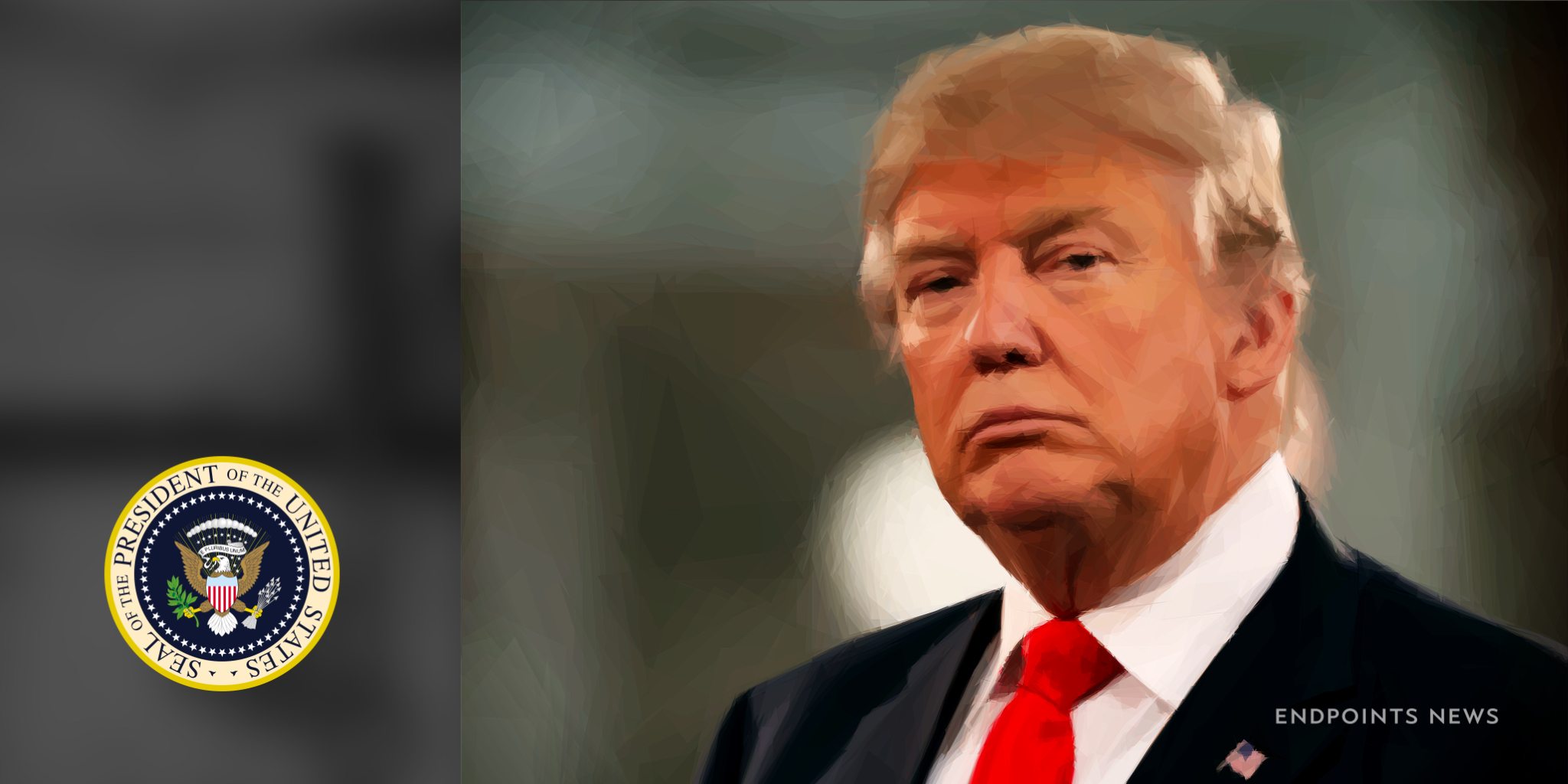 Trump at­tacks "slow and bur­den­some" drug ap­proval process, trig­ger­ing a pitch from Am­i­cus CEO
Pres­i­dent Don­ald Trump out­lined his po­lit­i­cal agen­da for 2017 in his ad­dress to a joint ses­sion of Con­gress Tues­day night, aim­ing a broad­side di­rect­ed straight at the "bur­den­some" drug ap­proval process at the FDA. And a promi­nent CEO in the rare dis­ease field stepped in­to Trump's high pow­ered spot­light to urge a change in the way the agency han­dles or­phan drugs while mak­ing a pitch for a speedy re­ver­sal of a painful set­back hand­ed to him by reg­u­la­tors last year.
In a se­ries of point­ed high­lights dur­ing tonight's speech, most of Trump's com­ments on health­care fo­cused on the now stan­dard at­tack on Oba­macare and a de­mand to re­peal and re­place his pre­de­ces­sor's plans on health in­sur­ance. But he re­served a few mo­ments of heat­ed crit­i­cism re­served specif­i­cal­ly for the FDA and gov­ern­ment re­form.
"We must elim­i­nate the bur­den­some ap­proval process for life-sav­ing drugs so that more lives can be saved," was in­clud­ed in Trump's ad­vance list of talk­ing points.
"(O)ur slow and bur­den­some ap­proval process at the FDA keeps too many ad­vances, like the one that saved Megan's life, from reach­ing those in need," Trump told his au­di­ence, turn­ing to Am­i­cus CEO John Crow­ley's daugh­ter Megan in the au­di­ence.
Megan Crow­ley suf­fers from Pompe dis­ease, a rare ail­ment that Am­i­cus has set out to treat with two drugs now in Phase I. Crow­ley found­ed No­vazyme, ac­quired by Gen­zyme, which went on to de­vel­op an en­zyme re­place­ment ther­a­py Megan Crow­ley still us­es.
"If we slash the re­straints, not just at the FDA but in gov­ern­ment," Trump told Con­gress, "we will be blessed with far more mir­a­cles like Megan."
Ear­li­er in the speech Trump al­so lashed out once again at the "ar­ti­fi­cial­ly high price of drugs," which he has vowed to rein in.
That all fits close­ly with the pres­i­dent's in­sis­tence — out­lined in a re­cent ses­sion with Big Phar­ma ex­ec­u­tives — that the drug ap­proval process needs to be dereg­u­lat­ed, in­sist­ing that slash­ing FDA rules was need­ed in or­der to cut drug prices. But the in­dus­try has re­coiled at the idea that the FDA's rules gov­ern­ing de­vel­op­ment need to be gut­ted, leav­ing many won­der­ing just how ex­treme a makeover the pres­i­dent has in mind.
Am­i­cus $FOLD rep­re­sents a biotech com­pa­ny which would ben­e­fit sig­nif­i­cant­ly from a sharp change in di­rec­tion at the FDA. Last year the com­pa­ny's shares were sent in­to a tail­spin af­ter it was forced to mount a new safe­ty study for migala­s­tat, a new drug for Fab­ry dis­ease, af­ter reg­u­la­tors at the FDA de­mand­ed more da­ta in a move that will push back any ap­proval by years. Months be­fore, the Eu­ro­pean Com­mis­sion gave it a green light across the At­lantic.
"(I)t is trou­bling that in re­cent years, rare dis­ease re­search is be­com­ing what the Or­phan Drug Act sought to change: an en­ter­prise too ex­pen­sive to jus­ti­fy in­vest­ment," the Am­i­cus CEO wrote in a piece for the Ob­serv­er. "It takes now or­phan drugs as much time to com­plete Phase III stud­ies (the stage of drug de­vel­op­ment where ef­fi­ca­cy is es­tab­lished) as it does for non-or­phans. At the same time, the av­er­age clin­i­cal tri­al cost per pa­tient is 14 times high­er for or­phan drugs com­pared to those that are not. The FDA's reg­u­la­tion of the or­phan de­vel­op­ment process is be­com­ing less flex­i­ble, less ef­fi­cient and less pa­tient-cen­tered."
"Sim­i­lar­ly," he added, "my com­pa­ny, Am­i­cus Ther­a­peu­tics, saw the de­vel­op­ment of Galafold, for the treat­ment of Fab­ry dis­ease, slowed by the same process in the U.S., adding mil­lions of dol­lars in cost and de­lay­ing treat­ment for years, de­spite the drug's ap­proval as a pre­ci­sion med­i­cine in Eu­rope last year. The FDA has de­clared that the on­ly path­way to avail­abil­i­ty for Fab­ry pa­tients in the Unit­ed States is pred­i­cat­ed on yet an­oth­er study. And while we do that, pa­tients wait. All get sick­er. And some will die."
In­vestors picked up on the pos­si­bil­i­ties, bid­ding Am­i­cus' shares up 7% Wednes­day morn­ing.
Now the biotech in­dus­try wants to know if a new FDA com­mis­sion­er ap­point­ed by Trump would change the bal­ance of safe­ty and ef­fi­ca­cy da­ta need­ed for an ap­proval, changes which may ben­e­fit in­di­vid­ual com­pa­nies but erode the gold stan­dard long de­mand­ed by the agency.
Crow­ley has al­ready made it clear that he be­lieves he's ready to start mar­ket­ing the drug in the US "to­day." His fate this year will in­flu­ence the en­tire in­dus­try, for bet­ter or worse, as Trump and the na­tion's law­mak­ers go about trans­form­ing the pres­i­dent's rhetoric in­to po­lit­i­cal re­al­i­ty.
Trump mis­char­ac­ter­izes Pompe drug ap­proval process. Ap­proved in 9 months based on 39 pa­tients. Not "slow and bur­den­some."

— David A. Kessler MD (@Davi­dAKessler­MD) March 1, 2017
---
Re­marks As De­liv­ered:
An in­cred­i­ble young woman is with us this evening who should serve as an in­spi­ra­tion to us all.

To­day is Rare Dis­ease day, and join­ing us in the gallery is a Rare Dis­ease Sur­vivor, Megan Crow­ley. Megan was di­ag­nosed with Pompe Dis­ease, a rare and se­ri­ous ill­ness, when she was 15 months old. She was not ex­pect­ed to live past five.

On re­ceiv­ing this news, Megan's dad, John, fought with every­thing he had to save the life of his pre­cious child. He found­ed a com­pa­ny to look for a cure, and helped de­vel­op the drug that saved Megan's life. To­day she is 20 years old — and a sopho­more at Notre Dame.

Megan's sto­ry is about the un­bound­ed pow­er of a fa­ther's love for a daugh­ter.

But our slow and bur­den­some ap­proval process at the Food and Drug Ad­min­is­tra­tion keeps too many ad­vances, like the one that saved Megan's life, from reach­ing those in need.

If we slash the re­straints, not just at the FDA but across our Gov­ern­ment, then we will be blessed with far more mir­a­cles like Megan.