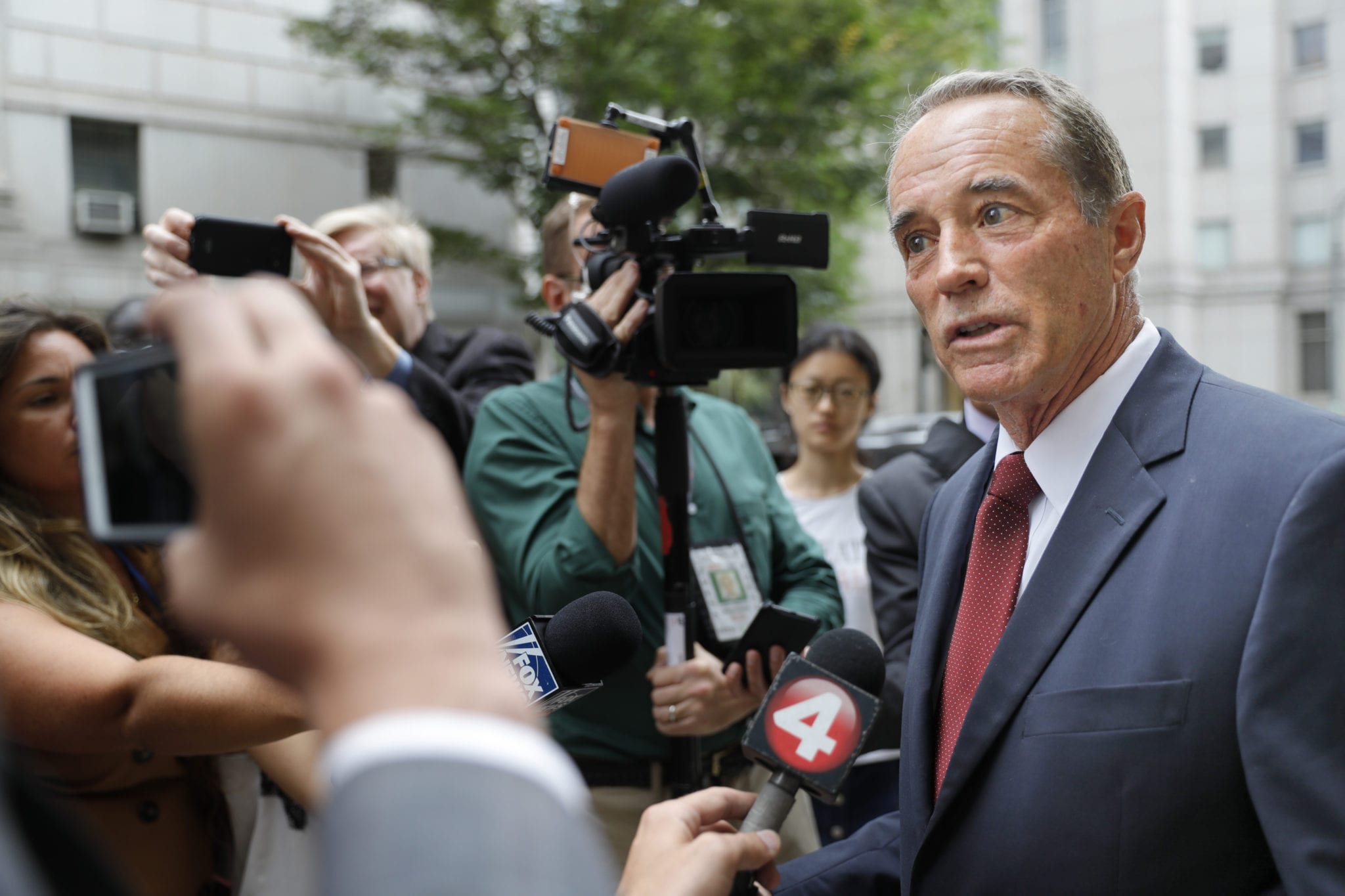 Chris Collins speaks to reporters as he leaves the courthouse after a pretrial hearing in his insider-trading case, Thursday, Sept. 12, 2019 (AP Photo/Seth Wenig)
Trump par­dons Chris Collins, for­mer con­gress­man im­pris­oned for biotech in­sid­er trad­ing scan­dal
Just two months in­to a 26-month prison sen­tence for in­sid­er trad­ing, for­mer con­gress­man Chris Collins has been par­doned.
Collins is one of 15 peo­ple Don­ald Trump has par­doned in one of his last ex­er­cis­es of pres­i­den­tial pow­er. A House rep­re­sen­ta­tive of 7 years and the first sit­ting fed­er­al politi­cian to en­dorse Trump's bid for pres­i­dent back in 2016, he was grant­ed a full par­don "at the re­quest of many Mem­bers of Con­gress," ac­cord­ing to the White House.
The scan­dal that led to his res­ig­na­tion and land­ed him in prison re­volved around an Aus­tralian biotech named In­nate Im­munother­a­peu­tics, which had a lead drug for mul­ti­ple scle­ro­sis. Not on­ly did Collins' fam­i­ly be­come the sec­ond largest share­hold­er and a board mem­ber, he was al­so an avid pro­mot­er of its stock, draw­ing in­vest­ments from neigh­bors, friends as well as fel­low mem­bers of Con­gress.
While his overzeal­ous pros­e­lytism prompt­ed a House ethics in­ves­ti­ga­tion in May 2017, he was ul­ti­mate­ly charged for pass­ing on the in­sid­er in­for­ma­tion — re­layed by the In­nate CEO to the board in June — that the com­pa­ny's lead drug had failed a key tri­al.
At an am­ply pho­tographed pic­nic event on the White House lawn, Collins called his son, Cameron Collins, to tip him off so that he could sell his shares be­fore the in­evitable stock im­plo­sion once the pub­lic finds out.
It helped the younger Collins avoid $570,900 in loss­es. He al­so told his fa­ther-in-law and six oth­er stock­hold­er friends to sell, re­tain­ing around hun­dreds of thou­sands of dol­lars in to­tal.
When ques­tioned by the FBI, the con­gress­man lat­er ad­mit­ted, he lied.
"You had a du­ty to meet and you be­trayed that du­ty," US Judge Ver­non Brod­er­ick of the South­ern Dis­trict of New York said to Collins at sen­tenc­ing.
Brod­er­ick lat­er de­cid­ed that his son de­served a more le­nient sen­tence, which amount­ed to five years pro­ba­tion in­clud­ing six months home con­fine­ment and 500 hours of com­mu­ni­ty ser­vice and a $150,000 fine.
Trump, though, chose to note high­light Collins' "ear­ly ca­reer as a suc­cess­ful busi­ness­man and en­tre­pre­neur" and pub­lic ser­vice in a state­ment of clemen­cy:
Dur­ing his tenure in Con­gress, Mr. Collins was known for his par­tic­u­lar fo­cus on the well­be­ing of small busi­ness­es, agri­cul­ture, and sci­ences.
Collins could be re­leased in time for Christ­mas, two lawyers told Buf­fa­lo News.