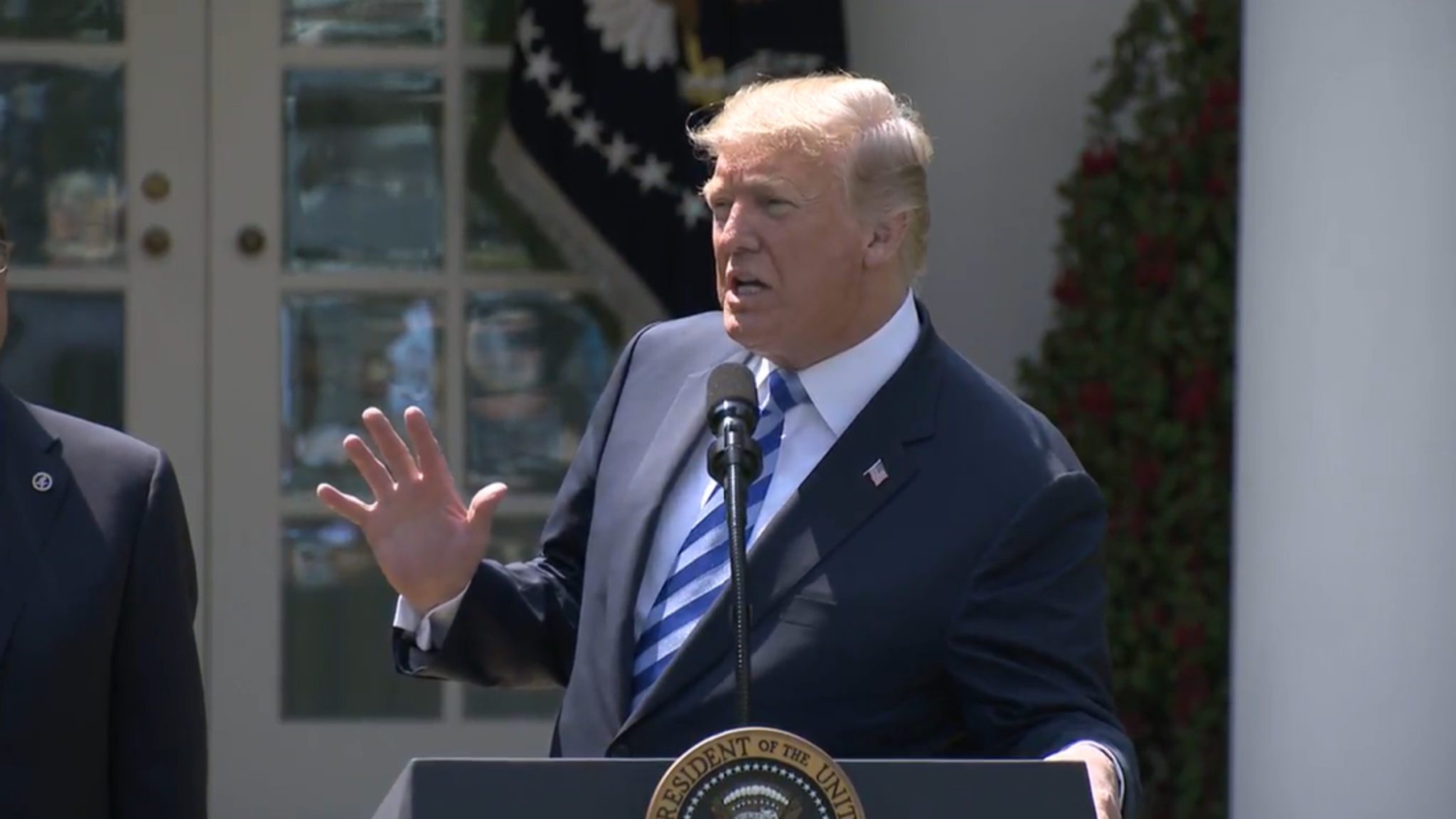 Trump to un­veil pro­pos­al to re­duce prices on doc­tor-ad­min­is­tered drugs as midterms loom
Days away from a con­tentious midterm elec­tion bat­tle, the Trump ad­min­is­tra­tion is once again at­tempt­ing to throw its weight at ex­or­bi­tant drug prices, a hot but­ton is­sue the pres­i­dent has long ral­lied against but has so far done lit­tle about.
DC-based POLITI­CO re­port­ed last night that Trump is set to un­veil a pro­pos­al that would make sweep­ing changes to how Medicare pays for some drugs in a speech to the HHS on Thurs­day af­ter­noon, which some see as a ploy to dis­tract away from the Re­pub­li­can agen­da to over­haul Oba­macare.
The scourge of high drug prices has been met with ire on both sides of the aisle, with De­moc­rats lash­ing out at their GOP coun­ter­parts for not us­ing their con­trol of both Con­gress and the ex­ec­u­tive branch to com­pel changes to the free­wheel­ing fash­ion the in­dus­try op­er­ates on drug prices. While on the cam­paign trail, both Hillary Clin­ton and Trump chas­tised drug­mak­ers for their pric­ing be­hav­ior and made pledges to hold the in­dus­try ac­count­able. And af­ter cap­tur­ing the pres­i­den­cy, Trump sus­tained his at­tack on the in­dus­try stan­dard of price hikes, pro­claim­ing drug­mak­ers were "get­ting away with mur­der." In May, Trump an­nounced that drug com­pa­nies would make "mas­sive" price cuts with­in two weeks — none which ma­te­ri­al­ized. An analy­sis of brand­ed pre­scrip­tion drugs, re­leased by the As­so­ci­at­ed Press last month, found that for all in­tents and pur­pos­es it's been busi­ness as usu­al for drug­mak­ers, with price hikes con­tin­u­ing to out­strip cuts. The on­ly sil­ver lin­ing is that the num­ber of in­creas­es has di­min­ished some­what, and are not as steep as in past years, the AP not­ed.
The mul­ti-pronged pro­pos­al that still needs re­fine­ment and pas­sage through the fed­er­al rule-mak­ing dock­et was sent to the White House last month, and is ex­pect­ed to save Medicare $17 bil­lion over five years, and shave the cost of cer­tain drugs by up to 30 per­cent, ac­cord­ing to POLITI­CO. The plan in­tends to uti­lize Medicare's in­no­va­tion cen­ter to ne­go­ti­ate the prices for some drugs that are di­rect­ly ad­min­is­tered by doc­tors — not pre­scrip­tions pur­chased by pa­tients at phar­ma­cies — in a bid to keep them on par with low­er prices paid by oth­er na­tions, ac­cord­ing to the re­port.
The pro­pos­al will al­so out­line an "in­ter­na­tion­al pric­ing in­dex," in which Amer­i­can drug prices would be bench­marked against 16 oth­er na­tions — such as Cana­da, Czech Re­pub­lic, Fin­land, France, Ger­many, Japan, Spain, Swe­den and the Unit­ed King­dom — where tar­get drug prices are col­lec­tive­ly 44 per­cent low­er. Prices would slow­ly be low­ered to in­ter­na­tion­al lev­els over five years. How­ev­er, this part of the pro­pos­al may run in­to trou­ble as many drug­mak­ers aren't par­tic­u­lar­ly forth­com­ing about the prices they set­tle on for their drugs fol­low­ing ne­go­ti­a­tions with for­eign gov­ern­ments.
An­oth­er part of the new plan in­cludes let­ting pri­vate sec­tor ven­dors ne­go­ti­ate with drug­mak­ers, akin to how health in­sur­ers ne­go­ti­ate prices in Medicare's part D pro­gram. Medicare would test this ap­proach for cer­tain ex­pen­sive drugs in cer­tain ge­o­graph­ic ar­eas, where par­tic­i­pa­tion would be manda­to­ry for physi­cians and hos­pi­tals. In ad­di­tion, of­fi­cials in­tend to amend the in­cen­tive doc­tors have to pre­scribe ex­pen­sive drugs. Amend­ing that sys­tem to a flat fee, in con­trast to a per­cent­age, could com­pel doc­tors to use the most ef­fec­tive rather than the most ex­pen­sive treat­ments, POLITI­CO said.
In 2016, Pres­i­dent Oba­ma at­tempts to af­fect change in­to the way physi­cian-ad­min­is­tered drugs were paid for fiz­zled out af­ter be­ing thwart­ed by De­moc­rats and Re­pub­li­cans alike, not to men­tion doc­tors, hos­pi­tals and the über-con­nect­ed drug lob­by. De­spite Trump's sus­tained brava­do, his lat­est pro­pos­al may suf­fer a sim­i­lar fate.
The speech, Trump's first ad­dress to the health de­part­ment, is ex­pect­ed at 2 pm. It fol­lows some mod­est, al­beit in­di­rect, suc­cess­es for the ad­min­is­tra­tion in push­ing back at the phar­ma­ceu­ti­cal in­dus­try. This month an HHS pro­pos­al re­quir­ing drug­mak­ers to re­veal prices in their TV ads came to the fore, in ad­di­tion to the pas­sage of a law ban­ning gag-claus­es, which pre­vent phar­ma­cists from in­form­ing cus­tomers when it's cheap­er to pay in cash for a drug in­stead of us­ing in­sur­ance, as STAT not­ed.