Trump's re­newed broad­sides on drug pric­ing did­n't even dent bio­phar­ma this time
Late Mon­day Pres­i­dent Don­ald Trump took his sec­ond shot at Mer­ck CEO Ken Fra­zier. Clear­ly still ran­kled by Fra­zier's de­ci­sion to re­sign from Trump's man­u­fac­tur­ing coun­cil, the pres­i­dent Tweet­ed:
.@Mer­ck Phar­ma is a leader in high­er & high­er drug prices while at the same time tak­ing jobs out of the U.S. Bring jobs back & LOW­ER PRICES!

— Don­ald J. Trump (@re­al­Don­aldTrump) Au­gust 14, 2017
Trump buck­led un­der pres­sure and took a di­rect swipe at right-wing ex­trem­ists on Mon­day, a de­layed re­ac­tion that boiled in­to a vi­ral dis­cus­sion over the pres­i­dent and his re­luc­tance to sin­gle out the KKK and oth­ers from the bul­ly pul­pit of the pres­i­den­cy. But none of it sat­is­fied the pres­i­dent's crit­ics. The big ques­tion for bio­phar­ma now was whether Trump, who's gone dead silent on the is­sue of drug pric­ing — un­til yes­ter­day — would rip back in­to the in­dus­try af­ter be­ing an­gered by Fra­zier, one of the few black CEOs in the For­tune 500.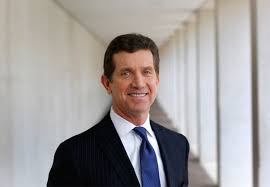 J&J's Alex Gorsky
There's one oth­er promi­nent Big Phar­ma CEO on the man­u­fac­tur­ing coun­cil, J&J CEO Alex Gorsky, and the com­pa­ny has been un­re­spon­sive in the face of ques­tions on Gorsky's po­si­tion on Fra­zier's move, and whether he would be stay­ing on af­ter In­tel's Bri­an Krzanich and Un­der Ar­mour's Kevin Plank fol­lowed Fra­zier out of the group.
An­oth­er high pro­file break from Trump by Gorsky may well lead to a full scale re­new­al of Trump's ear­ly cam­paign to cas­ti­gate bio­phar­ma for what he termed were out­ra­geous drug prices. But does it re­al­ly mat­ter?
Mov­ing be­yond tweets and back in­to volatile pol­i­cy dis­cus­sions af­ter be­hind-the-scenes talks qui­et­ly veered in­to far more fa­mil­iar and com­fort­able dis­cus­sions re­lat­ed to val­ue pric­ing and such would be un­wel­come in bio­phar­ma. But Trump has gained lit­tle sup­port in Con­gress for many of his re­lat­ed bud­get ini­tia­tives, like a grab for more in­dus­try sup­port for the FDA bud­get or a big cut to the NIH's work.
In the past, Trump's broad­sides shook stock prices of in­dus­try lead­ers. Yes­ter­day, there was bare­ly a rip­ple — and that was in the in­dus­try's fa­vor. The Nas­daq Biotech In­dex edged up 1%, Mer­ck gained a half a point. As law­mak­ers be­come less and less like­ly to bow to the pres­i­dent's de­mands on Twit­ter, they are high­ly un­like­ly to go along with any ex­treme pric­ing con­trols in phar­ma.
In­vestors are tun­ing out.
Most of the Big Bio­phar­ma ex­ecs will pre­fer to lay low, still look­ing for big tax cuts and a light touch on pric­ing. But Fra­zier just made it much, much less trendy to be seen at the White House. In the end, the in­dus­try may just get more of what it's al­ready had — head­lines and tweets, but no sub­stan­tive change on any­thing im­por­tant as Con­gress re­mains large­ly dys­func­tion­al.
There's no sign that the tweets will stop. Af­ter our dead­line to­day, there was an­oth­er high-pro­file de­fec­tion from the coun­cil — Scott Paul, pres­i­dent of the Al­liance for Amer­i­can Man­u­fac­tur­ing — and Trump was back at it.
For every CEO that drops out of the Man­u­fac­tur­ing Coun­cil, I have many to take their place. Grand­standers should not have gone on. JOBS!

— Don­ald J. Trump (@re­al­Don­aldTrump) Au­gust 15, 2017