Turn on, tune in: New York biotech scores $15M+ in chemo­ge­net­ics bet
Typ­i­cal­ly, once a bi­o­log­i­cal tar­get has been iden­ti­fied, sci­en­tists work on de­vel­op­ing mol­e­cules fo­cused on that tar­get. But in an emerg­ing field called chemo­ge­net­ics, re­searchers start with a small mol­e­cule and then de­sign a tar­get for it.
Bank­ing on its chemo­ge­net­ics tech­nol­o­gy to ad­dress CNS dis­or­ders, New York-based Red­pin Ther­a­peu­tics has se­cured a $15.5 mil­lion in­jec­tion, as it shep­herds its two pre­clin­i­cal pro­grams — for chron­ic pain and re­frac­to­ry epilep­sy — in­to the clin­ic.
Ex­ist­ing gene ther­a­pies tend to re­place de­fec­tive genes with healthy ones. But Red­pin's tech­nol­o­gy us­es AAV vec­tors to de­liv­er en­gi­neered ion chan­nels to spe­cif­ic cell pop­u­la­tions. And then these en­gi­neered re­cep­tors, once ac­ti­vat­ed or trig­gered by their lig­and or the small mol­e­cule, con­trol the func­tion­ing of that par­tic­u­lar cell type.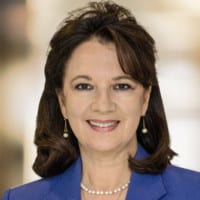 El­ma Hawkins
The small mol­e­cule cho­sen by Red­pin is Pfiz­er's smok­ing ces­sa­tion treat­ment, Chan­tix. The drug is ap­proved in 80 coun­tries, has suit­able phar­ma­co­ki­net­ic char­ac­ter­is­tics, and can al­so pen­e­trate the blood-brain bar­ri­er, co-founder and CEO El­ma Hawkins not­ed in an in­ter­view, adding that the com­pa­ny al­so has oth­er small mol­e­cule-re­cep­tor pairs in the pipeline.
"With­out Chan­tix's pres­ence the (en­gi­neered) ion chan­nel is com­plete­ly in­ert, and then with Chan­tix there, the ion chan­nel gets ac­ti­vat­ed," Hawkins said. "And so ba­si­cal­ly you are turn­ing the ion chan­nel on and off with an ex­ter­nal switch. And that switch is Chan­tix."
Since the en­gi­neered re­cep­tors on­ly re­spond to spe­cif­ic drugs, dos­es can be low, and the process lim­its the off-tar­get sys­temic ef­fects of the drug on oth­er tis­sues — the once-and-done ap­proach is al­so tun­able and re­versible.
These ad­van­tages lured Lon­don-based 4BIO Cap­i­tal, which led the Se­ries A in­jec­tion. The VC shop has a $150 mil­lion fund fo­cused on ad­vanced ther­a­pies — in­clud­ing cell and gene ther­a­pies, RNA-based ther­a­pies and the mi­cro­bio­me.
"When we do treat pa­tients with small mol­e­cules for neu­ro­science, psy­chol­o­gy, and func­tion­al neu­rol­o­gy over a long time, they do cre­ate quite sig­nif­i­cant side-ef­fects," not­ed man­ag­ing part­ner Dmit­ry Kuzmin in an in­ter­view.
But cell and gene ther­a­pies have the edge — they are one-time treat­ments, and can be very pre­cise, he said.
"Giv­en the com­bi­na­tion of the lo­cal sur­gi­cal ad­min­is­tra­tion, the AAV ad­van­tages and the pro­mot­er con­trol we can be very, very pre­cise in the brain," Kuzmin stressed. "We can achieve fan­tas­tic de­liv­ery to func­tion­al­ly and ge­net­i­cal­ly dis­tinct cir­cuits in the brain and else­where in the body."
Kuzmin is set to join Red­pin's board. The com­pa­ny al­so counts Eli Lil­ly vet­er­an David Bleak­man as its chief sci­en­tif­ic of­fi­cer.
4BIO, along with Arkin Bio Ven­tures, led the Se­ries A round. Oth­er in­vestors such as the cor­po­rate ven­ture arm of Take­da, New York Ven­tures and Alexan­dria Ven­ture In­vest­ments, al­so par­tic­i­pat­ed in the round.
Ver­sant, MPM Cap­i­tal-backed Co­da Ther­a­peu­tics, which al­so has a chemo­ge­net­ics plat­form, raised $15 mil­lion last No­vem­ber bring­ing its to­tal Se­ries A haul to $34 mil­lion — as it fur­ther de­vel­ops its lead pro­grams: chron­ic neu­ro­path­ic pain and fo­cal epilep­sy.
So­cial im­age: El­ma Hawkins via Youtube