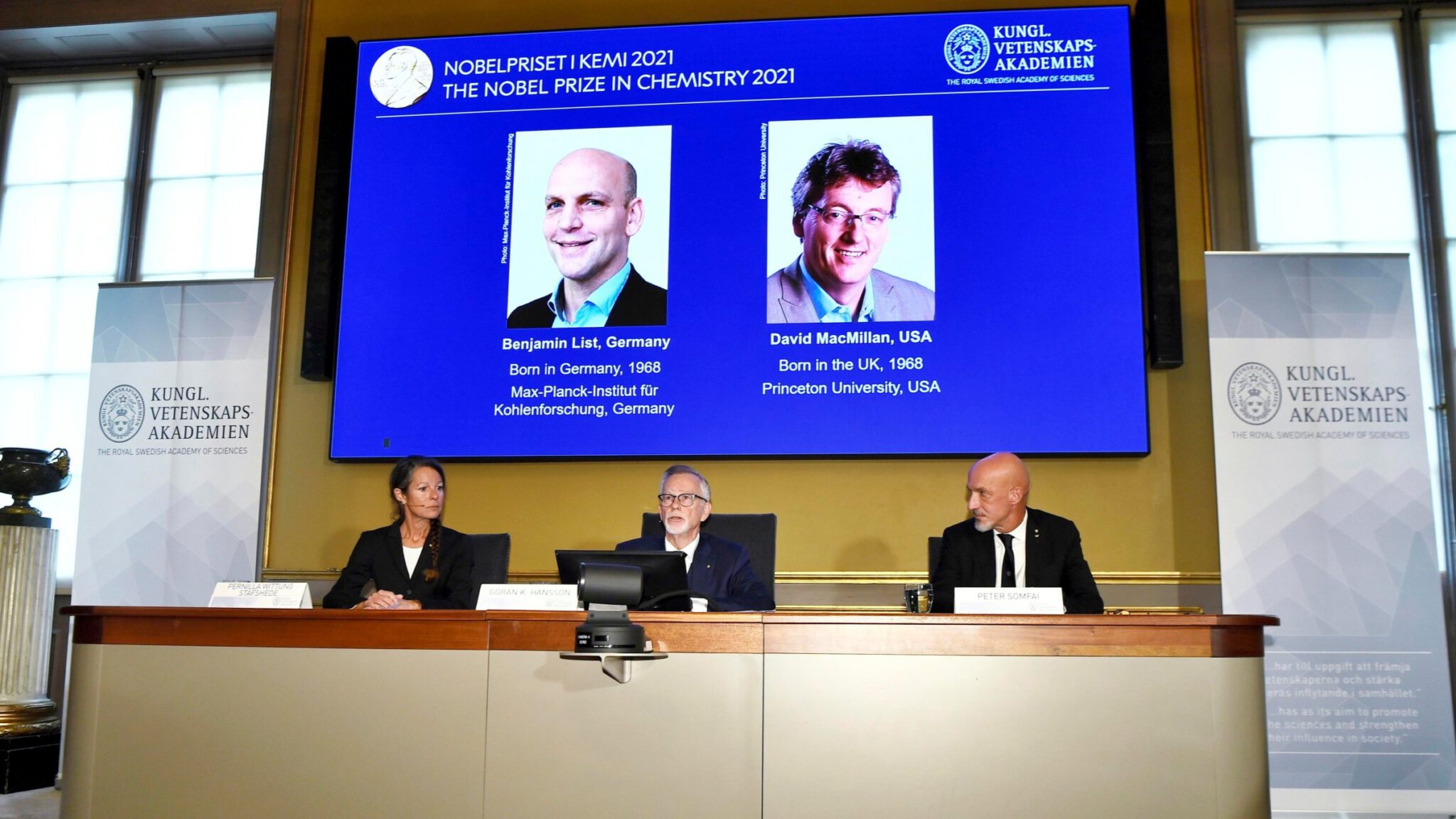 Goran Hansson (center) announces the winners of the Nobel Prize in Chemistry, Benjamin List and David MacMillan (Claudio Bresciani/TT New Agency via AP Images)
Two decades af­ter dis­cov­er­ing a new way to con­struct mol­e­cules, David MacMil­lan and Ben­jamin List win No­bel Prize
Cat­a­lysts play a vi­tal role in drug de­vel­op­ment, dri­ving com­plex se­quences of chem­i­cal re­ac­tions to break down mol­e­cules or join them to­geth­er. But un­til just a cou­ple of decades ago, on­ly two types of cat­a­lysts were known to sci­en­tists: met­als and en­zymes.
Met­al cat­a­lysts are eas­i­ly de­stroyed by mois­ture, so while it's sim­ple enough to de­ploy them in a lab, large-scale man­u­fac­tur­ing be­comes a chal­lenge. En­zymes, on the oth­er hand, con­sist of hun­dreds of amino acids, though fre­quent­ly enough, on­ly a few of those are ac­tu­al­ly in­volved in a chem­i­cal re­ac­tion.
In the 1990s, two re­searchers in sep­a­rate cor­ners of Cal­i­for­nia came to the same con­clu­sion: There must be a sim­pler way. Their work led to the dis­cov­ery of a third catal­y­sis that builds up­on small or­gan­ic mol­e­cules — coined asym­met­ric organocatal­y­sis — that promis­es to make mol­e­c­u­lar con­struc­tion faster, more ef­fi­cient, and "green­er."
Now, more than 20 years lat­er, it won them a No­bel Prize.
This year's No­bel Prize in Chem­istry went to Ben­jamin List, di­rec­tor at the Max-Planck-In­sti­tut für Kohlen­forschung, and David MacMil­lan, a Prince­ton Uni­ver­si­ty pro­fes­sor, for the de­vel­op­ment of asym­met­ric organocatal­y­sis. MacMil­lan al­most didn't be­lieve the win at first, con­vinced it was an elab­o­rate prank pulled off by his stu­dents, ac­cord­ing to a Twit­ter post by Prince­ton. The sci­en­tists will share a prize of 10 mil­lion Swedish kro­nor, or about $1.35 mil­lion.
Pro­fes­sor MacMil­lan starts the day with in­ter­views, telling the sto­ry of be­ing no­ti­fied that he won the #No­bel­Prize – and not be­liev­ing it!

He thought it was an elab­o­rate prank by his stu­dents un­til he saw his own face on the front of the @ny­times home­page. pic.twit­ter.com/mhUF­przeKs

— Prince­ton Uni­ver­si­ty (@Prince­ton) Oc­to­ber 6, 2021
HN Cheng, pres­i­dent of the Amer­i­can Chem­i­cal So­ci­ety, told End­points News that the dis­cov­ery is like giv­ing chemists a "new mag­ic wand."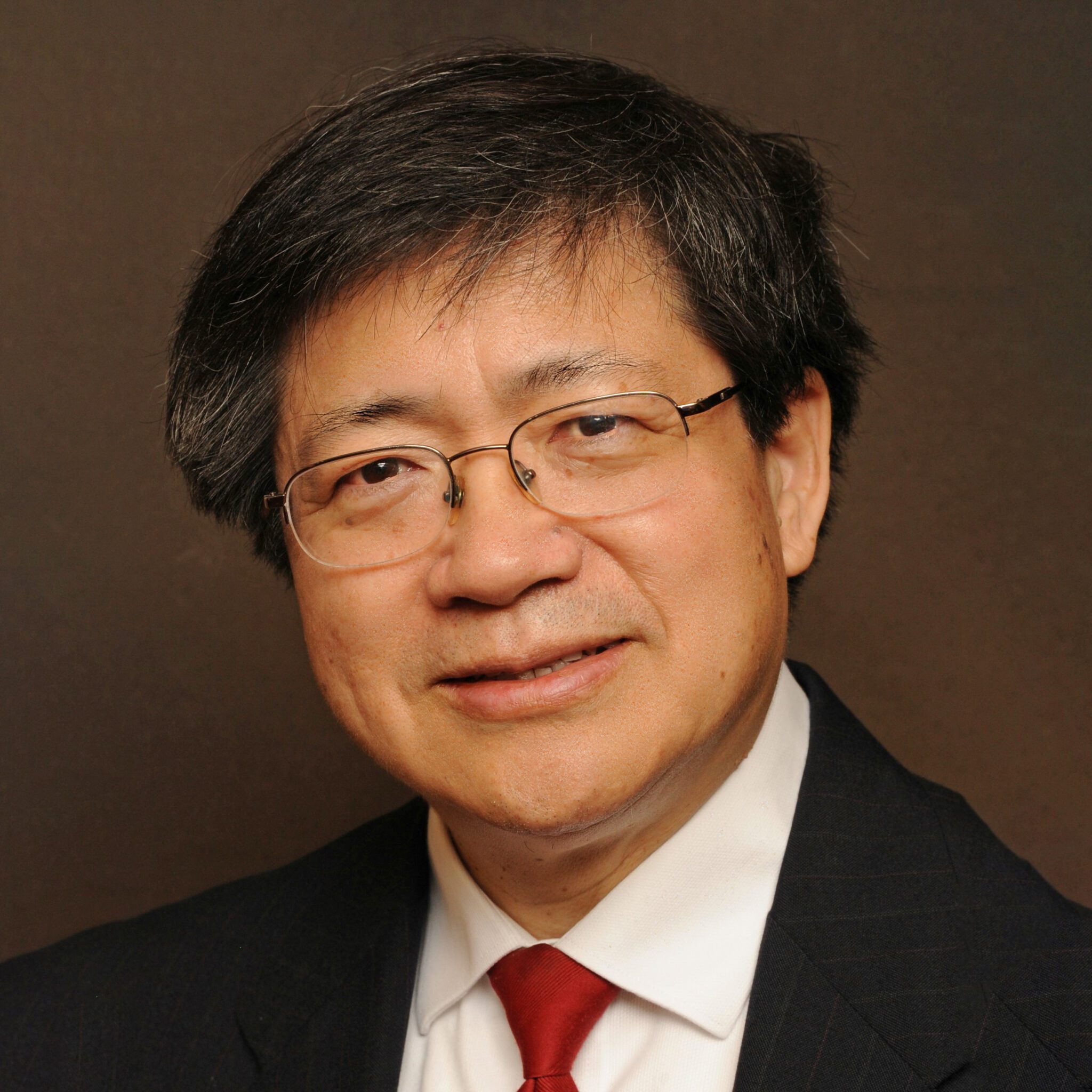 HN Cheng
En­zymes are spe­cial­ists in some­thing called asym­met­ric catal­y­sis. Dur­ing chem­i­cal con­struc­tion, a sit­u­a­tion of­ten aris­es in which two mol­e­cules form, which are mir­ror im­ages of each oth­er. When mak­ing drugs, chemists of­ten want just one of those mir­ror im­ages, and en­zymes al­most al­ways form just one out of the two. How­ev­er, they tend to be slow­er, and are more ex­pen­sive to make than List and MacMil­lan's organocat­a­lysts, Cheng said.
In Car­los Bar­bas III's lab at the Scripps Re­search In­sti­tute in south­ern Cal­i­for­nia, List won­dered if a sin­gle amino acid — as op­posed to hun­dreds — or oth­er sim­ple mol­e­cules could do the same job as an en­zyme. He test­ed the hy­poth­e­sis with an amino acid called pro­line, which had al­ready been used as a cat­a­lyst in the ear­ly 1970s, and found the mol­e­cule to be a "dream tool."
Mean­while, over at UC Berke­ley, List aban­doned his work on im­prov­ing asym­met­ric catal­y­sis us­ing met­als, and was work­ing on de­sign­ing sim­ple or­gan­ic mol­e­cules to do the trick in­stead. He se­lect­ed sev­er­al or­gan­ic mol­e­cules with the right prop­er­ties, then test­ed their abil­i­ty to dri­ve a Diels-Alder re­ac­tion, which chemists use to build rings of car­bon atoms. The rest is his­to­ry.
MacMil­lan pub­lished his work just be­fore List in 2000, coin­ing the term organocatal­y­sis. It's a process that's proven not on­ly to be faster – speed­ing up the syn­the­sis of one com­pli­cat­ed tox­in called strych­nine by 7,000 times — but al­so sus­tain­able, Cheng not­ed.
"Organocat­a­lysts tend to be small­er mol­e­cules, and they are rel­a­tive­ly less tox­ic, and they can be run un­der mild con­di­tions in most cas­es," he said. "So these re­ac­tions are green­er."
A raft of promi­nent sci­en­tists took to Twit­ter to con­grat­u­late List and MacMil­lan, in­clud­ing top ge­neti­cist and White House sci­en­tif­ic ad­vi­sor Er­ic Lan­der: "It's an out­stand­ing ex­am­ple of how ba­sic re­search can lead to new tools that dri­ve the green rev­o­lu­tion, cre­ate more ef­fi­cient in­dus­tries, and make drugs more ef­fi­cient­ly," he wrote.
To­day's #No­bel­Prize in Chem­istry rec­og­nizes a bril­liant idea for cre­at­ing the "asym­met­ric" mol­e­cules need­ed to make med­i­cines, build bet­ter bat­ter­ies, and clean tox­ic emis­sions from cars. The trick: Add a tiny pinch of asym­me­try (small or­gan­ic mol­e­cules) as a cat­a­lyst. (1/6) https://t.co/Wu0JNf4z5b

— Er­ic Lan­der (@Er­i­cLan­der46) Oc­to­ber 6, 2021
Oth­ers in the in­dus­try, though, ex­pressed dis­ap­point­ment that mR­NA pi­o­neer Katal­in Kariko — the Hun­gar­i­an bio­chemist whose re­search con­tributed to the swift de­vel­op­ment of Covid-19 vac­cines — didn't take home a No­bel Prize. On­ly sev­en women in his­to­ry have won the No­bel Prize in Chem­istry, out of 188 to­tal re­cip­i­ents.
Re­al­ly dis­ap­point­ed, again, in the @No­bel­Prize com­mit­tee. No women, no peo­ple of col­or, and as this thread cap­tures so nice­ly, a dere­lic­tion of du­ty in pub­lic health to not give it for COVID vac­cines *this* year. 😠 https://t.co/XQlJkkECha

— Dr. Nicole Paulk (Vac­cines work) (@Nicole_Paulk) Oc­to­ber 6, 2021