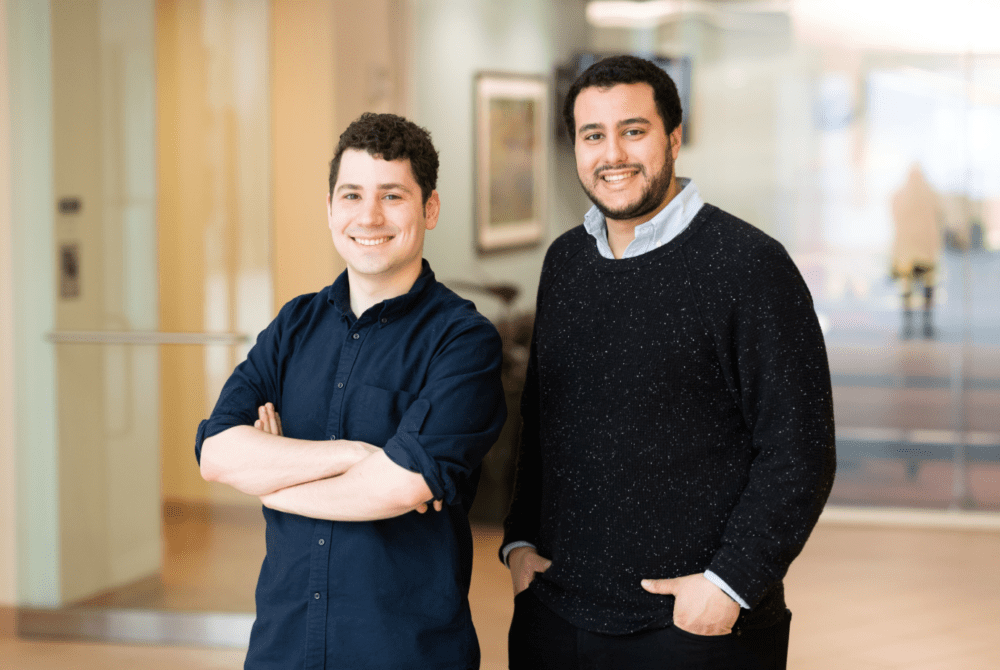 Omar Abudayyeh (R) and Jon Gootenberg
Two Feng Zhang lab alum­ni find a new CRISPR en­zyme that could take a Big Gulp out of RNA — and a raft of dev­as­tat­ing dis­eases
MIT bud­dy bi­ol­o­gists Omar Abu­dayyeh and Jon Gooten­berg were sit­ting in the Que­bec Con­ven­tion Cen­ter at the an­nu­al CRISPR con­fer­ence in 2019 when, buried in a pre­sen­ta­tion on bac­te­r­i­al evo­lu­tion, they heard a nugget that made them chase down the pre­sen­ters the mo­ment they walked off stage.
Abu­dayyeh and Gooten­berg had worked to­geth­er since they were grad­u­ate stu­dents at CRISPR pi­o­neer Feng Zhang's lab, where they dis­cov­ered a new gene edit­ing en­zyme called Cas13. Un­like most pre­vi­ous Cas en­zymes, Cas13 cut RNA in­stead of DNA. So the pair thought it might pro­vide a po­tent tool for treat­ing dis­eases, such as Hunt­ing­ton's dis­ease or mus­cu­lar dy­s­tro­phy, caused by mistyped RNA.
Cas13, though, works by a strange and fe­ro­cious mech­a­nism; once it latch­es on­to a pre­cise shred, it goes ham and shreds ge­net­ic ma­te­r­i­al left and right. In hu­mans, the re­sults would be dis­as­trous.
"It ac­tu­al­ly starts cut­ting all the RNAs in the cell and ac­tu­al­ly de­stroy­ing the cell, which is not re­al­ly great" for mak­ing ther­a­pies, Abu­dayyeh told End­points News.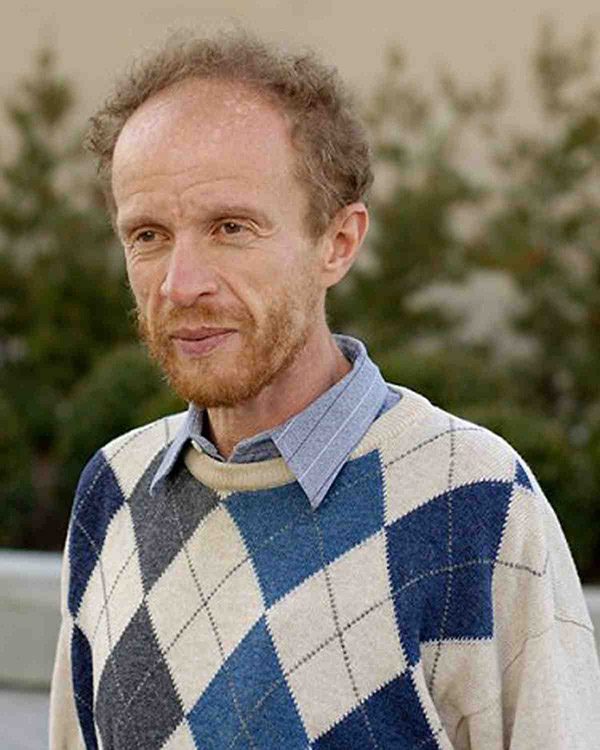 Eu­gene Koonin
So the pair piv­ot­ed and launched a com­pa­ny, Sher­lock, to turn Cas13 in­to easy-to-use di­ag­nos­tics for RNA-based virus­es, even­tu­al­ly in­clud­ing Covid-19. But they kept look­ing for some­thing that might of­fer a path to pa­tients, scan­ning pub­lished lit­er­a­ture and data­bas­es for any­thing that might cut RNA.
On that day in Que­bec, Eu­gene Koonin and Ki­ra Makaro­va, re­searchers known for pi­o­neer­ing work on CRISPR evo­lu­tion, sug­gest­ed that the pro­tein they were look­ing for might be out there, in one of the last places one would sus­pect.
Two years, a pan­dem­ic, a bit of pro­tein en­gi­neer­ing and ter­abytes of evo­lu­tion­ary bi­ol­o­gy lat­er, the four on Mon­day un­veiled a new CRISPR pro­tein: Cas7-11, so named be­cause it com­bines the oth­er­wise sep­a­rate pro­teins Cas7 and Cas11. In a Na­ture pa­per, they showed the new en­zyme could ac­cu­rate­ly ed­it RNA in mam­malian cells with­out dam­ag­ing the cell.
"They have a lot of work ahead of them but this is re­al­ly promis­ing," Ran­jan Ba­tra, R&D chief of the RNA edit­ing biotech Lo­can­abio, told End­points. "These things have the po­ten­tial to be trans­for­ma­tion­al."
Ki­ra Makaro­va
RNA edit­ing could be used to tar­get dis­eases rang­ing from in­fec­tious dis­ease to neu­rode­gen­er­a­tion, and Abu­dayyeh and Gooten­berg have plans for all that. But Cas7-11 is al­so no­tably for oth­er, nerdier — al­beit no less im­por­tant — rea­sons.
CRISPR is gen­er­al­ly re­ferred to as a sin­gle sys­tem, but it's ac­tu­al­ly many dif­fer­ent ones. Dif­fer­ent species of bac­te­ria evolved them over eons as pow­er­ful tools to mem­o­rize and de­fend against dead­ly virus­es. Bi­ol­o­gists study­ing these sys­tems to­day cat­e­go­rize them as ei­ther class 1 or class 2.
Class 2 sys­tems can ed­it with just a sin­gle pro­tein. Cas9, Cas13, CasX, CasΦ and all the oth­er well-known Cas sys­tems now used across biotech and acad­e­mia be­long in this buck­et. When bi­ol­o­gists like Gooten­berg and Abu­dayyeh try to find new CRISPR pro­tein, they search bac­te­r­i­al genes for those that bear the unique ge­net­ic sig­na­tures of CRISPR type 1 sys­tem.
By con­trast, un­less you're a CRISPR re­searcher or a cer­tain type of bac­te­ri­ol­o­gist, you've prob­a­bly nev­er heard of any of the class 1 pro­teins. These re­quire mul­ti­ple dif­fer­ent parts to come to­geth­er to cut DNA or RNA. And that makes them vir­tu­al­ly use­less for ther­a­peu­tics.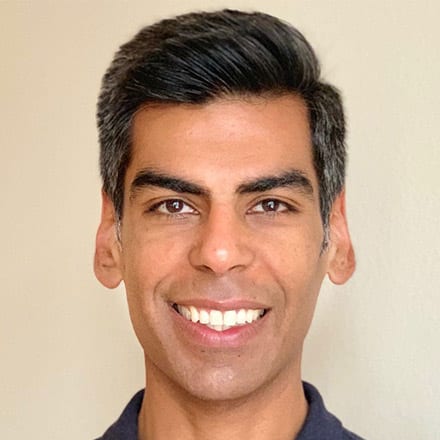 Ran­jan Ba­tra
Cas7-11, though, is dif­fer­ent. It's a sin­gle edit­ing pro­tein, but, ge­net­i­cal­ly, it clear­ly evolved from class 1 sys­tems. And that means there are like­ly oth­er med­ical­ly valu­able CRISPR pro­teins sit­ting in bac­te­ria that re­searchers have over­looked for years.
"We're show­ing that now, there's a whole new stage that you can look for" CRISPR pro­teins, Abu­dayyeh said. "There's prob­a­bly a lot of valu­able stuff out there."
Har­vard bio­chemist David Liu said the dis­cov­ery was part of a decade-long trend, where re­searchers tapped bac­te­ria to find pro­teins with bet­ter and bet­ter at­trib­ut­es. Cas 7-11 was found in bac­te­ria iso­lat­ed from Tokyo Bay 22 years ago.
"It's tempt­ing to spec­u­late that sta­ple CRISPR DNA- and RNA-tar­get­ing pro­teins such as Cas13, Cas12, or Cas9 might be su­per­seded, or at least fre­quent­ly re­placed, by the best of these new­ly dis­cov­ered CRISPR" pro­teins, Liu said in an email.
Gooten­berg and Abu­dayyeh en­vi­sion ap­ply­ing Cas7-11 in sev­er­al dif­fer­ent ar­eas. It could be used as an an­tivi­ral, snip­ping out an RNA-based virus like coro­n­avirus or HIV with­out touch­ing hu­man RNA. You could use it to tar­get and shred tu­mors. It could be used to delete ex­tra­ne­ous RNA in dis­eases like Hunt­ing­ton's, where neu­rons churn out a sin­gle se­quence of RNA on re­peat un­til it de­stroys neu­rons. There are al­so ap­pli­ca­tions in re­gen­er­at­ing in­jured tis­sues.
The pair, how­ev­er, has a ways to go be­fore Cas 7-11 will be ready for pa­tients. Ba­tra, the Lo­canobio sci­en­tist, not­ed they on­ly showed Cas 7-11 was safer than the orig­i­nal Cas13. And they on­ly showed it was su­pe­ri­or in a cou­ple of cell lines, as op­posed to in peo­ple.
Lo­can­abio is us­ing en­gi­neered and new­ly dis­cov­ered forms of Cas13 to over­come its ini­tial draw­backs. They are now us­ing them to de­vel­op ther­a­pies for dis­eases marked by RNA re­peats, in­clud­ing Hunt­ing­ton's, cer­tain mus­cu­lar dy­s­tro­phies, and ALS.
Ba­tra al­so not­ed that, un­like Lo­can­abio's Cas13 en­zymes, Cas7-11 is cur­rent­ly too big to fit in­side the virus­es re­searchers gen­er­al­ly use to de­liv­er CRISPR to pa­tients. That could even­tu­al­ly build a small­er ver­sion, he said, but they haven't yet.
"At this point," he said, "I'm not sure what po­ten­tial ad­van­tages I see."
Still, at min­i­mum, the dis­cov­ery has opened an­oth­er tool — and an­oth­er batch of in­tel­lec­tu­al prop­er­ty — for a new com­pa­ny to go af­ter RNA edit­ing.
The re­search pair li­censed Cas7-11 to a com­pa­ny in stealth mode. Ac­cord­ing to their con­flict of in­ter­est state­ments on the pa­per, that's ei­ther Mo­ment Bio­sciences or Tome Bio­sciences, both based in Mass­a­chu­setts.
De­spite the cur­rent draw­backs, they have big hopes for the pro­tein. Its cu­ri­ous name de­rives both be­cause it com­bines the pro­tein Cas7 and Cas11, and be­cause of its res­o­nance with the fa­mous con­ve­nience chain.
"I have the email from Eu­gene [Koonin]," Gooten­berg said. "He's like oh yeah, Cas7-11, it's so great. Maybe it'll one day be as ubiq­ui­tous as 7/11."