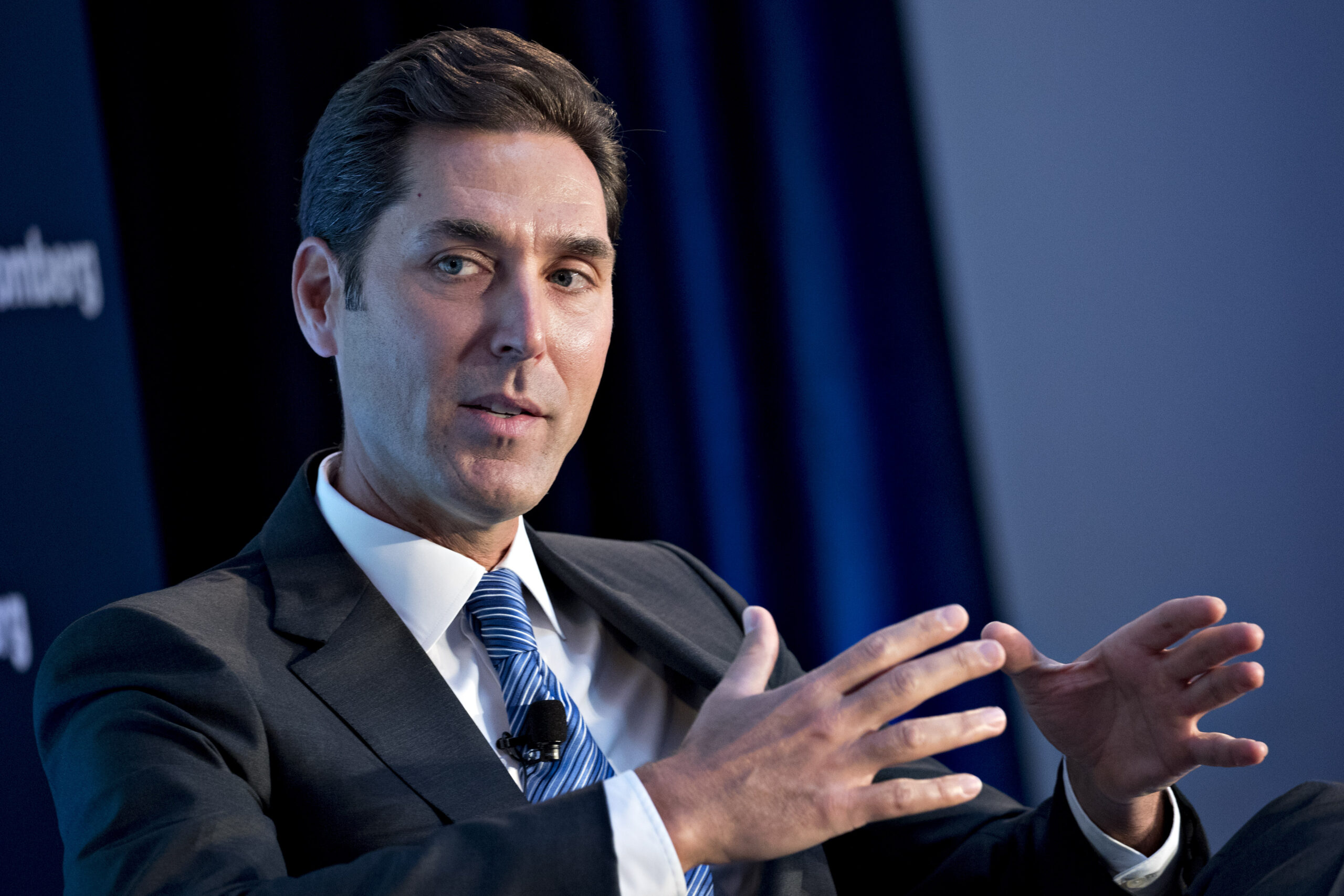 Stephen Ubl, president and chief executive officer of PhRMA (Photographer: Andrew Harrer/Bloomberg via Getty Images)
Two sides of 'his­toric' drug pric­ing bill: Phar­ma in­dus­try blasts 'mis­take' while ad­vo­cates plan for 'first ever' gains
Both Con­gres­sion­al De­moc­rats and the phar­ma in­dus­try agree that pend­ing drug pric­ing leg­is­la­tion is "his­toric" — they just di­a­met­ri­cal­ly dis­agree on the mod­i­fi­er.
Trade in­dus­try group PhRMA's CEO Stephen Ubl called it an "his­toric mis­take" on Wednes­day, joined by Eli Lil­ly CEO David Ricks, At­las Ven­ture part­ner Jean-Fran­cois Formela along with a hema­tol­ogy on­col­o­gy-lead­ing physi­cian and a metasta­t­ic breast can­cer sur­vivor in a press con­fer­ence.
Mean­while, Sen­ate De­moc­rats lined up their own press con­fer­ence for lat­er in the day, tap­ping pa­tient ad­vo­ca­cy lead­ers and AARP CEO Jo Ann Jenk­ins to of­fer its his­to­ry-mak­ing take.
"This leg­is­la­tion would be his­toric, and that's not an ex­ag­ger­a­tion," said David Mitchell, founder of Pa­tients for Af­ford­able Drugs and speak­er at the Hill event. "Why his­toric? For the first time ever, af­ter al­most 20 years of fight­ing, Medicare will be able to use its pur­chas­ing pow­er to ne­go­ti­ate low­er drug prices for Amer­i­can. For the first time ever, there are go­ing to be curbs on an­nu­al drug price in­creas­es to lim­it to no more than the rate of in­fla­tion. And for the first time ever, there's go­ing to be an an­nu­al cope on what Medicare Part D ben­e­fi­cia­ries pay for our drugs an­nu­al­ly."
While nei­ther side can claim vic­to­ry for now, the bill spon­sors have hint­ed that pas­sage should be ex­pect­ed as they can use rec­on­cil­i­a­tion and on­ly need a sim­ple ma­jor­i­ty to pass the bill. The House has al­so sig­nalled a will­ing­ness to re­turn from their sum­mer re­cess to pass the bill next month.
Sen­ate Dems and Re­pub­li­cans met last week with the Sen­ate par­lia­men­tar­i­an to iron out what pro­vi­sions could be in­clud­ed if they use this short-cut, but sen­a­tors who are usu­al­ly on the fence, like Sen. Joe Manchin (D-WV), are now on board.
PhRMA, not sur­pris­ing­ly, sees those pro­vi­sions dif­fer­ent­ly — with Ubl call­ing Medicare ne­go­ti­a­tions "non­sense."
"An in­no­v­a­tive drug­mak­er has two choic­es un­der this bill — ac­cept the gov­ern­ment's price or pay a 95% tax on the sale of that med­i­cine," he said, adding, "That's not ne­go­ti­a­tion, that's gov­ern­ment price set­ting. Let's be hon­est and call it what it is."
PhRMA is al­so unit­ed in the view that the bill's pro­vi­sions, in­clud­ing a cap on the num­ber of years phar­mas can in­de­pen­dent­ly set drug prices, will stymie in­no­va­tion, and keyed in on can­cer treat­ments as an ex­am­ple.
Ricks said the bill will af­fect "de­ci­sions we make about how to in­vest in in­no­v­a­tive med­i­cines and those in par­tic­u­lar for can­cer."
He out­lined two spe­cif­ic ef­fects on a like­ly de­crease in drug de­vel­op­ment for rare can­cers with small­er pop­u­la­tions (which cost just as much to de­vel­op as those for larg­er tar­get au­di­ences) and slow­ing ear­ly stage can­cer drug de­vel­op­ment. Can­cer drugs are of­ten ap­proved for lat­er-stage use, then move ear­li­er over time and ad­di­tion­al re­search to get to ad­ju­vant us­es, he said.
"Man­u­fac­tur­ers and in­vestors won't sup­port that type of se­quen­tial de­vel­op­ment (any­more)," he said.
An­oth­er point of con­tention is the im­pact on new drug de­vel­op­ment. The Con­gres­sion­al Bud­get Of­fice (CBO) es­ti­mat­ed the bill would re­duce drug­mak­ers' 1,300 to­tal ap­provals by about 10 drugs over the next three decades.
Ubl said the CBO "just got it wrong."
He point­ed in­stead to Uni­ver­si­ty of Chica­go re­search ear­li­er this year that es­ti­mat­ed 135 few­er drug ap­provals through 2039 amid its pro­ject­ed drop of $663 bil­lion in R&D spend­ing.
Ricks said, "I would be shocked if the im­pact of this bill doesn't re­sult in 15 few­er med­i­cines from Eli Lil­ly and Co. alone. I think that would im­ply one every oth­er year that we can­celled be­cause of this. But right now, 40% of our port­fo­lio are small mol­e­cules. We'll need to reeval­u­ate every sin­gle one of those projects for vi­a­bil­i­ty."
He al­so pre­dict­ed the po­ten­tial for R&D in­no­va­tion to leave the US, point­ing to the fact that R&D moved from Eu­rope to the US be­cause "Eu­rope has the same harm­ful poli­cies as em­bed­ded in this bill" caus­ing in­vest­ments to shift.