UK an­titrust watch­dog clears Roche/Spark deal — but what is the FTC think­ing?
Roche has gained the bless­ing from the UK an­titrust watch­dog to pro­ceed with its $4.3 bil­lion ac­qui­si­tion of Spark, just in time for the lat­est dead­line the phar­ma gi­ant has set for Spark's in­vestors to ten­der their shares fol­low­ing 10 de­lays.
The Com­pe­ti­tion and Mar­kets Au­thor­i­ty con­firmed spec­u­la­tion and ru­mors — pret­ty much as­sumed true at this point — that they had been look­ing in­to the com­pet­i­tive land­scape for he­mo­phil­ia A treat­ments. Af­ter con­clud­ing that there will still be an ad­e­quate choice of al­ter­na­tives even af­ter the mak­ers of Hem­li­bra and a po­ten­tial gene ther­a­py are blend­ed in­to one, reg­u­la­tors gave the deal an un­con­di­tion­al clear­ance.
The CMA added that it's co­op­er­at­ed close­ly with the US Fed­er­al Trade Com­mis­sion, which is still in­ves­ti­gat­ing the buy­out.
By wrap­ping their in­ves­ti­ga­tion at Phase I, the British au­thor­i­ty saved Roche some un­cer­tain­ty and lengthy de­lays that would have en­sued if they had ini­ti­at­ed a Phase II, an ex­tend­ed and scru­ti­niz­ing re­view that can last up to 24 weeks.
From their re­lease:
While gene ther­a­py treat­ments are like­ly to com­pete with Roche's Hem­li­bra in fu­ture, the CMA found that Spark is not the on­ly sup­pli­er de­vel­op­ing a gene ther­a­py treat­ment and that its prod­ucts are not cur­rent­ly con­sid­ered to hold any par­tic­u­lar clin­i­cal or com­mer­cial ad­van­tages over those be­ing de­vel­oped by oth­er sup­pli­ers.

The CMA's in­ves­ti­ga­tion al­so found that there are sev­er­al in­no­v­a­tive non-gene ther­a­py prod­ucts un­der de­vel­op­ment that are like­ly to be­come vi­able al­ter­na­tives to Roche and Spark's treat­ments.
With the of­fer­ing pe­ri­od set to ex­pire by the end of the day, Roche has yet to an­nounce ei­ther an­oth­er de­lay or how it plans to close the deal in such a short time frame. In fact, the Swiss drug­mak­er raised some eye­brows last Mon­day when it ex­tend­ed the dead­line by a mere six days, com­pared to the usu­al one month.
It ap­pears that the FTC re­view re­mains the fi­nal hur­dle ahead of a close. In Oc­to­ber the Capi­tol Fo­rum re­port­ed that the agency's staff had rec­om­mend­ed the deal from ap­proval, but a spokesper­son lat­er fol­lowed up to End­points News with a clar­i­fi­ca­tion: "The FTC has not filed a com­plaint in this mat­ter, and the agency doesn't sign off on deals. It ei­ther files a com­plaint or it doesn't."
Ear­li­er this year, the FTC re­quest­ed a rare "sec­ond re­quest" — some­thing slapped on on­ly 5% of ac­qui­si­tions. A vote from the chair­man and four com­mis­sion­ers on its Bu­reau of Com­pe­ti­tion would mark the fi­nal step for ap­proval.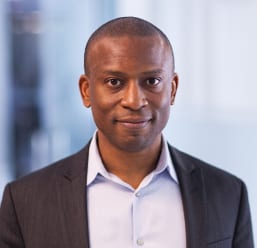 Gbo­la Amusa
As the saga un­fold­ed, ob­servers have voiced con­cerns that the holdup would have a chill­ing ef­fect on gene ther­a­py M&A and scare would-be ac­quir­ers away. But Chardan an­a­lyst Gbo­la Amusa, who cov­ers oth­er gene ther­a­py play­ers such as Bio­Marin and uniQure, won­ders if it has more to do with buy­er's re­morse on Roche's end.
"It was one that nev­er made sense to us at that val­u­a­tion giv­en our view, and I don't know why it hasn't gone through," he said, "but I don't think there's any read-across for the rest of the space."