Un­der pres­sure from copy­cats, Roche sues Pfiz­er over Her­ceptin ri­val
As biosim­i­lar com­pe­ti­tion puts a squeeze on Roche's rev­enue, the com­pa­ny is launch­ing a le­gal bat­tle against Pfiz­er and its copy­cat ver­sion of Her­ceptin, Roche's breast can­cer drug, in hopes to slow or squash a ri­val med­i­cine.
Roche's Genen­tech busi­ness is al­leg­ing that Pfiz­er's $PFE copy­cat, called PF-05280014, in­fringes on 40 of Roche's patents. In the suit, the Swiss phar­ma gi­ant is ask­ing for com­pen­sa­tion on lost sales on Her­ceptin, should the copy­cat get ap­proval be­fore Roche's patents ex­pire.
It makes sense for Roche $RHH­BY to be wor­ried. Her­ceptin sales make up a big chunk of the com­pa­ny's to­tal rev­enue, bring­ing in about $2.5 bil­lion in sales last year (or 5% of to­tal rev­enue), Bloomberg re­ports. Roche's three big rev­enue dri­vers in can­cer are Rit­ux­an, Avastin, and Her­ceptin — all of which face grow­ing pres­sure from biosim­i­lar com­pe­ti­tion. Roche said the ri­vals will start af­fect­ing its sales in 2018.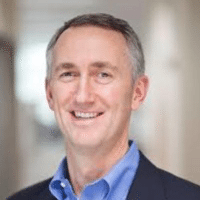 Daniel O'Day
The copy­cat com­peti­tors are par­tic­u­lar­ly a prob­lem for Roche in Eu­rope, where biosim­i­lars are com­ing to mar­ket way faster than in the US. While the US has on­ly ap­proved five biosim­i­lars since Con­gress passed leg­is­la­tion al­low­ing such copy­cats, Eu­rope has ap­proved 25. Just days ago, South Ko­re­an biotech Sam­sung Bioep­sis Co. Ltd. got the OK from the Eu­ro­pean Com­mis­sion to sell On­truzant, a biosim­i­lar ref­er­enc­ing Her­ceptin, in Eu­rope. It was the first Her­ceptin copy­cat (us­ing trastuzum­ab an­ti­body) ap­proved in Eu­rope so far.
On a con­fer­ence call in Oc­to­ber, Roche's CEO Daniel O'Day said biosim­i­lars of Her­ceptin will start hav­ing an im­pact in Eu­rope this quar­ter and in­to the com­ing year.
For more de­tails on the re­cent law­suit: Genen­tech v. Pfiz­er, 17-cv-1672, U.S. Dis­trict Court, Dis­trict of Delaware (Wilm­ing­ton).