Un­de­terred by ex­ec ex­o­dus, Im­muno­core nabs $100M cash to co-de­vel­op pre­clin­i­cal as­set with Roche
De­spite its re­cent ex­ec­u­tive ex­o­dus, can­cer biotech Im­muno­core's ap­petite for part­ner­ship deals re­mains re­lent­less. The Ox­ford Uni­ver­si­ty spin­out is now set to test a pre­clin­i­cal as­set in com­bi­na­tion with Roche's $RHB­BY Tecen­triq for a hefty $100 mil­lion, build­ing on an ex­ist­ing part­ner­ship with the Swiss drug­mak­er's Genetech unit that be­gan in 2013.
On Mon­day, the UK biotech an­nounced it will joint­ly de­vel­op with Genen­tech its pre­clin­i­cal as­set, IMC-C103C, which is de­signed to tar­get tu­mors that ex­press the pro­tein MAGE-A4 (Melanoma-As­so­ci­at­ed Anti­gen A4) — a known can­cer-as­so­ci­at­ed anti­gen ex­pressed in a wide range of ma­lig­nan­cies — for $100 mil­lion in up­front and near-term mile­stone pay­ments. Im­muno­core is no stranger to large pay­outs — the com­pa­ny raised an eye-pop­ping $320 mil­lion in its Se­ries A round of fund­ing in 2015, and has al­ready sealed part­ner­ships with As­traZeneca $AZN, Glax­o­SmithK­line $GSK, Eli Lil­ly $LLY, Roche and the Gates Foun­da­tion.
Un­der the new Roche deal, Im­muno­core is tasked with con­duct­ing the first hu­man tri­als test­ing the safe­ty and ef­fi­ca­cy of IMC-C103C as both monother­a­py and in com­bi­na­tion with Tecen­triq in stud­ies that are set to be­gin ear­ly next year in pa­tients with dif­fer­ent types of sol­id tu­mors. If and when proof-of-con­cept da­ta are es­tab­lished, Im­muno­core has the op­tion to co-de­vel­op IMC-C103C all the way to the fin­ish line, or to ful­ly li­cense the as­set to Genen­tech in re­turn for roy­al­ty and mile­stone pay­ments, the com­pa­ny said.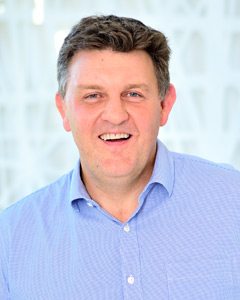 Eliot Forster
In Sep­tem­ber, it was re­port­ed that Im­muno­core's chief strat­e­gy of­fi­cer Kevin Po­jasek had ex­it­ed the com­pa­ny, adding to a laun­dry list of C-suite de­par­tures that be­gan with CEO Eliot Forster — who made the de­ci­sion to leave even though he was en­gaged in try­ing to raise an­oth­er mas­sive round for the com­pa­ny. Forster's de­par­ture was fol­lowed by a num­ber of oth­er farewells, which have all been put down to per­son­al rea­sons. How­ev­er, dis­cus­sions with sev­er­al peo­ple fa­mil­iar with the talks in­side Im­muno­core sug­gest­ed the biotech was hav­ing a hard time stick­ing with its high-end uni­corn val­u­a­tion.
Un­de­terred by the mass ex­o­dus, Roche has inked this new deal as it plots to es­tab­lish its im­munother­a­py Tecen­triq as a vi­able com­peti­tor to of­fer­ings from Mer­ck $MRK and Bris­tol-My­ers Squibb $BMY, who have be­come the de fac­to win­ners in the field.