A record year of venture investing has floated UK's biotech boat, with the money flow in 2018 gushing over the £1 billion mark for the first time.
A total of £1.1 billion was raised thanks to a boom in late-stage financings, according to the latest report from the UK BioIndustry Association and Pharma Intelligence. While seed funding stayed flat at £27 million and A rounds nabbed a collective £213 million, it was Series B and post-B financings that delivered the most impressive numbers at £393 million and £480 million, respectively.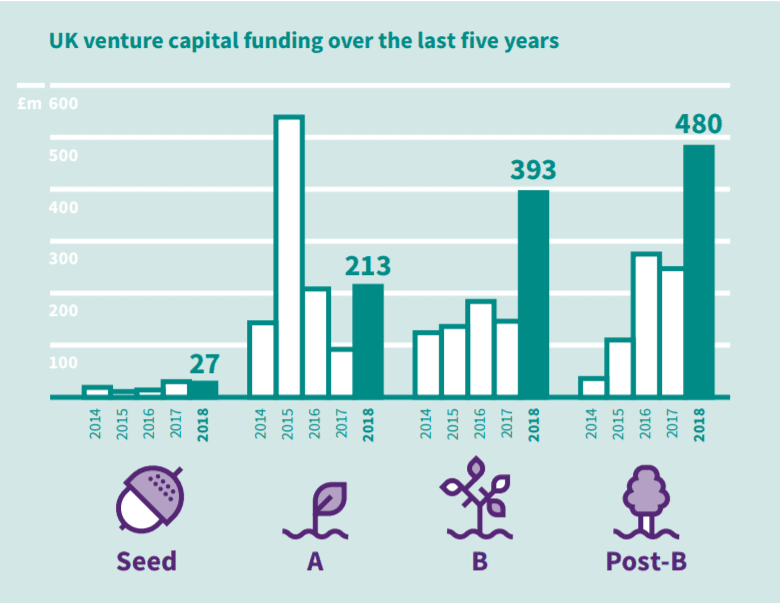 To put this into perspective, the BIA estimates that biotechs around the world raised a total of £16.5 billion from private and venture sources. The US absorbed the lion's share at £11.1 billion, mainly due to outsized roles played by three biotech hubs, while Europe pocketed £2.6 billion. The influx of cash into the UK means it's now the fifth most attractive region for biotech investment, wrote Mike Ward of Pharma Intelligence, following San Francisco (£3.6 billion), Massachusetts (£3.4 billion), China (£2.0 billion) and San Diego (£1.6 billion).
"The significant increase in mid and late-stage financings shows a continued maturing of the sector and strong interest from investors in UK science," Julie Simmonds, an equity research analyst with Panmure Gordon, wrote in the report. "It also reflects the fact that UK companies are choosing to remain private for longer."
What's luring investors to a country that, while established in science with prestigious institutions and companies in the Golden Triangle, is caught up in a chaotic (and according to Endpoints News' readers, harmful) departure from the European Union?
It has to do with the UK's "expertise in genomics, cell and gene therapies, antimicrobial research and engineering biology," according to BIA CEO Steve Bates. A pair of gene therapy companies — Orchard Therapeutics and Freeline Therapeutics — claimed three of the top five venture deals highlighted in the report, with the rest going to BenevolentAI and genome sequencing company Oxford Nanopore.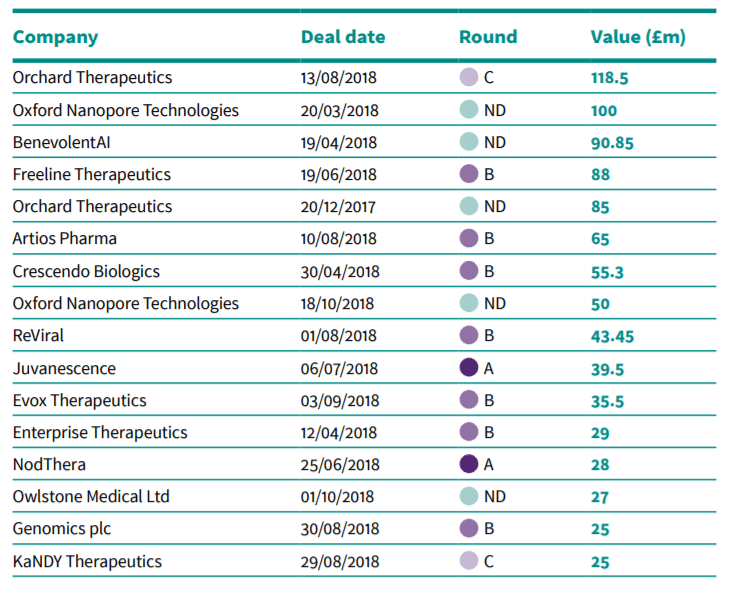 Orchard is also the poster child for public financing here, having followed up its two private rounds with a quick £177.75 million IPO. Its success on the Nasdaq alongside Autolus suggests "greater investor appetite" in the US compared to Europe, solidifying Nasdaq's status as the exchange of choice for UK biotechs to go public or raise follow-on financing.
All told, £658 million was raised in follow-on financing, with £381 million coming from the Nasdaq — more than AIM and LSE combined.
Meanwhile M&A was relatively muted considering that the cheap British pound lowered the value of UK assets. BIA counted 15 deals, including medical device and veterinary medicine companies.
As the EMA moves out of its longtime London abode and the British drug regulator rushes to put its own review system in place, the report spells an optimistic future for UK biotech.
"The capital will be there," commented Tim Hames, director general of the British Private Equity & Venture Capital Association. "Do we have the patience is the key question."
---
Graphics: "Confident capital: backing UK biotech," January 2019 report. BIA, Informa Pharma Intelligence
---
The best place to read
Endpoints News

? In your inbox.

Comprehensive daily news report for those who discover, develop, and market drugs. Join 50,700+ biopharma pros who read Endpoints News by email every day.

Free Subscription
---
---
---