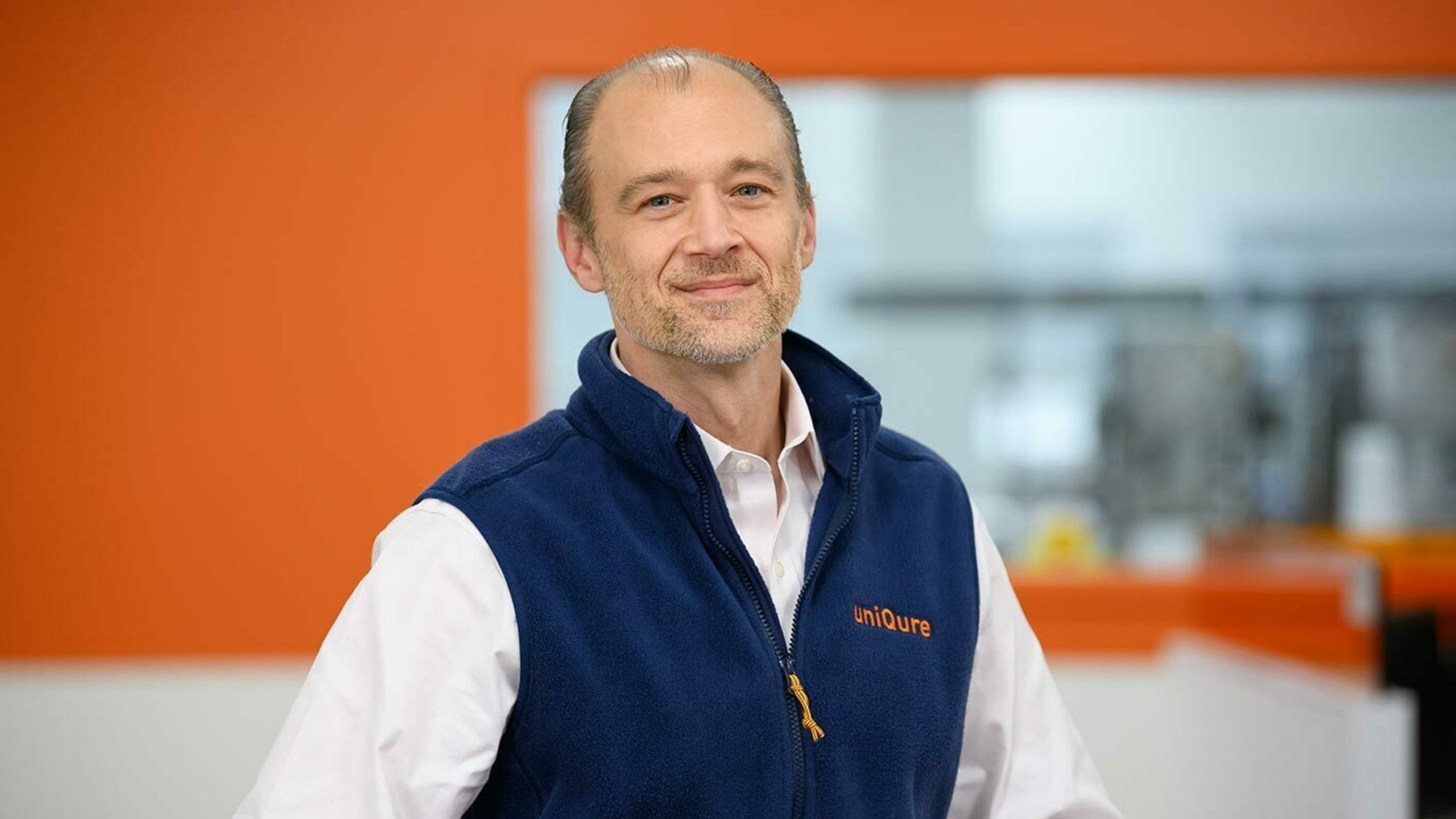 Matt Kapusta, uniQure CEO
UniQure halts high-dose treat­ments of Hunt­ing­ton's drug af­ter 3 pa­tients hos­pi­tal­ized — shares tank
UniQure has been work­ing on a gene ther­a­py for Hunt­ing­ton's dis­ease for some time, and as the field has suf­fered through mul­ti­ple fail­ures, the com­pa­ny's pro­gram has been set back.
The biotech an­nounced Mon­day morn­ing that back in Ju­ly, it had ob­served "sus­pect­ed, un­ex­pect­ed se­vere ad­verse re­ac­tions", or SUSARs, in two pa­tients af­ter they were treat­ed with the "high­er dose" of a gene ther­a­py can­di­date, AMT-130, in a Eu­ro­pean Phase Ib/II clin­i­cal tri­al. A third pa­tient, who was treat­ed back in March in the US, had their side ef­fect deemed not re­lat­ed to the can­di­date, but it then was re­clas­si­fied as a se­vere ad­verse re­ac­tion af­ter re­view.
As a re­sult, it's halt­ed dos­ing in the high dose co­hort. Ex­ecs said that the FDA and EMA had been no­ti­fied, but no spe­cif­ic di­a­logue has been made with those agen­cies yet.
Ex­ecs added in a con­fer­ence call Mon­day morn­ing they de­cid­ed to pause dos­ing af­ter con­sult­ing with the tri­al's in­de­pen­dent da­ta safe­ty mon­i­tor­ing board (or DSMB).
"The DSMB does not view these events as a dose-lim­it­ing tox­i­c­i­ty and thus far in our in­ves­ti­ga­tion, we have not yet iden­ti­fied the root cause of these events," uniQure ex­ecs said on the con­fer­ence call. They added that they have start­ed a safe­ty re­view that is ex­pect­ed to end in Q4 this year, and are con­sid­er­ing po­ten­tial risk mit­i­ga­tion plans over the next 2-3 months.
Shares for the gene ther­a­py biotech suf­fered af­ter the an­nounce­ment, with $QURE down more than 30% so far on the Nas­daq.
The pa­tients were hos­pi­tal­ized, with the US pa­tient suf­fer­ing se­vere headache and vom­it­ing. They were ad­mit­ted sev­en days af­ter un­der­go­ing a pro­ce­dure for the drug can­di­date, in which AAV is in­ject­ed in­to the stria­tum, a part of the brain linked to the basal gan­glia and Hunt­ing­ton's dis­ease, via 3 holes over a mat­ter of sev­er­al hours. The pa­tient's hos­pi­tal ad­mis­sion was orig­i­nal­ly de­ter­mined to be re­lat­ed to the pro­ce­dure, not the drug.
Af­ter be­ing treat­ed with anal­gesics and a di­ag­nos­tic lum­bar punc­ture, the pa­tient was dis­charged and then re­turned to the hos­pi­tal two days lat­er with a re­cur­ring headache, at­trib­uted to a leak of cere­brospinal flu­id af­ter that lum­bar punc­ture. The pa­tient was treat­ed with a blood patch (blood in­ject­ed in­to the spinal canal to patch the leak) and then has ful­ly re­cov­ered, ac­cord­ing to the biotech.
For the pa­tients in Eu­rope, it was a sim­i­lar sto­ry. Both of those pa­tients were ad­mit­ted to the hos­pi­tal around 12 days af­ter the pro­ce­dure, with the first pa­tient ex­pe­ri­enc­ing what the biotech de­scribed as "mo­tor and oth­er vi­tal symp­toms." That pa­tient is still re­port­ed to have small deficits in flu­en­cy, mem­o­ry and at­ten­tion. The sec­ond Eu­ro­pean pa­tient re­port­ed vom­it­ing and raised in­tracra­nial pres­sure, be­ing ad­mit­ted around 12 days af­ter that pa­tient's pro­ce­dure. Fol­low­ing ad­mis­sion, the pa­tient was found to have pa­pillede­ma, or op­tic disc swelling, but no ede­ma (aka swelling) in the stria­tum along the tracks of the holes drilled in­to the brain. That pa­tient re­ceived pro­phy­lac­tic an­tibi­otics and a lum­bar punc­ture to re­move 20 cc's of cere­bral spinal flu­id — which led to symp­toms re­solv­ing and the pa­tient was then dis­charged.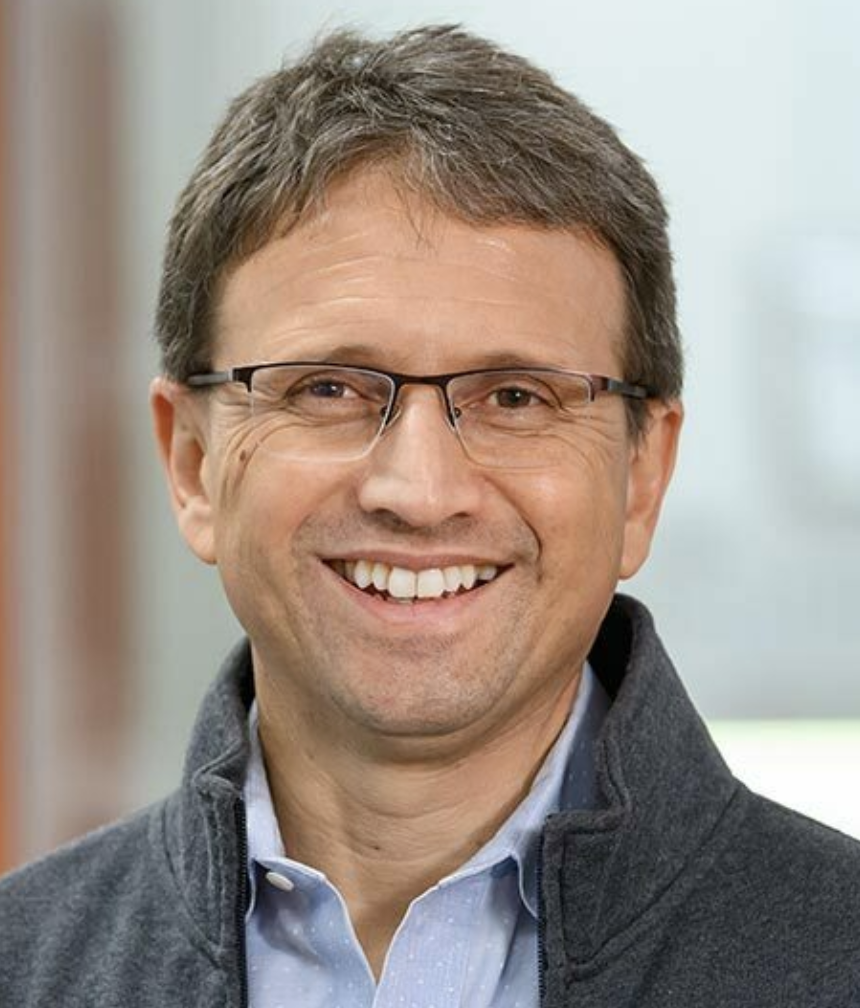 Ri­car­do Dol­metsch
The com­pa­ny is keep­ing its re­search at the low­er dose of the gene ther­a­py on­go­ing, as CEO Matt Ka­pus­ta and head of R&D Ri­car­do Dol­metsch tell End­points News that no SAEs had been re­port­ed at that dose.
"The event re­al­ly is some­thing that hap­pens acute­ly, when you in­fuse some­body with a gene ther­a­py. We think it on­ly hap­pens at our high dose. Be­cause we nev­er saw it at a low dose," Dol­metsch told End­points. The biotech's R&D chief went on to say that so far, the com­pa­ny thinks that the most like­ly thing is some­thing unique to the pa­tients, but they don't know for sure, yet.
Ka­pus­ta re­it­er­at­ed to End­points that this set­back would not im­pact the com­pa­ny's planned da­ta dis­clo­sures, sched­uled for 2023.
So far, the biotech had en­rolled 36 pa­tients, 26 dosed with the can­di­date (low and high dose) and 10 on place­bo with up to 1-2 years of fol­low-up da­ta. All but 5 pa­tients in the high-dose co­hort have al­ready been dosed.
The hunt for a work­ing treat­ment for Hunt­ing­ton's dis­ease has been a prover­bial mine­field. The ge­net­ic dis­ease where nerve cells be­gin to break down in peo­ple in their 30s and 40s has so far stumped many a biotech and phar­ma — such as Roche last year, when it stopped dos­ing of tomin­ersen in its Phase III, Io­n­is-part­nered tri­al af­ter the high dose made pa­tients' dis­ease even worse.
Days af­ter that de­vel­op­ment, Wave Life Sci­ences al­so re­port­ed the fail­ure of its Hunt­ing­ton's can­di­date, send­ing the com­pa­ny's share price down 28% in the im­me­di­ate af­ter­math of the news.