Unum plays its first glimpse of hu­man da­ta in an $86M IPO, re­veal­ing two deaths and an FDA hold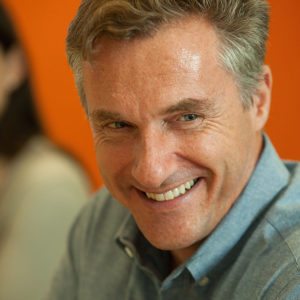 Chuck Wil­son
Af­ter pro­mot­ing one of his top ex­ecs to pres­i­dent and bring­ing in two new board mem­bers, Unum Ther­a­peu­tics CEO Chuck Wil­son end­ed the week by putting the first snap­shot of pos­i­tive hu­man da­ta from their lead cell ther­a­py for can­cer on dis­play in an $86 mil­lion IPO fil­ing. But with just a hand­ful of pa­tients in the first round of clin­i­cal tri­als, Unum is al­so re­veal­ing pub­licly for the first time that it ran square­ly in­to lethal rates of dose-lim­it­ing tox­i­c­i­ty that killed two pa­tients in one arm and forced it to aban­don their high dose af­ter the FDA slapped a clin­i­cal hold on the study.
That hold was on­ly re­cent­ly lift­ed some­time last month, ac­cord­ing to the fil­ing. Unum kept word of the deaths and the hold out of the news for three months while it was on a road show for the IPO.
In re­sponse to a query, pres­i­dent and CFO Chris­tiana Sta­moulis said in an email:
As you know we are in the qui­et pe­ri­od and un­for­tu­nate­ly we can­not pro­vide any com­ments at this point.
The biotech — one of many that has built a rep around a top team and re­li­able ven­ture back­ers — has been build­ing a new cell ther­a­py that en­gi­neers pa­tient's T cells in­to a dou­ble wham­my on can­cer cells. The cells are first de­signed to ex­press AC­TR, a chimeric pro­tein en­com­pass­ing pro­teins from T cells and nat­ur­al killer cells, then com­bined with an­oth­er tu­mor-spe­cif­ic drug, whip­ping up a cy­to­tox­ic as­sault on can­cer cells.
The lead drug is AC­TR087, and Unum is al­ready com­par­ing it to Gilead's Yescar­ta and Kym­ri­ah, the two pi­o­neer­ing CAR-Ts on the mar­ket. A com­bi­na­tion with Rit­ux­an, re­searchers test­ed a low dose (0.5 x 106 AC­TR T cells/kg) in 7 NHL pa­tients and tracked 6 re­spons­es, in­clud­ing two com­plete and a par­tial re­sponse. That looks good com­pared to 39% and 32% com­plete re­sponse rates re­port­ed at three months for Yescar­ta and Kym­ri­ah. And they re­port­ed no se­ri­ous ad­verse events.
The high dose (1.5 x 106 AC­TR T cells/kg) was lethal, killing 2 of just 9 pa­tients in that arm. That's not the first time se­vere tox­i­c­i­ty has killed pa­tients in an ex­plorato­ry ear­ly-stage cell ther­a­py study, but the lengthy de­lay be­tween the deaths and the SEC fil­ing is like­ly to spur in­tense crit­i­cism. The FDA re­spond­ed by putting the study on hold, some­thing Unum nev­er pre­vi­ous­ly dis­closed. From the S-1:
The se­vere AC­TR087-re­lat­ed SAEs we ob­served in Dose Lev­el Two re­sult­ed in the FDA plac­ing this tri­al on clin­i­cal hold in De­cem­ber 2017 pend­ing sub­mis­sion of cer­tain in­for­ma­tion re­lat­ing to the ATTCK-20-2 clin­i­cal tri­al. The clin­i­cal yy­hold was re­moved in Feb­ru­ary 2018, fol­low­ing re­view of this in­for­ma­tion by the FDA. Sev­er­al pro­to­col and dos­ing changes were made in ear­ly 2018, which we ex­pect to re­duce the in­ci­dence of ad­verse events and bet­ter man­age those events that do oc­cur.
Re­searchers con­clud­ed that there were two cas­es of AC­TR087-re­lat­ed se­vere CRS — one fa­tal — and one pa­tient died from AC­TR087-re­lat­ed neu­ro­tox­i­c­i­ty. There was one fa­tal case of en­te­ro­coc­cal sep­sis con­sid­ered re­lat­ed to AC­TR087 and "one pa­tient sub­se­quent­ly ex­pe­ri­enced a fa­tal case of sep­sis con­sid­ered not re­lat­ed to AC­TR087," ac­cord­ing to the S-1.
Cy­tokine re­lease storms and neu­ro­tox­i­c­i­ty are not new in the cell ther­a­py world, as Juno found out through a string of deaths linked to their first dead­ly, and now dis­card­ed, CAR-T. Gilead's Kite and No­var­tis, though, were able to com­plete reg­is­tra­tion stud­ies with­out rais­ing the same con­cerns.
Safe­ty con­cerns are a key fea­ture in cell ther­a­py re­search, but the FDA rules put a wall around in­for­ma­tion and pre­vent the agency from dis­cussing any of this, leav­ing biotechs some wide dis­cre­tion on how they han­dle this in­for­ma­tion. As we saw with Sol­id Bio­science's 11th hour up­date about a par­tial tri­al hold for their Duchenne MD gene ther­a­py due to safe­ty con­cerns, pri­vate biotechs can re­ly on the FDA's si­lence to keep safe­ty is­sues a se­cret, wait­ing un­til SEC rules re­quire a dis­clo­sure. And for promi­nent bioethi­cists in the field, that's a prob­lem­at­ic is­sue.
I asked bioethi­cist Arthur Ca­plan at New York Uni­ver­si­ty's Lan­gone Med­ical Cen­ter what his per­spec­tive was. His an­swer, by e-mail:
Don't know Unum case, but I do know of nu­mer­ous in­stances in which com­pa­nies had deaths dur­ing ear­ly clin­i­cal tri­als that they chose not to pub­licly dis­close. They told the FDA but FDA does not re­veal in­for­ma­tion in­clud­ing deaths that are of­fered as part of com­mer­cial de­vel­op­ment.

Ab­surd­ly more weight is giv­en to keep­ing deaths a se­cret in or­der to bol­ster the fi­nan­cial prospects of new com­pa­nies and their in­vestors than to pro­tect­ing the wel­fare of hu­man sub­jects and ul­ti­mate­ly the safe­ty of the pub­lic should drugs or ther­a­pies be ap­proved in the USA or oth­er na­tions.

At a min­i­mum re­searchers ought to know if a path they are pur­su­ing has re­sult­ed in death(s) so as not to repli­cate the risks for their sub­jects. How best to do this I am not sure but putting trade se­cre­cy over hu­man wel­fare is a sad or­der­ing of pri­or­i­ties.
Unum has three dif­fer­ent Phase I pro­grams in the clin­ic, with an­oth­er head­ed to hu­man stud­ies in the near fu­ture. The biotech has a col­lab­o­ra­tion deal in place with Seat­tle Ge­net­ics which com­bines a BC­MA ther­a­py with AC­TR087 for mul­ti­ple myelo­ma.
Seat­tle Ge­net­ics has paid over $32.5 mil­lion in the deal so far, with ven­ture back­ers com­ing up with $77.3 mil­lion.
One of the big ad­van­tages that Unum hopes to prove is that by con­cen­trat­ing on CD16 bind­ing they can use the same ba­sic ap­proach for all their ther­a­pies, mak­ing it sim­pler to de­sign and man­u­fac­ture than the break­through drugs now on or close to the mar­ket.
For a ven­ture-backed com­pa­ny, Unum al­so re­vealed an un­usu­al­ly high re­serve of stock for two key play­ers at the biotech: Dario Cam­pana, the sci­en­tif­ic founder and a well known cell ther­a­py ex­pert, and CEO Wil­son. Each owns 21.7% of the stock.
At­las, mean­while, owns 13.9% while F-Prime is in it for 9.9%.
Karen Fer­rante and Robert Perez joined Uum's board last week, while CFO Chris­tiana Sta­moulis added the pres­i­dent's ti­tle to her re­sume. Bruce Booth at At­las is chair­man of the board.