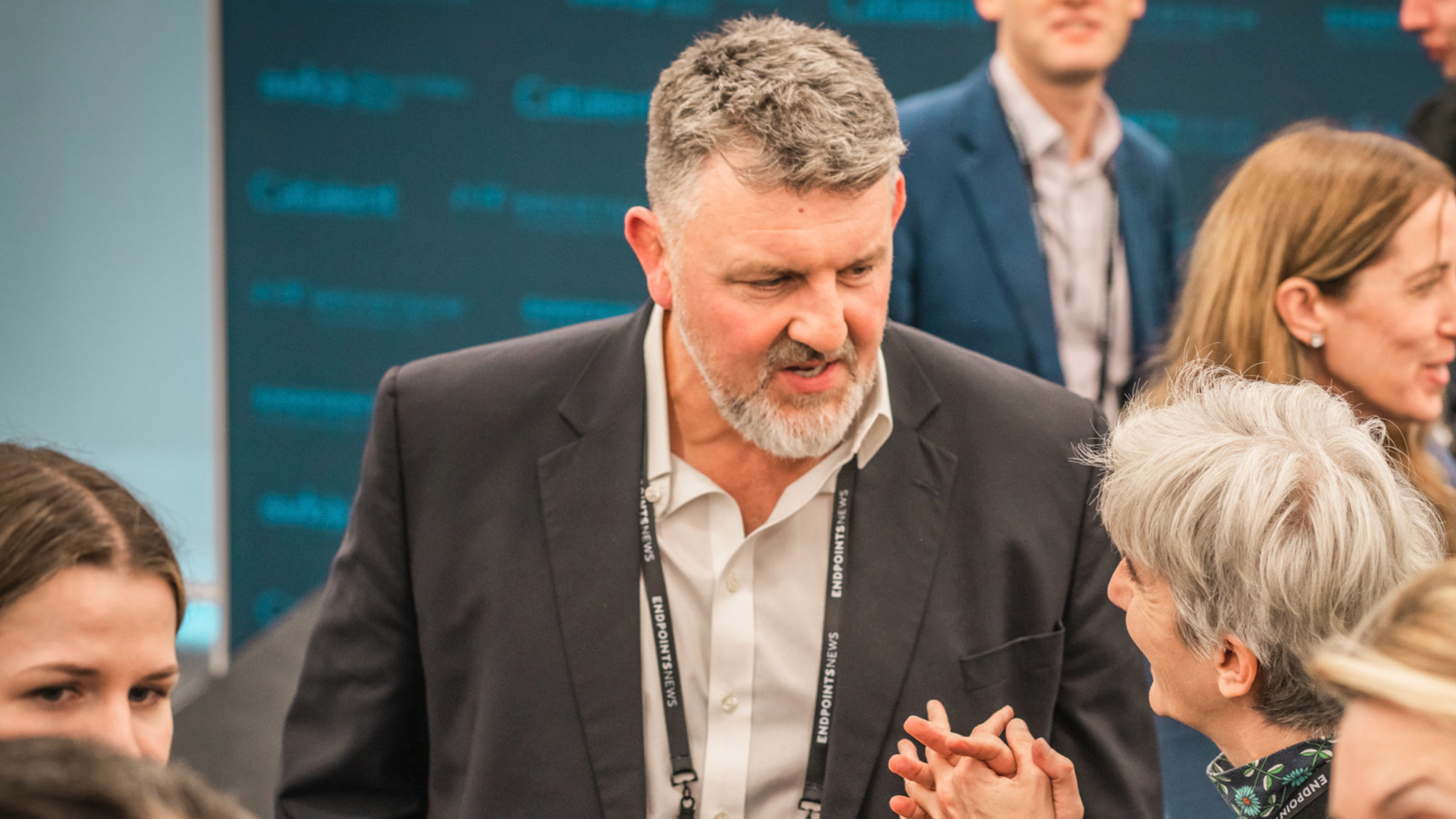 F-star Therapeutics CEO Eliot Forster at EUBIO22 (Rachel Kiki for Endpoints News)
Up­dat­ed: US puts hold on F-star's takeover by Chi­na's Sino Bio­pharm, cit­ing na­tion­al se­cu­ri­ty risks
F-star Ther­a­peu­tics won't yet be able to close its deal with its Chi­nese buy­er, af­ter the US gov­ern­ment's Com­mit­tee on For­eign In­vest­ment in the Unit­ed States pan­el put a hold on the takeover, cit­ing na­tion­al se­cu­ri­ty risks.
Chi­na's Sino Bio­pharm made a $161 mil­lion deal with F-star in June, seek­ing to buy its bis­pe­cif­ic an­ti­body plat­form. The deal was be­ing done via Sino's in­voX unit, a sub­sidiary meant to help the Hong Kong-based com­pa­ny ex­pand out­side of Chi­na. That deal now ap­pears to be at least tem­porar­i­ly blocked, giv­en the US' or­der.
In a fil­ing with the SEC, F-star said the CFIUS pan­el had "is­sued an or­der (the "In­ter­im Or­der") pre­vent­ing the con­sum­ma­tion of the trans­ac­tions pur­suant to the Merg­er Agree­ment, cit­ing un­re­solved na­tion­al se­cu­ri­ty risks." The or­der will stay in place to "pro­vide CFIUS ad­e­quate op­por­tu­ni­ty to con­tin­ue its re­view and in­ves­ti­ga­tion."
In a state­ment, in­voX said the com­pa­nies were work­ing with CFIUS and still planned to close their deal.
"We are seek­ing to move swift­ly to en­sure F-star has the fi­nanc­ing it needs to main­tain po­ten­tial­ly life sav­ing work on can­cer clin­i­cal tri­als, while avoid­ing ex­ten­sive lay­offs," in­voX said in a state­ment. "Through our en­gage­ment with CFIUS staff, we un­der­stand that the Com­mit­tee has de­ter­mined that any na­tion­al se­cu­ri­ty con­cerns can be mit­i­gat­ed and will work ex­pe­di­tious­ly to reach a res­o­lu­tion."
In No­vem­ber, F-star and Sino Bio­pharm an­nounced that a re­view by the for­eign in­vest­ments pan­el would have to push out their tar­get for clos­ing the deal. In a fil­ing Fri­day, the com­pa­nies ex­tend­ed their dead­line to close the merg­er to the end of Jan­u­ary.
F-star's shares plunged 34% in trad­ing on Thurs­day, a sign of in­vestors' skep­ti­cism about the takeover. The US gov­ern­ment has used CFIUS as a way of scru­ti­niz­ing Chi­na's at­tempts to ex­pand its life sci­ences in­dus­try and to guard tech­nolo­gies de­vel­oped in the US.
John Fraunces, an out­side rep­re­sen­ta­tive for F-star, de­clined to com­ment fur­ther.
Ed­i­tor's note: This sto­ry was up­dat­ed on Dec. 30 with a com­ment from Sino Bio­pharm's in­voX unit.