US restarts ship­ments of two mAbs that don't work against Omi­cron as Mer­ck pills see wider dis­tri­b­u­tion
For any­one who's been fol­low­ing how the US gov­ern­ment has been al­lo­cat­ing and ship­ping sup­plies of its Covid-19 treat­ments over the past year, the news has shift­ed so many times that it can be dif­fi­cult to keep track of what's still be­ing shipped and where.
More change is com­ing this week too, as HHS has now de­cid­ed to re-start ship­ments of both Eli Lil­ly (bam­lanivimab plus ete­se­vimab) and Re­gen­eron (casiriv­imab plus imde­vimab) mon­o­clon­al an­ti­body prod­ucts af­ter a short pause be­cause nei­ther prod­uct works against the new vari­ant Omi­cron. Lil­ly's com­bo al­so was halt­ed last June due to the pres­ence of oth­er vari­ants.
"If the Delta VOC [vari­ant of con­cern] still rep­re­sents a sig­nif­i­cant pro­por­tion of in­fec­tions in a re­gion and oth­er op­tions are not avail­able or are con­traindi­cat­ed, el­i­gi­ble pa­tients can be of­fered bam­lanivimab plus ete­se­vimab or casiriv­imab plus imde­vimab, with the un­der­stand­ing that these treat­ments would be in­ef­fec­tive if the pa­tients are in­fect­ed with the Omi­cron VOC," HHS' AS­PR said in a state­ment.
The an­nounce­ment comes as the US has restart­ed ship­ments of Glax­o­SmithK­line and Vir's mAb sotro­vimab, which does work against Omi­cron, and as ship­ments be­gan of As­traZeneca's pro­phy­lac­tic an­ti­body Evusheld, as well as the Mer­ck and Pfiz­er pills to treat Covid, all of which are in short sup­ply as Omi­cron cas­es rise na­tion­wide.
While the restart for the Lil­ly and Re­gen­eron mon­o­clon­al an­ti­bod­ies could po­ten­tial­ly cre­ate is­sues if cer­tain ad­min­is­ter­ing sites can­not iden­ti­fy if some­one who's test­ed pos­i­tive for Covid-19 has ei­ther the Omi­cron or Delta strain, some doc­tors think the move by HHS still makes sense.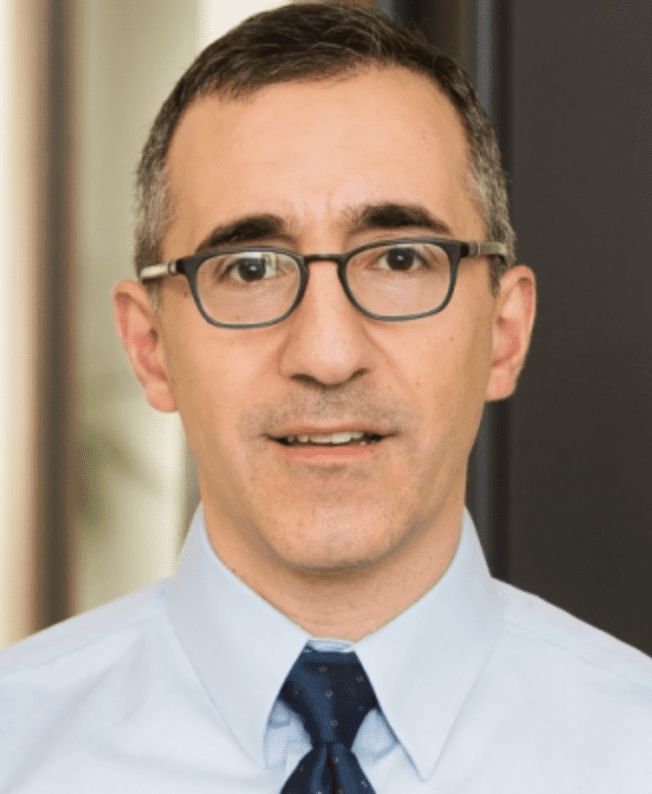 Walid Gel­lad
"I think it's the right move, since there is still Delta around and some fa­cil­i­ties may have abil­i­ty to de­ter­mine which in­fec­tions are Delta still," Walid Gel­lad, pro­fes­sor of med­i­cine at the Uni­ver­si­ty of Pitts­burgh, told End­points News. "Yes, the risk is some with Omi­cron will get old­er ver­sions, while risk, on the oth­er hand, is pa­tients with Delta not get­ting a mAb be­cause of se­vere short­ages of sotro­vimab. It's not an ide­al sit­u­a­tion in any way, but bet­ter in my view to have it avail­able for pre­scribers who are knowl­edge­able to have it as an op­tion."
On­ly re­gions with greater than 80% Omi­cron preva­lence will not re­ceive the Lil­ly and Re­gen­eron mAbs, HHS said. But sites with more than 80% Omi­cron preva­lence may con­tin­ue to re­ceive prod­uct up­on re­quest.
"It re­al­ly is a provider's de­ci­sion which treat­ment to use. While of course we want the ef­fec­tive treat­ments to be matched with the ap­pro­pri­ate vari­ants, I think our big­ger con­cern is if pa­tients in­fect­ed with Delta who could ben­e­fit from mAbs are not re­ceiv­ing any treat­ment at all due to a false as­sump­tion that they have Omi­cron," a Re­gen­eron spokesper­son told End­points.
But oth­ers not­ed the time con­straints and dif­fi­cul­ty in guess­ing, now that the CDC says that more than 90% of cas­es na­tion­wide are due to Omi­cron.
"As far as I am aware, the vast ma­jor­i­ty of sites are not equipped to dis­tin­guish the vari­ants in the short time frame nec­es­sary to give mAbs. Ad­min­is­tra­tion in most cas­es is like­ly to be a mat­ter of play­ing the odds about which vari­ant is the most like­ly cause of the in­fec­tion," Jeff Hen­der­son, as­so­ciate pro­fes­sor in the in­fec­tious dis­ease de­part­ment of Wash­ing­ton Uni­ver­si­ty School of Med­i­cine in St. Louis, told End­points.
He al­so not­ed that con­va­les­cent plas­ma from donors who have re­cov­ered from in­fec­tion and have been im­mu­nized "may be ef­fec­tive with both Omi­cron and non-Omi­cron vari­ants but is in ex­treme­ly lim­it­ed sup­ply un­less col­lec­tions re­sume." The FDA re­cent­ly changed its EUA for con­va­les­cent plas­ma to al­low for out­pa­tient use in im­muno­sup­pressed pa­tients.
Mean­while, in a call last week with state health of­fi­cials, AS­PR of­fi­cials said the ju­ris­dic­tions are like­ly to see more of the Mer­ck pill than the Pfiz­er pill un­til at least March. So far, the US has shipped out more than 300,000 cours­es of the Mer­ck pill, and about 65,000 of the Pfiz­er pill, which AS­PR said takes longer to man­u­fac­ture.
In to­tal, the US will have ac­cess to 3 mil­lion cours­es of the Mer­ck pill, and 20 mil­lion of the Pfiz­er pill. But Pfiz­er said in a state­ment on Tues­day that 10 mil­lion of those cours­es will be avail­able by June, and the re­main­ing 10 mil­lion to fol­low by the end of Sep­tem­ber.
Cur­rent­ly, the pills are be­ing dis­trib­uted based on pop­u­la­tion da­ta, but AS­PR said the two oral an­tivi­rals will be dis­trib­uted based on dis­ease bur­den in the com­ing weeks. Al­so new: A web­site that says which phar­ma­cies have the Mer­ck and Pfiz­er pills.
"As you can imag­ine we re­ly heav­i­ly on good re­port­ing of use, to see where there's up­take of prod­uct and match that against sur­veil­lance da­ta on dis­ease bur­den," BAR­DA's Derek Eis­nor said on the call.
Ar­ti­cle up­dat­ed with new in­for­ma­tion on Omi­cron from CDC, and com­ment from Dr. Hen­der­son.