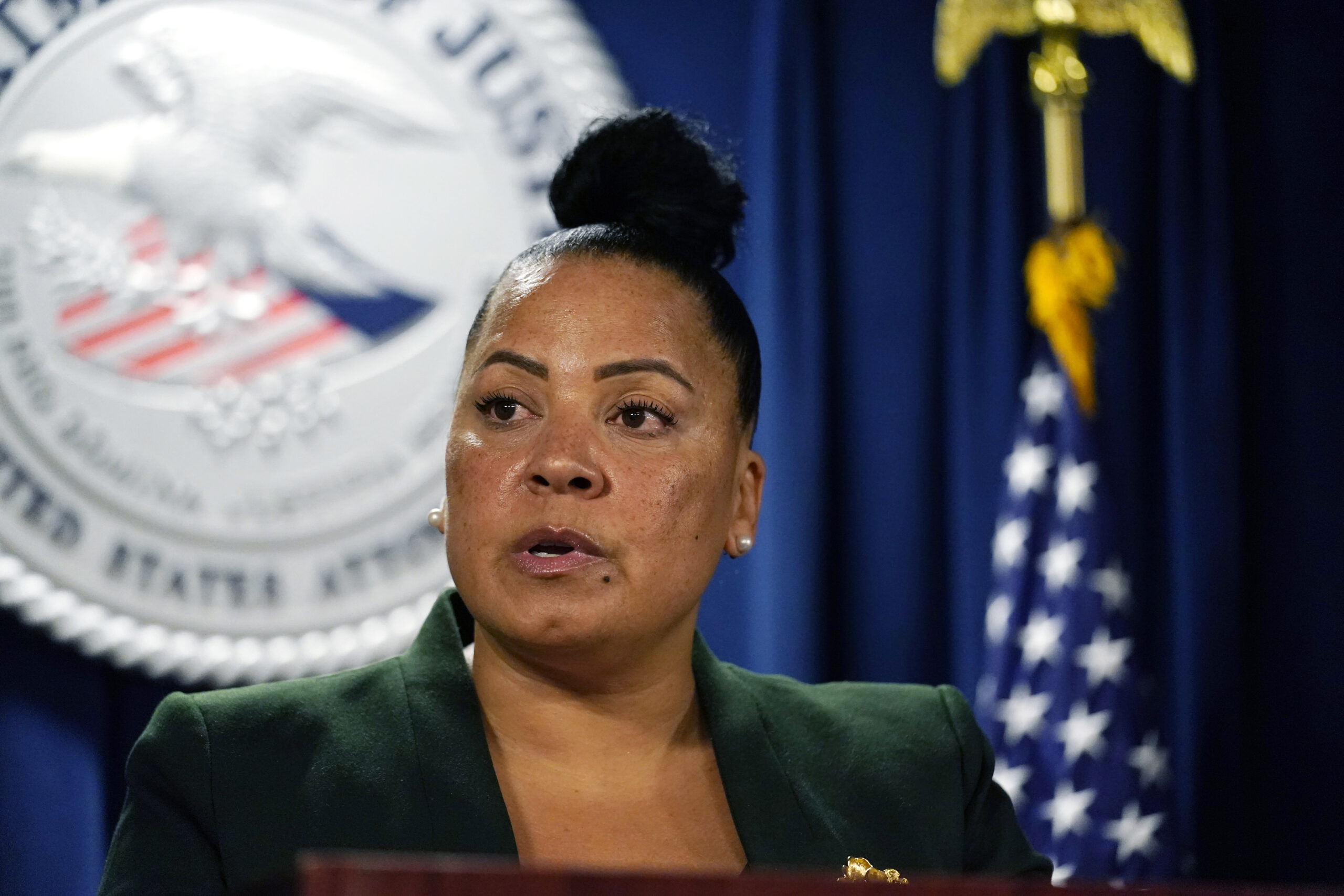 Rachael Rollins (Charles Krupa/AP Images)
US seeks jail time for co-CEO of New Eng­land com­pound­ing cen­ter af­ter dead­ly 2012 fun­gal out­break
The US at­tor­ney for the dis­trict of Mass­a­chu­setts late last week called on the state's dis­trict court to sen­tence the for­mer co-own­er of the now-de­funct New Eng­land Com­pound­ing Cen­ter to 18 months of jail time for his role in the cen­ter's qual­i­ty de­vi­a­tions that led to more than 100 peo­ple dead from a fun­gal menin­gi­tis out­break.
Gre­go­ry Conigliaro was con­vict­ed of con­spir­ing with more than a dozen oth­ers at NECC to de­ceive the FDA and mis­rep­re­sent the fact that the cen­ter was on­ly dis­pens­ing drugs pur­suant to pa­tient-spe­cif­ic pre­scrip­tions.
Rachael Rollins, US at­tor­ney for the dis­trict of Mass­a­chu­setts, said this de­cep­tion oc­curred de­spite know­ing­ly ship­ping drugs in bulk across the na­tion.
Samir Nasr, the then-head of the FDA's com­pound­ing team tes­ti­fied that the NECC "al­ways kept say­ing: We do pa­tient-spe­cif­ic. We are a com­pound­ing phar­ma­cy. We are reg­u­lat­ed by the state. We're not – the FDA does not have ju­ris­dic­tion over us," with Rollins adding:
Through this de­ceit, Conigliaro and NECC were able to avoid the FDA's over­sight au­thor­i­ty—and the FDA's re­quire­ment that drug-man­u­fac­tur­ers fol­low cGMPs—and op­er­ate in a slip­shod, un­safe man­ner, ul­ti­mate­ly lead­ing to the trag­ic out­break of fun­gal menin­gi­tis that killed more than one hun­dred in­di­vid­u­als and in­jured many hun­dreds more.
And while Conigliaro was not in­volved in the com­pound­ing of the preser­v­a­tive-free methyl­pred­nisolone ac­etate that led to the fun­gal menin­gi­tis out­break, nor did he over­see or work in the clean rooms where those and oth­er sub­stan­dard drugs were com­pound­ed, Rollins said that Conigliaro
com­mit­ted a grave, se­ri­ous of­fense—ob­struct­ing the work of a fed­er­al agency—the FDA—whose role is pre­cise­ly to en­sure the safe­ty, pu­ri­ty, and ef­fi­ca­cy of man­u­fac­tured drugs. He did so through lies, false schemes, and mis­rep­re­sen­ta­tions—all in ser­vice of NECC's prof­its—of which Conigliaro re­ceived mil­lions of dol­lars. Conigliaro's dan­ger­ous, and ul­ti­mate­ly dead­ly, of­fense war­rants a se­vere and sig­nif­i­cant pun­ish­ment.