Vas Narasimhan tapped to take No­var­tis' helm as Joe Jimenez heads to Sil­i­con Val­ley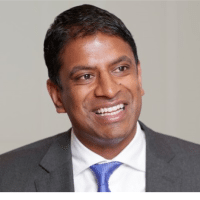 Vas­ant Narasimhan, No­var­tis
⇨ No­var­tis an­nounced Mon­day that Joe Jimenez is step­ping down in Feb­ru­ary and hand­ing the reins over to 41-year-old Vas Narasimhan, an ex­u­ber­ant ad­vo­cate of cut­ting-edge sci­ence who's been mak­ing his mark with a slate of suc­cess­ful pro­grams for the com­pa­ny's next wave of block­buster drugs. Narasimhan is now join­ing one of the most ex­clu­sive clubs in bio­phar­ma — CEO of a bio­phar­ma or­ga­ni­za­tion with ac­tiv­i­ties that span the globe. In nam­ing him CEO, the Basel-based com­pa­ny is keep­ing an Amer­i­can at the top. But in­stead of the mar­ket­ing or le­gal back­ground of most of his peers, Narasimhan brings ex­pe­ri­ence in new prod­uct de­vel­op­ment. Jimenez, mean­while, has his eye on a place in Sil­i­con Val­ley.
⇨ Clau­dio Al­brecht was se­lect­ed as the in­ter­im CEO to run Sta­da as it tran­si­tions to a pri­vate com­pa­ny and then lo­cates a per­ma­nent re­place­ment. Al­brecht ad­vised Bain and Cin­ven as they were bid­ding for the com­pa­ny.
⇨ Mor­gan Mol­loy is join­ing En­zy­vant to serve as chief com­mer­cial of­fi­cer. He held that same po­si­tion pre­vi­ous­ly at Spark Ther­a­peu­tics, and al­so spent some time at Sanofi, Al­ler­gan and Bio­gen.
⇨ Tom Graney is jump­ing ship at Iron­wood and mov­ing over to Ver­tex as its new CFO.
⇨ Ovid Ther­a­peu­tics has ap­point­ed Ana C. Ward as SVP and gen­er­al coun­sel.
⇨ Io­n­is spin­out Akcea has been build­ing up its ex­ec­u­tive team in prepa­ra­tion for its first com­mer­cial launch. The new team mem­bers in­clude: Michael MacLean, chief fi­nan­cial of­fi­cer; Mustafa Noor, chief de­vel­op­ment of­fi­cer; Samuel Yon­ren, vice pres­i­dent and head of phar­ma­covig­i­lance and drug safe­ty; and Kyle Jenne, US com­mer­cial head.
⇨ AM­AG Phar­ma­ceu­ti­cals named Lau­ra Williams as se­nior vice pres­i­dent of clin­i­cal de­vel­op­ment.
⇨ Opi­ant Phar­ma­ceu­ti­cals tapped David O'Toole as its new chief fi­nan­cial of­fi­cer. O'Toole just left his post as CFO at Soleno Ther­a­peu­tics. The biotech says that he will be re­placed by Jonathan R. Wolter on an in­ter­im ba­sis as they hunt for a per­ma­nent re­place­ment.