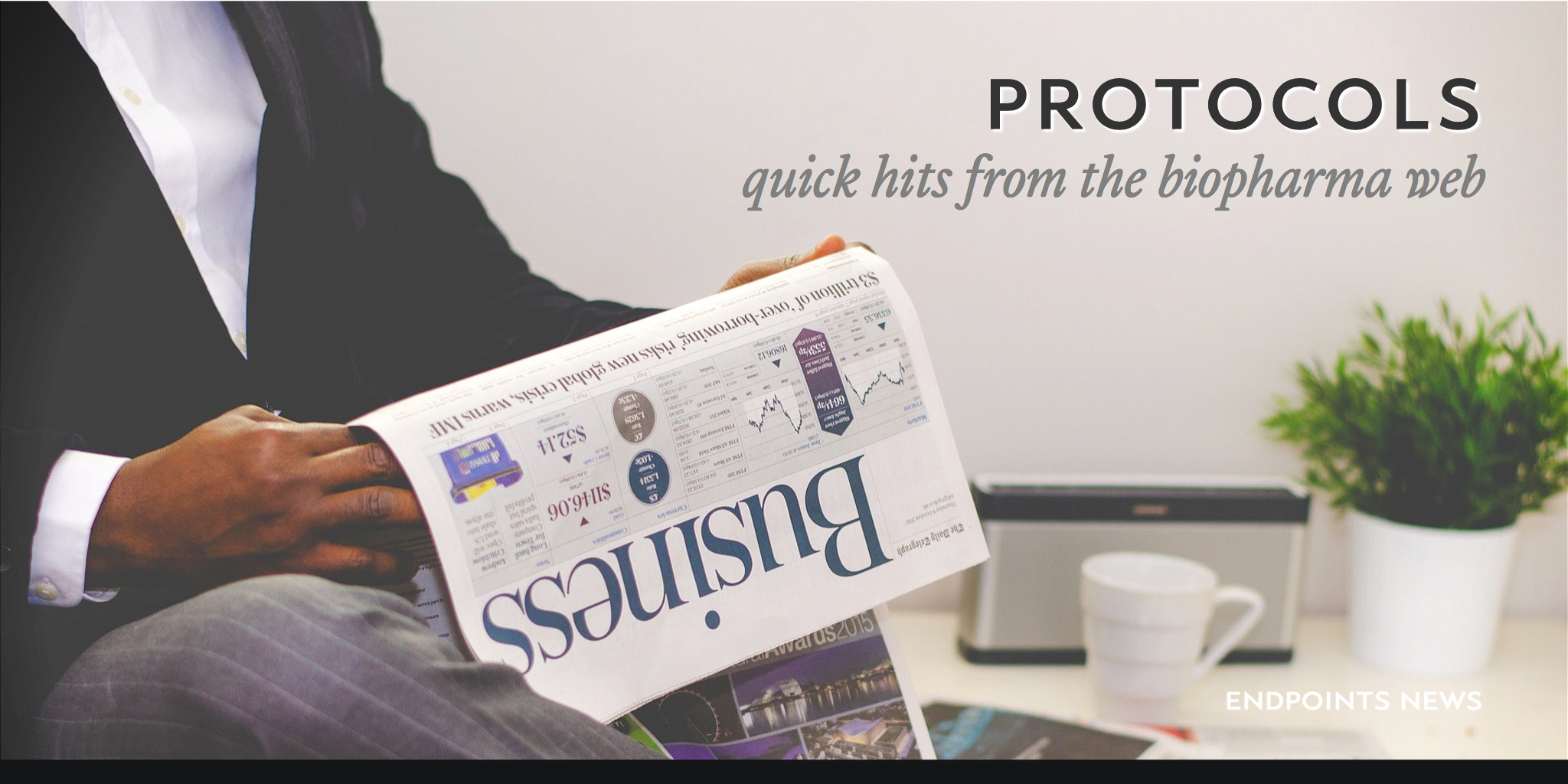 Ver­tex CFO Thomas Graney ex­its abrupt­ly; Eli Lil­ly touts a head-to-head win over Hu­mi­ra
→ Ver­tex CFO Thomas Graney has abrupt­ly re­signed. The bell­wether Boston biotech says that COO Ian Smith will fill in on a tem­po­rary ba­sis. There was no ex­pla­na­tion for the de­par­ture — Graney hand­ed in his res­ig­na­tion let­ter on De­cem­ber 13 — out­lined in an SEC fil­ing Mon­day morn­ing. UP­DATE: Af­ter we re­port­ed this Mon­day, a start­up named Gen­er­a­tion Bio — helmed by Ge­off Mc­Do­nough — put out a no­tice that Graney had de­cid­ed to jump over to be­come their CFO. So mys­tery solved.
→ Eli Lil­ly $LLY is boast­ing about a big win in a head-to-head study pit­ting their drug Taltz against Ab­b­Vie's $AB­BV pow­er­house drug Hu­mi­ra. Re­searchers say their drug beat out the world's top sell­ing drug on the pri­ma­ry — the pro­por­tion of pa­tients si­mul­ta­ne­ous­ly achiev­ing at least a 50% re­duc­tion in dis­ease ac­tiv­i­ty…as well as com­plete skin clear­ance — and all ma­jor sec­ondary end­points. Lil­ly re­cruit­ed 566 ac­tive PsA pa­tients for the Phase II­Ib study.
→ Dai­ichi Sankyo has out-li­censed its Phase I ROS1/NTRK in­hibitor DS-6051 to Bask­ing Ridge, NJ-based An­Heart Ther­a­peu­tics for an un­spec­i­fied up­front and mile­stones. The two com­pa­nies will com­plete two on­go­ing Phase I stud­ies, af­ter which An­Heart will be in con­trol.
→ The promise of RNA splic­ing is en­tic­ing high-pro­file names. Ei­sai's US unit, H3 Bio­med­i­cine, and Bris­tol-My­ers Squibb $BMY are join­ing hands to see whether ther­a­peu­tics lever­ag­ing H3's RNA splic­ing plat­form can pro­vide a more pow­er­ful re­sponse against can­cer. The deal comes months af­ter an­ti­sense start­up Stoke Ther­a­peu­tics — whose ex­per­i­men­tal drug is de­signed to up-reg­u­late pro­duc­tion of a pro­tein miss­ing in pa­tients with Dravet syn­drome by tar­get­ing RNA splic­ing — raked in $90 mil­lion in a Se­ries B round.
→ Lon­don's White City hub has at­tract­ed an­oth­er life sci­ences play­er — Gam­maDelta Ther­a­peu­tics — to the par­ty. The West Lon­don re­gion, which bor­ders Im­pe­r­i­al Col­lege Lon­don's re­search and in­no­va­tion cam­pus, has be­come a British biotech fa­vorite, most re­cent­ly lur­ing No­var­tis $NVS to set up shop in the West­Works, part of the re­birth of the old BBC Me­dia Vil­lage cam­pus in the area . Gam­maDelta has al­so re­lo­cat­ed to West­Works from the Lon­don Bio­Science In­no­va­tion Cen­tre near St Pan­cras.
→ Shang­hai Hen­lius Biotech, the Fo­s­un/Hen­lius joint ven­ture that was once tipped to be the first com­pa­ny to take ad­van­tage of Hong Kong's new list­ing rules for pre-rev­enue biotechs, has ap­plied for an IPO at the HKEX. Its pipeline is di­vid­ed be­tween biosim­i­lars and nov­el bi­o­log­ics tar­get­ing can­cer and oth­er dis­eases.
→ Pen­ny stock biotech Can­cer Ge­net­ics $CGIX has ter­mi­nat­ed its merg­er agree­ment with Nov­el­lus­Dx.