Vir­tu­al biotech star Mark de Souza signs up to help lead the team on a new co launch; Take­da part­ners with RNA biotech Arc­turus on NASH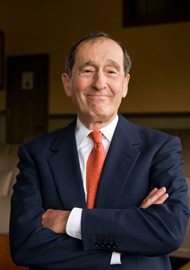 Ervin Ep­stein, Pelle­Pharm. Cred­it: chori.org.
Mark de Souza took Lo­tus Tis­sue Re­pair from start­up to Shire buy­out as its sole staffer, the ul­ti­mate in vir­tu­al biotech com­pa­nies. But now he's work­ing with a team to launch Pelle­Pharm, which will be based in Men­lo Park, CA as it fo­cus­es on a pair of Phase II stud­ies for patideg­ib, a top­i­cal hedge­hog in­hibitor de­signed to treat basal cell car­ci­no­mas, in­clud­ing those in Gor­lin Syn­drome. Bridge­Bio Phar­ma is putting up the cash, which was not spec­i­fied. Mark de Souza is the ex­ec­u­tive chair­man of the team. "It made sense that a po­tent in­hibitor of the hedge­hog path­way should pro­vide a ther­a­peu­tic ben­e­fit for pa­tients suf­fer­ing from Gor­lin Syn­drome, but we need­ed an ap­proach that would al­low us to tar­get the dis­ease at its source with­out elic­it­ing harm­ful tox­i­c­i­ty re­ac­tions," said Ervin Ep­stein, MD, co-founder of Pelle­Pharm. "We are hope­ful that patideg­ib will pro­vide the bal­ance of tar­get­ed treat­ment with­out the ad­verse events as­so­ci­at­ed with oral for­mu­la­tions."
Take­da has ex­tend­ed its deal fren­zy to in­clude an RNA de­vel­op­ment pact with San Diego-based Arc­turus Ther­a­peu­tics, fo­cus­ing in on the trendy NASH tar­get and re­lat­ed GI ail­ments.
South Ko­rea's Eu­ti­lex has wrapped a $21 bil­lion KRW (US $18.9M) Se­ries A fi­nanc­ing.
North­west BIO is giv­ing up on Nas­daq, or the oth­er way around, de­pend­ing on how you look at it. Suf­fice it to say that the trou­bled biotech is pulling out of Nas­daq and will take to the OTC mar­ket, where pen­ny stocks go to floun­der. It's un­like­ly that in­flu­en­tial UK in­vestor Neil Wood­ford had this out­come in mind when he in­vest­ed heav­i­ly in North­west, which has a can­cer vac­cine in the pipeline. North­west's shares cratered again, drop­ping 30% to a mere 37 cents on Thurs­day morn­ing.