Weeks af­ter a Pfiz­er/Mer­ck KGaA break­down, Clo­vis gam­bles on a $175M loan to fin­ish a glob­al PhI­II PARP/PD-1 com­bo study
Clo­vis On­col­o­gy CEO Patrick Ma­haffy $CLVS has en­gi­neered a risky gam­ble to pay for his big Phase III study com­bin­ing his PARP Rubra­ca with Bris­tol-My­ers Squibb's Op­di­vo. He's bor­row­ing up to $175 mil­lion for his Phase III ATHENA tri­al, and he's com­mit­ted to pay­ing back up to twice that amount for the cash run­way.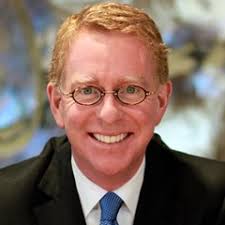 Patrick Ma­haffy
"ATHENA is al­so our largest study, with a planned tar­get en­roll­ment of ap­prox­i­mate­ly 1000 pa­tients," Ma­haffy not­ed, "which is ex­pect­ed to have a mean­ing­ful im­pact on our cash flow over the next few years."
Here's how it works:
Be­gin­ning at the end of Q2 of this year, TPG Sixth Street Part­ners will cov­er the tri­al costs in ar­rears and keep the mon­ey flow­ing up to the end of the first half of 2022, as Clo­vis hunts an ap­proval for front­line main­te­nance of ovar­i­an can­cer. The loan cov­ers ex­pens­es through to an ap­proval or a fail­ure of the study, at which point Clo­vis — which is re­cruit­ing pa­tients in 25 coun­tries for this study — will be on the hook to re­pay up to twice the amount it bor­rowed.
This move comes just weeks af­ter Pfiz­er and Mer­ck KGaA ter­mi­nat­ed their JAVELIN Ovar­i­an PARP 100 study, com­bin­ing ta­la­zoparib and Baven­cio, af­ter they de­ter­mined that it wasn't mea­sur­ing up. That may not mean Clo­vis is tak­ing on added risk, es­pe­cial­ly as Baven­cio is start­ing to con­vince some ob­servers it's the worst of the PD-L1s.
So far As­traZeneca and Mer­ck have been the dom­i­nant play­ers in PARP, suc­cess­ful­ly ex­pand­ing their first-to-mar­ket po­si­tion for Lyn­parza while Pfiz­er, Clo­vis and now GSK (af­ter the Tesaro buy­out) play catch-up. Cut­ting ahead won't be quick, or cheap or easy.
The deal un­der­scores just how bad­ly beat up Clo­vis' shares have be­come, drop­ping 74% from the start of 2018.