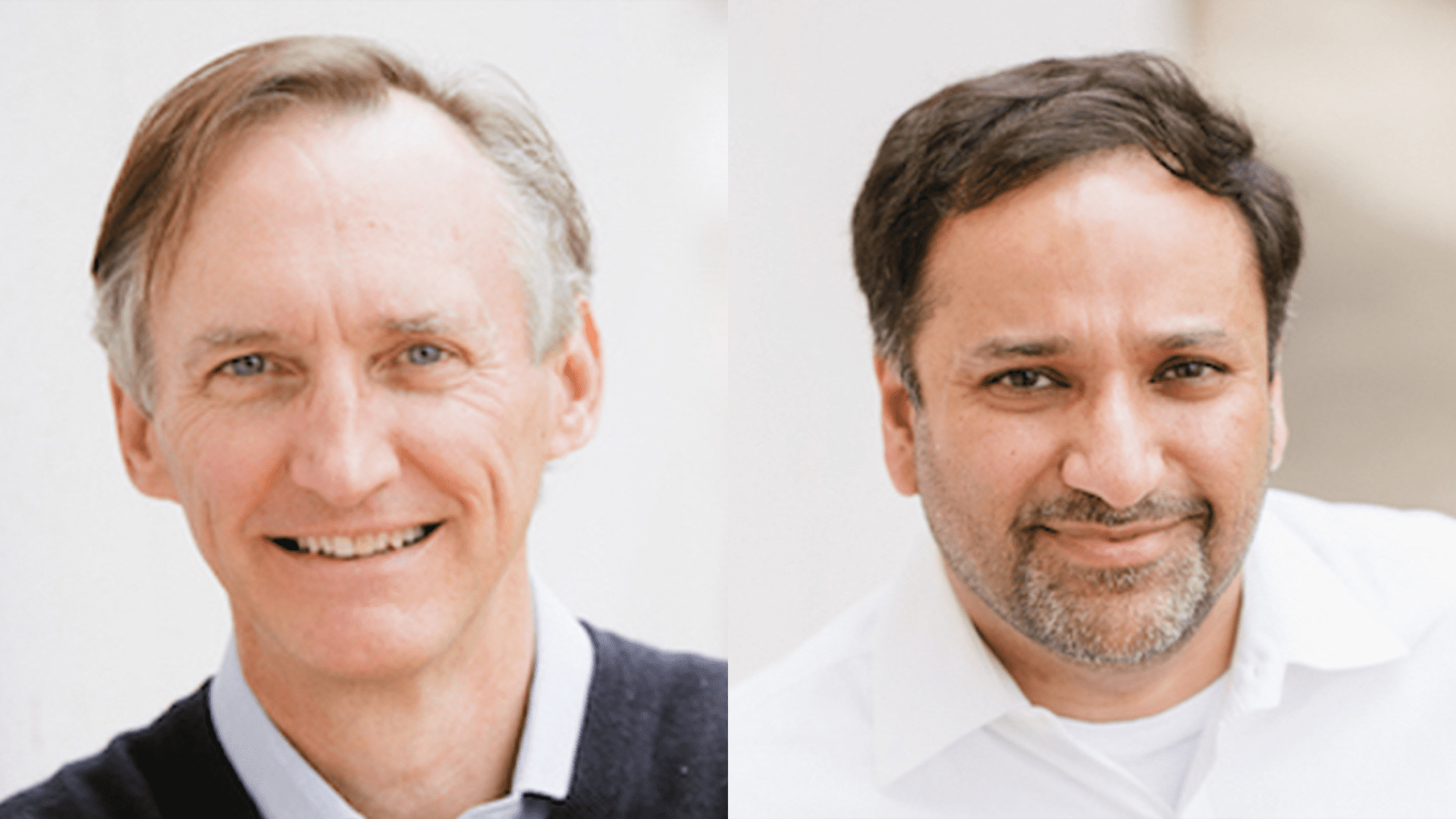 Rivus Pharmaceuticals CEO Allen Cunningham (L) and CSO Shaharyar Khan
Weight loss play­er gets at­ten­tion of RA Cap­i­tal, walks away with $132M to keep pur­su­ing big tar­gets
A biotech out to cor­ner a new mar­ket in the di­a­betes and weight loss space has record­ed its sec­ond, and so far largest, raise yet.
Char­lottesville, VA-based Rivus Phar­ma­ceu­ti­cals made the an­nounce­ment Thurs­day that it has closed its Se­ries B at $132 mil­lion. Led by RA Cap­i­tal, the round will push the biotech fur­ther along in clin­i­cal de­vel­op­ment of its lead can­di­date, HU6. Per Rivus, the lead can­di­date is a type of small mol­e­cule called a "con­trolled meta­bol­ic ac­cel­er­a­tor," a term the biotech coined to de­scribe a drug de­signed to tar­get obe­si­ty — by in­creas­ing the num­ber of calo­ries a pa­tient burns.
As CEO Allen Cun­ning­ham and CSO Sha­har­yar Khan tell End­points News, Rivus is look­ing at in­creas­ing en­er­gy ex­pen­di­ture phar­ma­co­log­i­cal­ly to re­duce obe­si­ty, in­stead of fo­cus­ing more on re­duc­ing caloric in­take.
"You've got en­er­gy com­ing in, caloric in­take, and then you've got en­er­gy go­ing out — caloric ex­pen­di­ture. And most of these ap­proach­es that are see­ing this, the obe­si­ty ther­a­peu­tics are tar­get­ing that front end, the caloric in­take side of the equa­tion," Khan said.
So far, the biotech has al­ready cleared its lead can­di­date in obe­si­ty through Phase IIa, read­ing out ear­li­er this year and show­ing that the drug helped pa­tients lose a to­tal of six pounds of fat over the course of two months.
And as part of the raise, Rivus is con­tin­u­ing a sec­ond Phase IIa study that the biotech re­cent­ly start­ed in obese par­tic­i­pants with heart fail­ure with pre­served ejec­tion frac­tion (HF­pEF), as well as start­ing a Phase IIb in obe­si­ty — a 12-month-long study that is slat­ed to start some­time next year and have a sub­set of pa­tients with type II di­a­betes.
On top of those in­di­ca­tions, the biotech has al­so been look­ing at se­vere hy­per­triglyc­eridemia (SHTG) and NASH, which has been a prover­bial mine­field with­out many pos­i­tive read­outs over the years.
The Rivus ex­ecs said that they're now ful­ly fund­ed through 2024 as the biotech plans to run two clin­i­cal tri­als si­mul­ta­ne­ous­ly. And while head­count is still small, a few hires are planned, the ex­ecs not­ed.
The CSO added that the key mech­a­nism they're try­ing to lever­age is mi­to­chon­dr­i­al un­cou­pling, a nat­ur­al process in the body where cel­lu­lar en­er­gy trans­port mech­a­nisms are di­vert­ed to be used out­side their nor­mal func­tion of syn­the­siz­ing adeno­sine triphos­phate, or ATP. Nor­mal­ly, mi­to­chon­dria take sub­strates, fats and sug­ars and gen­er­ate en­er­gy as a byprod­uct. If that process gets slowed down, the body has to burn more calo­ries to get its en­er­gy be­fore it can re­turn to en­er­gy bal­ance.
Rivus says its lead can­di­date al­so is fat-se­lec­tive, forc­ing the body to burn fat in­stead of oth­er mol­e­cules to sur­vive. Part of the perks be­hind go­ing on­ly af­ter fat, Cun­ning­ham says, is that skele­tal mass re­mains in­tact.
"Af­ter a caloric deficit, the first thing you gain back is fat. And once you lose that skele­tal mus­cle mass, it's hard to get it back," Cun­ning­ham added.
As for next fi­nanc­ing plans, con­sid­er­ing RA Cap­i­tal's pre­vi­ous habit of back­ing com­pa­nies in prepa­ra­tion for an IPO, ex­ecs de­clined to an­swer — but not­ed that as part of the fi­nanc­ing, they will be look­ing more in­to new in­di­ca­tions and bring­ing a new CMA can­di­date in­to its pipeline.
"We are look­ing at where the sci­ence is high­ly sup­port­ive, whether it's in ar­eas like can­cer or neu­rode­gen­er­a­tion, or even ag­ing," Khan not­ed.
The biotech got its start in March 2019, se­cur­ing $35 mil­lion via a Se­ries A round — but re­mained in stealth mode un­til it emerged just over two years lat­er.
Oth­er in­vestors that tagged along on to­day's Se­ries B in­clud­ed new in­vestors Bain Cap­i­tal Life Sci­ences and BB Biotech, plus pre­vi­ous back­ers Lon­gi­tude Cap­i­tal, Medicxi and Rx­Cap­i­tal.