Wel­come Case­bia, the $335M gene edit­ing JV hatched by Bay­er and CRISPR Ther­a­peu­tics
The new gene edit­ing joint ven­ture be­ing formed by Bay­er and CRISPR Ther­a­peu­tics is tak­ing shape. Now dubbed Case­bia Ther­a­peu­tics, the fledg­ling op­er­a­tions has be­gun hir­ing dozens of new staffers, tak­ing up a tem­po­rary res­i­dence while its new home is be­ing built in Kendall Square in Cam­bridge, MA.
The up­start biotech ef­fort just inked a lease on 33,000 square feet of space at 610 Main Street North, a nine-sto­ry build­ing cur­rent­ly un­der con­struc­tion near Kendall Square and ad­ja­cent to the MIT cam­pus. This is the sec­ond MIT-owned build­ing here, with Pfiz­er R&D oc­cu­py­ing the first. The com­pa­ny will be co-lo­cat­ed with CRISPR Ther­a­peu­tics' R&D ops in the cen­ter of a thriv­ing biotech clus­ter that will be home for up to 80 staffers, while an­oth­er group will be lo­cat­ed in Bay­er's Mis­sion Bay cam­pus in San Fran­cis­co.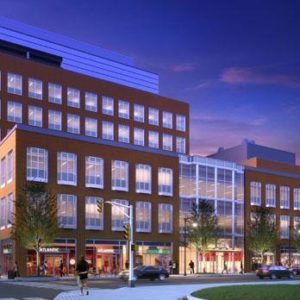 Un­der con­struc­tion: 610 Main Street North
True to its glob­al na­ture, with a pos­si­ble nod to tax re­al­i­ties, the com­pa­ny will be a UK en­ti­ty.
Bay­er and CRISPR an­nounced back at the end of last year that they were form­ing this JV, with the Ger­man phar­ma com­pa­ny com­mit­ting $300 mil­lion to the com­pa­ny. CRISPR is adding $35 mil­lion. The new com­pa­ny will con­cen­trate on blood dis­or­ders, blind­ness and con­gen­i­tal heart dis­eases and Bay­er plans to use this R&D base to take a deep dive in­to gene edit­ing for ag pur­pos­es.
CRISPR Ther­a­peu­tics is one of a hand­ful of gene edit­ing star­tups that have come along to take the aca­d­e­m­ic work in­volved in the field and trans­late that in­to new ther­a­pies. CEO Rodger No­vak re­cent­ly added a large­ly un­need­ed $38 mil­lion to its B round with a group of crossover in­vestors in tow — sig­nal­ing that their S-1 just about ready to roll. Ver­tex Phar­ma­ceu­ti­cals and Bay­er Glob­al In­vest­ments led the fundrais­ing, which brings the to­tal in the B round to a whop­ping $140 mil­lion
Bay­er's Ax­el Bou­chon will take the helm at Case­bia as in­ter­im CEO. He's al­so head of the Bay­er Life­Science Cen­ter (BLSC) and new group in­side Bay­er that has been charged with hunt­ing down new life sci­ence deals.
He couldn't have found a bet­ter place to do that work. Bou­chon re­marked:
"We are ex­cit­ed to en­gage the broad­er life sci­ence com­mu­ni­ty in Boston now through Case­bia. As we es­tab­lish and grow Case­bia's ther­a­peu­tic pro­grams, this new lo­ca­tion will pro­vide us with state-of-the-art in­fra­struc­ture, ac­cess to the vi­brant biotech en­vi­ron­ment of the Kendall Square area, and fa­cil­i­tate close col­lab­o­ra­tion with CRISPR Ther­a­peu­tics."