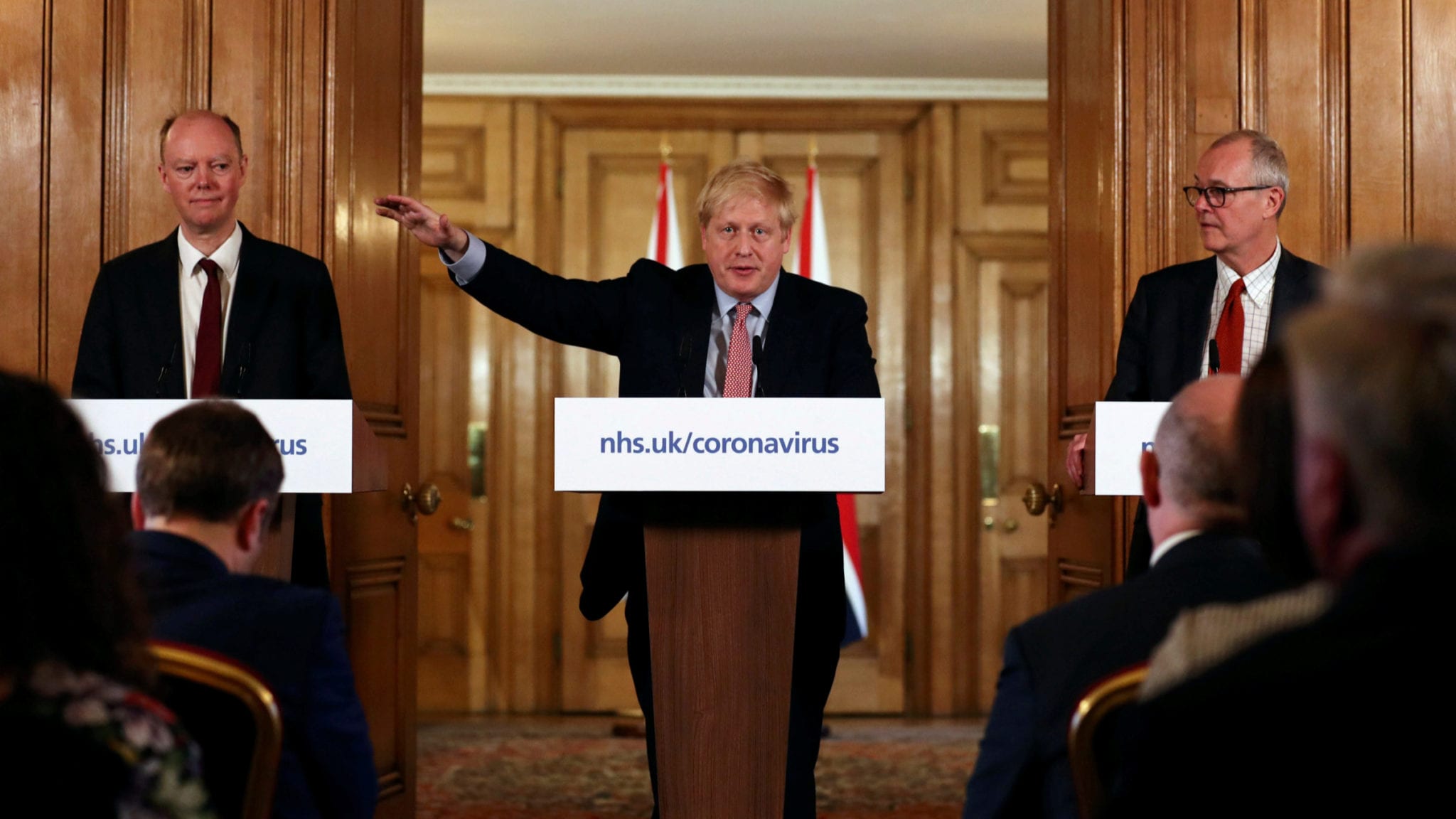 Boris Johnson, Chris Whitty (left) and Patrick Vallance (right) [Simon Dawson/Press Association via AP Images]
'We're led by the sci­ence': UK's plan to de­lay coro­n­avirus peak and pur­sue herd im­mu­ni­ty trig­gers up­roar
US Pres­i­dent Don­ald Trump has ex­tend­ed his Eu­rope trav­el ban to in­clude Ire­land and the UK. Spain — like Italy and France to vary­ing de­grees — is es­sen­tial­ly on lock­down. But the UK, to the dis­may of many, has tak­en what some have la­beled a com­pla­cent ap­proach.
On Thurs­day, UK Prime Min­is­ter Boris John­son, flanked by Patrick Val­lance, the gov­ern­ment's chief sci­en­tif­ic ad­vis­er (and Glax­o­SmithK­line's for­mer R&D chief), and the UK's chief med­ical ad­vis­er Chris Whit­ty, kicked off a press con­fer­ence an­nounc­ing the re­gion was mov­ing on from "con­tain" phase to the "de­lay" pe­ri­od of their ac­tion plan to tack­le the epi­dem­ic on a somber note:
"I must lev­el with you, lev­el with the British pub­lic, many more fam­i­lies are go­ing to lose loved ones be­fore their time."
These mea­sures are be­ing put in place to de­lay to the peak, and to push the peak down (or flat­ten the curve) — in an ef­fort to re­duce the bur­den on the Na­tion­al Health Ser­vice (NHS) at any giv­en point and to pro­tect the old and the vul­ner­a­ble when they need it the most, the of­fi­cials em­pha­sized.
"It's im­por­tant to rec­og­nize it's not to stop every­body from get­ting it, you can't do that — it's not pos­si­ble to stop every­body from get­ting it. And it's al­so ac­tu­al­ly not de­sir­able, be­cause you want some im­mu­ni­ty in the pop­u­la­tion," Val­lance said.
Rough es­ti­mates in­di­cate that herd im­mu­ni­ty — a strat­e­gy de­signed to pro­tect at-risk in­di­vid­u­als from in­fec­tion by be­ing sur­round­ed by peo­ple who are re­sis­tant to the dis­ease — to Covid-19 could be achieved if about 60% of the pop­u­la­tion has been in­fect­ed. While test­ing was broad­ly con­duct­ed at the start of the out­break, the UK has now lim­it­ed test­ing to pa­tients that are pre­sent­ing with se­vere symp­toms in hos­pi­tals.
At the con­fer­ence, John­son asked pa­tients with coro­n­avirus symp­toms, how­ev­er mild — ei­ther a new con­tin­u­ous cough or a high tem­per­a­ture — to stay at home for at least a week and ad­vised all cit­i­zens over 70 and those with se­ri­ous med­ical con­di­tions against go­ing on cruis­es and rec­om­mend­ed against in­ter­na­tion­al school trips. More se­ri­ous mea­sures, such as ask­ing cit­i­zens to stay home if some­body in the house­hold has symp­toms will like­ly be tak­en in a few weeks, the of­fi­cials said.
At this junc­ture, the re­gion will not be shut­ting down schools or im­pos­ing a quar­an­tine, the of­fi­cials said, cit­ing undis­closed sci­en­tif­ic ev­i­dence that in­di­cates such mea­sures could do more harm than good at this time.
As of Mon­day, there were more than 1500 con­firmed cas­es of Covid-19 and 35 deaths at­trib­uted to the dis­ease. "Our top num­ber for a rea­son­able worst-case sce­nario … is up to 80% of the pop­u­la­tion be­ing in­fect­ed," Whit­ty said on Thurs­day.
Re­peat­ed­ly, the of­fi­cials said their ac­tions were guid­ed by the sci­ence — that in or­der to max­i­mize the ben­e­fit of in­ter­ven­tions, tim­ing is cru­cial. When dras­tic mea­sures are tak­en too soon, Whit­ty said, "peo­ple start off with the best of in­ten­tions, but en­thu­si­asm at a cer­tain point starts to flag."
"It's im­por­tant to not do things that have a rel­a­tive­ly small ef­fect, but sound sen­si­ble be­cause that puts peo­ple off from do­ing things that re­al­ly mat­ter. It's al­so im­por­tant to do things in a way that is sus­tain­able be­cause you're not talk­ing about mea­sures that will there for a week or two," Val­lance added.
But an open let­ter from 500 be­hav­ioral sci­en­tists, ex­pressed con­cern. "(W)e are not con­vinced that enough is known about 'be­hav­ioral fa­tigue' or to what ex­tent these in­sights ap­ply to the cur­rent ex­cep­tion­al cir­cum­stances," it said. "Such ev­i­dence is nec­es­sary if we are to base a high-risk pub­lic health strat­e­gy on it."
The UK gov­ern­ment's re­sponse to the bur­geon­ing epi­dem­ic has trig­gered a spate of neg­a­tive head­lines with crit­ics pan­ning the ap­proach as in­suf­fi­cient and dan­ger­ous. To add in­sult to in­jury, late on Thurs­day Ar­se­nal Foot­ball Club man­ag­er Mikel Arte­ta an­nounced he had test­ed pos­i­tive for the virus, and soon af­ter news that play­ers from oth­er clubs had been in­fect­ed be­gan to sur­face. Even­tu­al­ly, the Pre­mier League said it would sus­pend games un­til April 3, amid oth­er sus­pen­sions across oth­er sport­ing events.
In an open let­ter pub­lished on Sat­ur­day from over 200 sci­en­tists, in­clud­ing PhD stu­dents, in dis­ci­plines rang­ing from math­e­mat­ics to ar­ti­fi­cial in­tel­li­gence (but no re­searchers who study the sci­ence of dis­ease spread) sug­gest­ed the UK gov­ern­ment was do­ing too lit­tle and risk­ing lives in its pur­suit of 'herd im­mu­ni­ty,' giv­en that the cur­rent da­ta on in­fec­tions in the UK is in line with the growth curves al­ready seen else­where, such as Italy, Spain, France and Ger­many.
"Un­der un­con­strained growth, this out­break will af­fect mil­lions of peo­ple in the next few weeks. This will most prob­a­bly put the NHS at se­ri­ous risk of not be­ing able to cope with the flow of pa­tients need­ing in­ten­sive care, as the num­ber of ICU beds in the UK is not larg­er than that avail­able in oth­er neigh­bor­ing coun­tries with a sim­i­lar pop­u­la­tion," they wrote."Go­ing for 'herd im­mu­ni­ty' at this point does not seem a vi­able op­tion, as this will put NHS at an even stronger lev­el of stress, risk­ing many more lives than nec­es­sary."
Richard Hor­ton, ed­i­tor-in-chief of The Lancet, ac­cused the UK gov­ern­ment of play­ing roulette with the pub­lic. An­oth­er con­cern­ing let­ter al­so sur­faced from the British So­ci­ety of Im­munol­o­gy. An­tho­ny Costel­lo, pro­fes­sor of glob­al health and sus­tain­able de­vel­op­ment at Uni­ver­si­ty Col­lege Lon­don and a for­mer di­rec­tor of ma­ter­nal and child health at the WHO, told the Guardian that mean­while, Chi­na mount­ed a "prop­er" cam­paign to stop the epi­dem­ic in its tracks, as laid out by the WHO — test in­ten­sive­ly, trace con­tacts, quar­an­tine and main­tain so­cial dis­tanc­ing.
"They didn't leave it all to mes­sages and nudge be­hav­ioral meth­ods," he wrote in a scathing ed­i­to­r­i­al. "With­out an all-out na­tion­al mo­bi­liza­tion for so­cial dis­tanc­ing, are the be­hav­ioral and nudge strate­gies re­al­ly ev­i­dence-based to flat­ten the peak? Or sim­ply based on mod­els? Why are we em­pha­siz­ing herd im­mu­ni­ty now? Does coro­n­avirus in­duce strong herd im­mu­ni­ty or is it like flu, where im­mu­ni­ty re­mains weak and new strains emerge each year? We have much to learn about Covid-19 im­mune re­spons­es."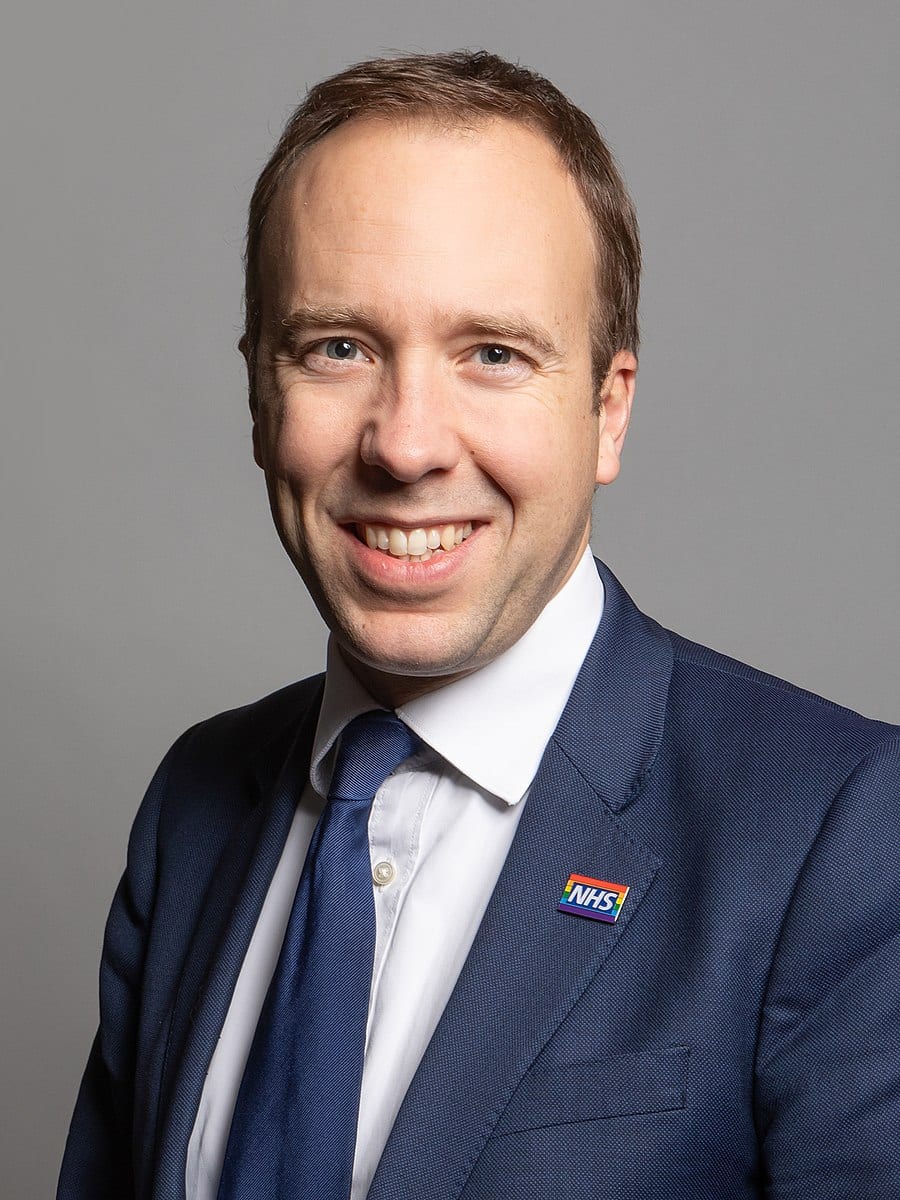 Matt Han­cock UK Par­lia­ment
Mean­while, calls for trans­paren­cy on the sci­en­tif­ic ad­vice and mod­els the UK gov­ern­ment is us­ing to make its de­ter­mi­na­tions gath­ered steam.
In an ex­change with Sec­re­tary of State for Health and So­cial Care Matt Han­cock, Sky News jour­nal­ist So­phy Ridge said: "You said that this is based on the best sci­en­tif­ic ad­vice, so why don't you trans­par­ent­ly pub­lish that ad­vice and the gov­ern­ment's mod­el­ing … be­cause if you're so con­vinced you're fol­low­ing the sci­ence, why don't you pub­lish it so that peo­ple can take it on their own knowl­edge, rather than trust?"
Han­cock said the da­ta would be pub­lished in the com­ing days, but ap­peared to back away from the goal of herd im­mu­ni­ty, which had been al­lud­ed to by UK of­fi­cials at the press con­fer­ence days ear­li­er.
"Herd im­mu­ni­ty is not our goal or pol­i­cy, it's a sci­en­tif­ic con­cept. Our pol­i­cy is to save lives and beat this virus," he said, adding that gov­ern­ment is gear­ing up to ask Britons over 70 to iso­late for "months," with­in weeks.
The UK gov­ern­ment has since al­so an­nounced it will be con­duct­ing dai­ly brief­in­gs to up­date the pub­lic.
For a look at all End­points News coro­n­avirus sto­ries, check out our spe­cial news chan­nel.