Contributed by
Forbion
Authored by
Ivan Burkov
1,2
,
Asiya Giniatullina
1
,
Geert-Jan Mulder
1
,
Sander van Deventer
1,3,4
Affiliations: 1: Forbion; 2: Inkef Capital; 3: uniQure biopharma BV; 4: Leiden University Medical Center
Confronted with decreasing R&D productivity and scarcity of true new blockbusters, pharmaceutical companies continuously seek growth opportunities by adopting new organizational structures and business strategies. These changes can be distinguished into global adaptive trends within the industry, such as the development of transformative therapies for rare diseases, and pharma-specific approaches, for instance the choice between relying on organic growth or increasing partnering and business development activities.
Understanding the drivers behind strategic changes within the pharmaceutical industry is of significant interest to numerous stakeholders, including venture capitalists. Therefore, we have attempted to capture and explain recent key change events for several companies within the big pharma league. This "whale watching" exercise has revealed interesting insights regarding the industry and helped us to identify key behavioral patterns of big pharma companies.
In our analysis, we have studied a representative sample of some of the largest multinational public pharma companies, looking at three key types of events that happened over the past decade: mergers and acquisitions (M&A), divestments, and key corporate development events (such as restructuring and strategy shifts). We have made use of the Global Data and publicly available resources to compile the dataset. Below we describe our findings and discuss their relevance in light of the ongoing evolution of the pharmaceutical and biotech industries.
Mergers and acquisitions
Since several companies (such as Bayer, J&J or Roche) in our selection have business units or subsidiaries that operate beyond pharmaceutical and biotech business, we decided to analyze both overall and pharma/biotech specific deal-making trends. In both analyses, cumulative M&A activity within our sample was relatively stable within the 11-year period studied, with two notable dips around 2013 and 2017 and a spike in 2015 (see Fig. 1 and Fig.2)
Fig. 1. Completed pharma/biotech M&A deals, 2008-2018, accounted by the announcement date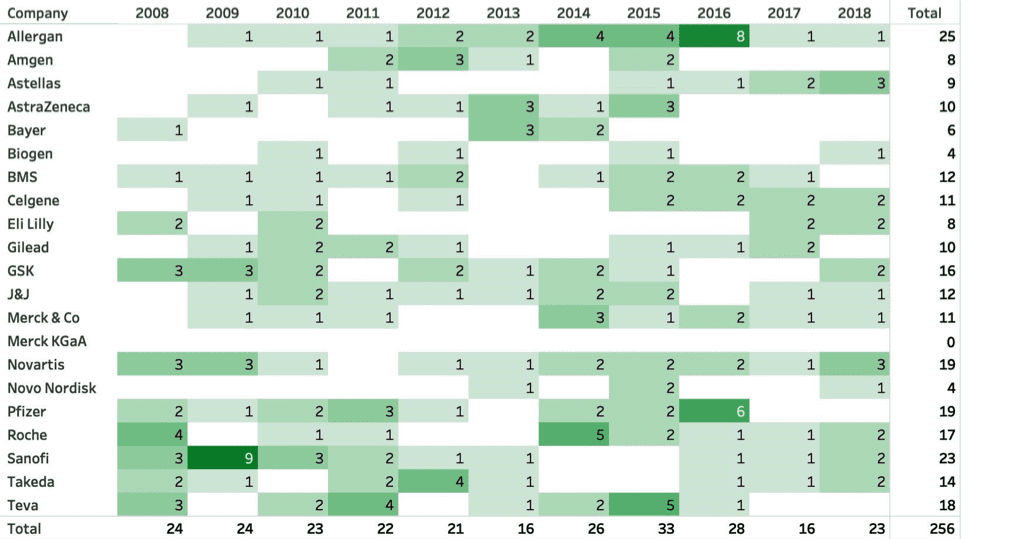 ---
In order to read this article, you must be an Endpoints News subscriber. (It's free to subscribe.)
← Go back
Sign in to Endpoints News
I forgot my password
Request a magic link
Access is subject to the terms in our
Privacy Policy
.
← Go back
Request a magic link
Enter your email below to get a Magic link which lets you sign in quickly without using a password.
Please note the Magic link is one-time use only and valid for only 24 hours. Access is subject to the terms in our
Privacy Policy
.
← Go back
Set a new password
We will send you a link, with which you will be able to set a new password.
Please note this link is for one-time use only and valid for only 24 hours. Access is subject to the terms in our
Privacy Policy
.
← Go back
We produce two daily email newsletters designed to give you a complete picture of what's important in biopharma. It's free to subscribe and never any spam. Join 51,200+ biopharma executives who read Endpoints News every day.
---
---
The best place to read
Endpoints News

? In your inbox.

Comprehensive daily news report for those who discover, develop, and market drugs. Join 51,200+ biopharma pros who read Endpoints News by email every day.

Free Subscription
---
---
---